Donald Trump May Bring Back Steve Bannon for 2020 Campaign, Book Claims: 'Nobody Says Anything Better About Me'
President Donald Trump is toying with the idea of bringing former strategist Steve Bannon back into the fold to help fight his 2020 re-election bid, according to a new book to be published next week.
In The Best People: Trump's Cabinet and the Siege on Washington, author Alexander Nazaryan suggests the president has not ruled out reinstating the right-wing idealogue credited with the success of Trump's insurgent 2016 run to the Oval Office.
According to The Guardian, which obtained a copy of the book, the new publication relies heavily on interviews with Bannon himself.
However, Nazaryan also spoke with the president, who appeared open to the idea of re-hiring the firebrand. Relations between the two men soured after Bannon left the White House in August 2017 under the cloud of white supremacist violence at the Unite the Right rally in Charlottesville, Virginia.
During a February interview, Trump "almost welcomed" the idea of Bannon's return, Nazaryan writes. The Yahoo News journalist quoted the president as saying he had "watched Bannon a few times, four or five times over the last six months...Nobody says anything better about me right now than Bannon."
"I will say this," Trump continued. "Bannon, there is nobody that has been more respectful of the job I'm doing than Steve Bannon."
Any return for Bannon would mark a striking recovery for the former Breitbart News executive, who fell out of Trump circles after the publication of Fire and Fury by Michael Wolff, which relied heavily on interviews with Bannon.
In the book, Trump's former campaign manager branded Ivanka Trump "dumb as a brick," Donald Trump Jr. "treasonous," and depicted the Trump administration as a chaotic and leak-ridden operation.
His involvement in the book earned him direct attacks from his former boss, who claimed Bannon had "lost his mind" and gloated when Rebekah Mercer—the billionaire backer of Breitbart and major Republican donor—dropped her patronage of Bannon.
Bannon's recent dismissal of Special Counsel Robert Mueller's findings may have helped his cachet with Trump. He told Yahoo in March, "It looks like they have nothing" on the president, and predicted Trump was "going to go full animal...come off the chains" and "use [the report] to bludgeon" his opponents.
But comments made in Wolff's latest book, "Siege," threaten to provoke Trump once more, for example his suggestion that the Trump Organization could be described as "criminal."
Since leaving the White House, Bannon has been attempting to spread his far-right populist message to Europe, and create a network of anti-establishment parties across the continent to challenge the European Union.
His work has been frustrated by European election law and local skepticism, and he is currently facing eviction from a medieval Italian monastery where he is trying to establish a far-right boot camp to train politicians to fight against globalism.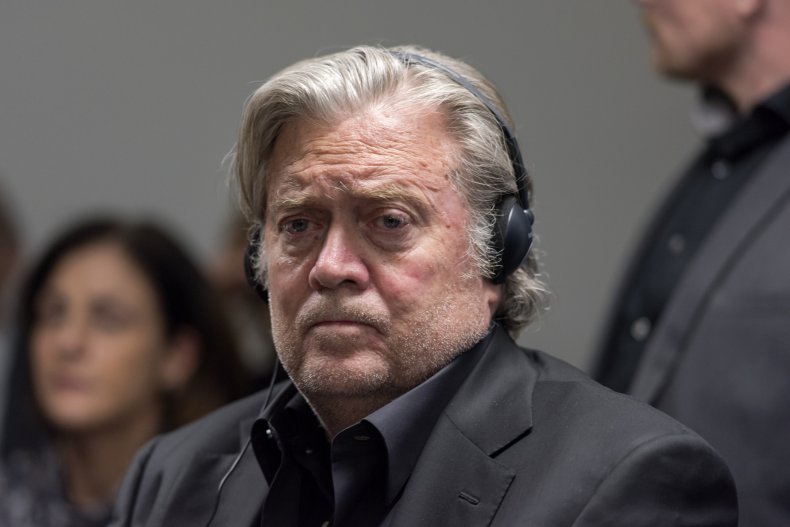 Donald Trump May Bring Back Steve Bannon for 2020 Campaign, Book Claims: 'Nobody Says Anything Better About Me' | Politics