Trump Addresses West Point Grads as Military Faces Questions of Political Involvement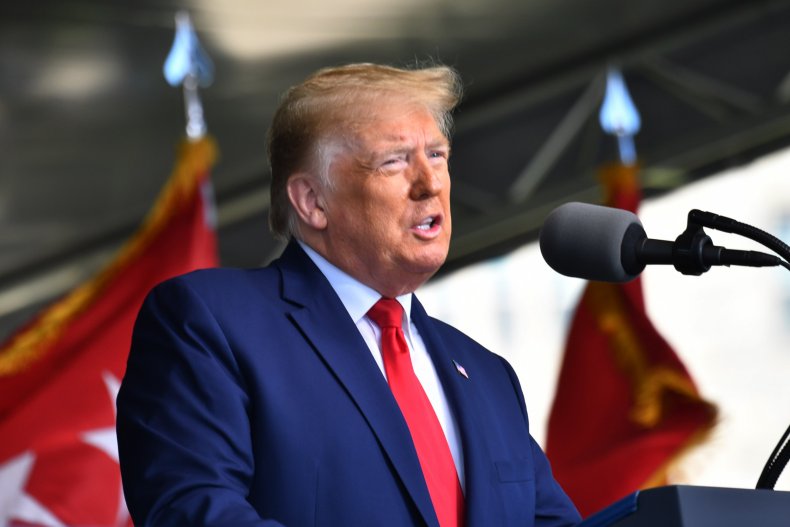 President Donald Trump delivered a relatively low-profile speech to approximately 1,100 West Point graduates in Orange County, New York, on Saturday.
Largely sticking to prepared remarks, Trump reviewed the institution's storied history—its predecessor served as General George Washington's headquarters during the Revolutionary War—and spoke of the graduates' mission in soaring tones.
"No evil force on Earth can match the noble power and righteous glory of the American warrior," he said.
During spring break earlier this year, cadets had been sent home and were informed they would not return, as the novel coronavirus led most educational institutions across the country to shutter their campuses.
In April, Trump unexpectedly announced that he would indeed be delivering an in-person address at West Point's commencement ceremony, his first such speech at the academy—just 50 miles from the early epicenter of the U.S. coronavirus outbreak.
As West Point's soon-to-be graduates returned to New York, they were placed under a soft, two-week quarantine and instructed to abide by social distancing measures. At least 15 cadets, nevertheless, tested positive for COVID-19, though they had not displayed symptoms nor transmitted the disease to any of their classmates.
"What has historically made America unique is the durability of its institutions against the passions and prejudices of the moment," Trump said on Saturday. "When times are turbulent, when the road is rough, what matters most is that which is permanent, timeless, enduring and eternal."
Ahead of Trump's speech, hundreds of West Point graduates penned an open letter to the academy's class of 2020 noting the tumult of contemporary politics and urging their fellow alums to reject any attempts by military or civilian leaders to co-opt their service.
"We are concerned that fellow graduates serving in senior-level, public positions are failing to uphold their oath of office and their commitment to Duty, Honor, Country. Their actions threaten the credibility of an apolitical military," the signatories, a list which has swollen to over 700 graduates, wrote. "We ask you to join us in working to right the wrongs and to hold each other accountable to the ideals instilled by our alma mater and affirmed by each of us at graduation."
Invoking "the abhorrent murder of George Floyd," the signatories decried what they viewed as an attempt to use the Army to suppress public demonstration and the participation of military leaders in "politically charged events."
The rancor that has rocked the country over the past several weeks has thrust military leaders into uncomfortable and sometimes awkward positions. Army General Mark A. Milley, the country's most senior military officer, was forced to apologize after he took part in a photo op in Lafayette Square just outside White House grounds in early June.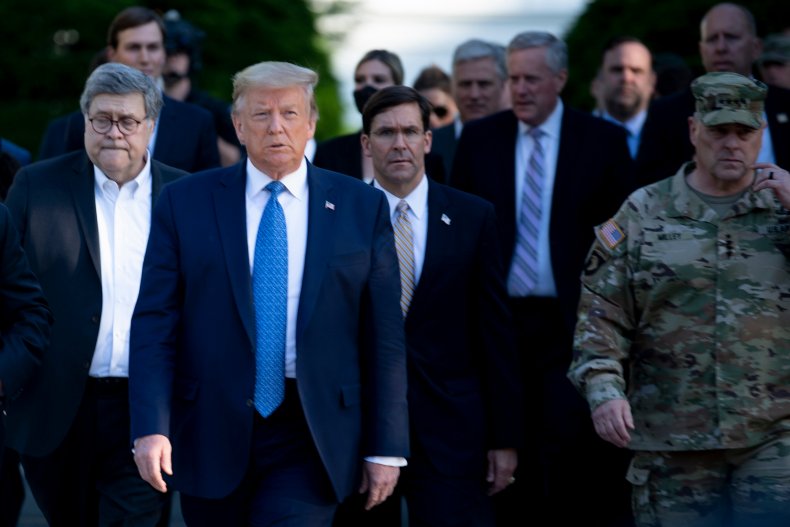 "I should not have been there," Milley later acknowledged. "My presence in that moment and in that environment created a perception of the military involved in domestic politics."
The role of the National Guard in clearing residents from Lafayette Square for the photo op has come under significant scrutiny, leading many to compare the aggressive tactics by law enforcement to military-backed dictatorships. The Pentagon announced that an incident involving military helicopters apparently intimidating protestors would be investigated.
In another controversy, a Pentagon spokesperson announced this week that Secretary of Defense Mark Esper and Army Secretary Ryan McCarthy were "open" to renaming 10 bases and other installations currently christened for leaders of the Confederacy, a position the military has previously rejected.
The announcement followed substantial unrest that had sought to initiate a conversation about the historiography of Confederate monuments. Statues, parks and public buildings named after prominent racist figures in American history have spurred discussion about how to highlight their placement in the textbook without unduly honoring their racist views.
Trump immediately lurched the conversation back into the other direction. After the revelation of his defense secretary's openness to the move, Trump foreclosed on the idea in a series of tweets.
"My Administration will not even consider the renaming of these Magnificent and Fabled Military Installations," he wrote on Wednesday. "Our history as the Greatest Nation in the World will not be tampered with. Respect our Military!"
The president's remarks Saturday came after news that his rally in Tulsa, Oklahoma, originally scheduled for June 19, would be pushed back one day later. The original rally date generated criticism because it coincided with Juneteenth, which commemorates the end of slavery in Texas.
Updated 2:43 PM ET.