Donald Trump Said He Saved West Virginia, But the State's Population Has Declined for the Sixth Year in a Row
President Donald Trump has long bragged that he "turned West Virginia around" because of what he did "environmentally with coal." But the president's attempts to limit health, safety and environmental regulations around coal mining and production have not stopped the state's population from declining for the sixth year straight.
According to the latest U.S. Census Bureau estimates, West Virginia lost about 0.5 percent of its population between July 2017 and July 2018. The United States, meanwhile, gained about the same percentage of people overall.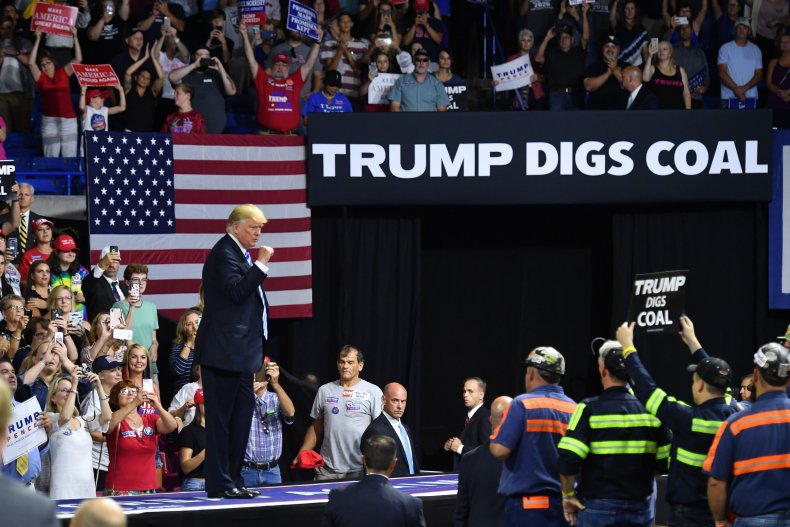 Since 2010, the U.S. population has grown by about 6 percent, but West Virginia is just one of two states to see a decrease in residents, losing 2.5 percent of its residents. The population loss is so extreme that the state currently stands to lose one of its Congressional representatives in 2020.
Shawn Fluharty, a delegate from West Virginia's third district told local news station WTRF that part of the decline was due to opioid use. "Ten percent of that is loss because of the opioid crisis. Those are deaths from the opioid crisis," he said. "We have a crisis on our hands that's been years in the making."
In 2017, West Virginia had the highest rate of opioid deaths in the country, with 57.8 deaths per every 100,000 people.
Despite the president's best efforts to bring back coal jobs, the state's employment rate is also to blame. West Virginia's unemployment rate in November was 5.7 percent, compared to the national average of 3.7 percent.
State Senator Ryan Weld told WTRF that while a focus on the coal is helpful, his state needs help diversifying economically and would be aided by legislation that looks at adding jobs outside the mining industry. State Senator Richard Ojeda echoed those sentiments, telling U.S. News & World Report, "Our kids are graduating from high school and college and they have to leave and go elsewhere because we don't have anything for them. There's no jobs here."
Still, the president has insisted that coal is the answer to West Virginia's problems, and because of his actions to end certain regulations, the state is back on top. "I'm the one that saved coal. I'm the one that created jobs. You know West Virginia is doing fantastically now," he told The New York Times last year.
U.S. coal consumption, meanwhile, has dropped to its lowest level since 1979, and cases of severe black lung, a deadly disease that infects those working with coal, are on the rise among young miners, according to an NPR/Frontline report.