Trump Tells Susan Collins 'I Hope You Are Listening' in Rant Calling for 'Whistleblower Racket' to Be Looked at Closely
President Donald Trump has called for what he branded a "whistleblower racket" to be "looked at very closely," flagging his issue to Senate Intelligence Committee member Susan Collins.
The president made the comments as he lashed out at Dr. Rick Bright after a CBS News 60 Minutes interview with the former top health official was aired.
Trump accused the show of putting on a "fake" whistleblower, branding Bright a "disgruntled employee who supports Dems."
"This whole Whistleblower racket needs to be looked at very closely, it is causing great injustice & harm," he tweeted. "I hope you are listening @SenSusanCollins."
Newsweek has contacted Collins (R-ME) for comment.
Trump tagged CBS News journalist Norah O'Donnell in one of his posts while also mentioning ViacomCBS chairwoman Shari Redstone, asking the latter to "take a look at her poorly performing gang," adding: "She knows how to make things right."
Bright previously served as director of the Biomedical Advanced Research and Development Authority (BARDA). He was removed from his post in late April and reassigned to another position, after which he filed a whistleblower complaint.
He alleges a reason behind his removal was reservations he raised over the use of anti-malaria drug hydroxychloroquine in fighting COVID-19. Bright has also claimed early warnings he made over the coronavirus threat and need for preparations against it were ignored.
In his 60 Minutes interview, Bright rejected suggestions he was a disgruntled employee, a description which has been used more than once by Trump.
"I am not disgruntled," he said. "I am frustrated at a lack of leadership. I am frustrated at a lack of urgency to get a head start on developing lifesaving tools for Americans. I'm frustrated at our inability to be heard as scientists. Those things frustrate me."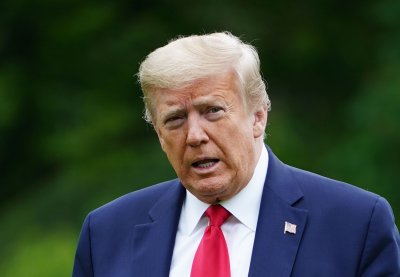 He also further raised concerns over the response to the pandemic, describing it as "chaotic," as he criticized leadership over the plans.
"We don't yet have a national strategy to respond fully to this pandemic. The best scientists that we have in our government who are working really hard to try to figure this out aren't getting that clear, cohesive leadership, strategic plan message yet. Until they get that, it's still gonna be chaotic," Bright said.
Bright last week gave testimony to a House of Representatives health committee in which he said the "window is closing" to address the pandemic and calling for a "coordinated plan to take our nation through this response."
Lawyers for Bright previously said the official raised concerns over medical supplies and the use of hydroxychloroquine because "American lives were at stake."
The Department of Health and Human Services (HHS) Secretary Alex Azar dismissed Bright's House testimony. He said Bright's concerns about the coronavirus outbreak were shared by the entire administration, adding that his complaints were resolved.
Newsweek has contacted 60 Minutes, HHS and the White House for comment.
The U.S. continues to battle the COVID-19 pandemic, having seen more than 1.48 million cases. The graphic below, from Statista, shows the spread across the U.S.