Donald Trump's White House: Everyone Who Has Left And Everyone Who Is Left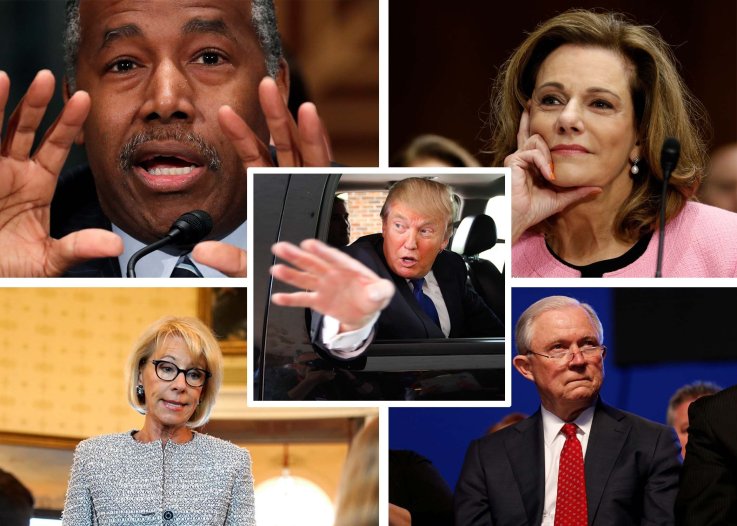 It seems like every week there are new reports of yet another person leaving the Trump White House. Bloomberg reported that almost half of the people who have held top positions within the White House have left.
Considering that Trump became famous for saying "you're fired" during his years as host of the NBC reality-competition show The Apprentice, it shouldn't come as a surprise that he's had this much turnover. But the White House isn't a reality show, Americans aren't accustomed to such a high rate of turnover in the capital. NPR reports that Trump has had more cabinet-level turnover in the first 14 months of his administration than 16 of his predecessors had in their first two years in office.
"President Trump doesn't pay much attention to tradition or usual decorum or norms of the presidency," James Pfiffner, a public policy professor, told NPR. He went on to say Trump focuses more on personal rapport. "And so he does what he feels like, and continues to."
To Trump's credit, the high turnover rate isn't entirely because of firings. Many prominent members of Trump's administration have resigned, either for personal reasons or for scandal. Multiple members of the administration have been at the center of controversies involving misuse of taxpayer money for personal travel, security, or even office decorations like the Secretary of Housing and Urban Development's Ben Carson spending $31,000 on a dining room set for his office (he testified to Congress that the purchase was actually a safety issue, because the chairs to the table replaced were breaking on people, and the nails in the table were posing a threat to wayward limbs).
So who is left? Test your knowledge of the news and see if you can spot the members of the Trump administration who are still there. There's no prize involved besides the knowledge that you're a savvy purveyor of the news, which should be prize enough.