Trump's Top Science Adviser Job Vacant Eight Months After Inauguration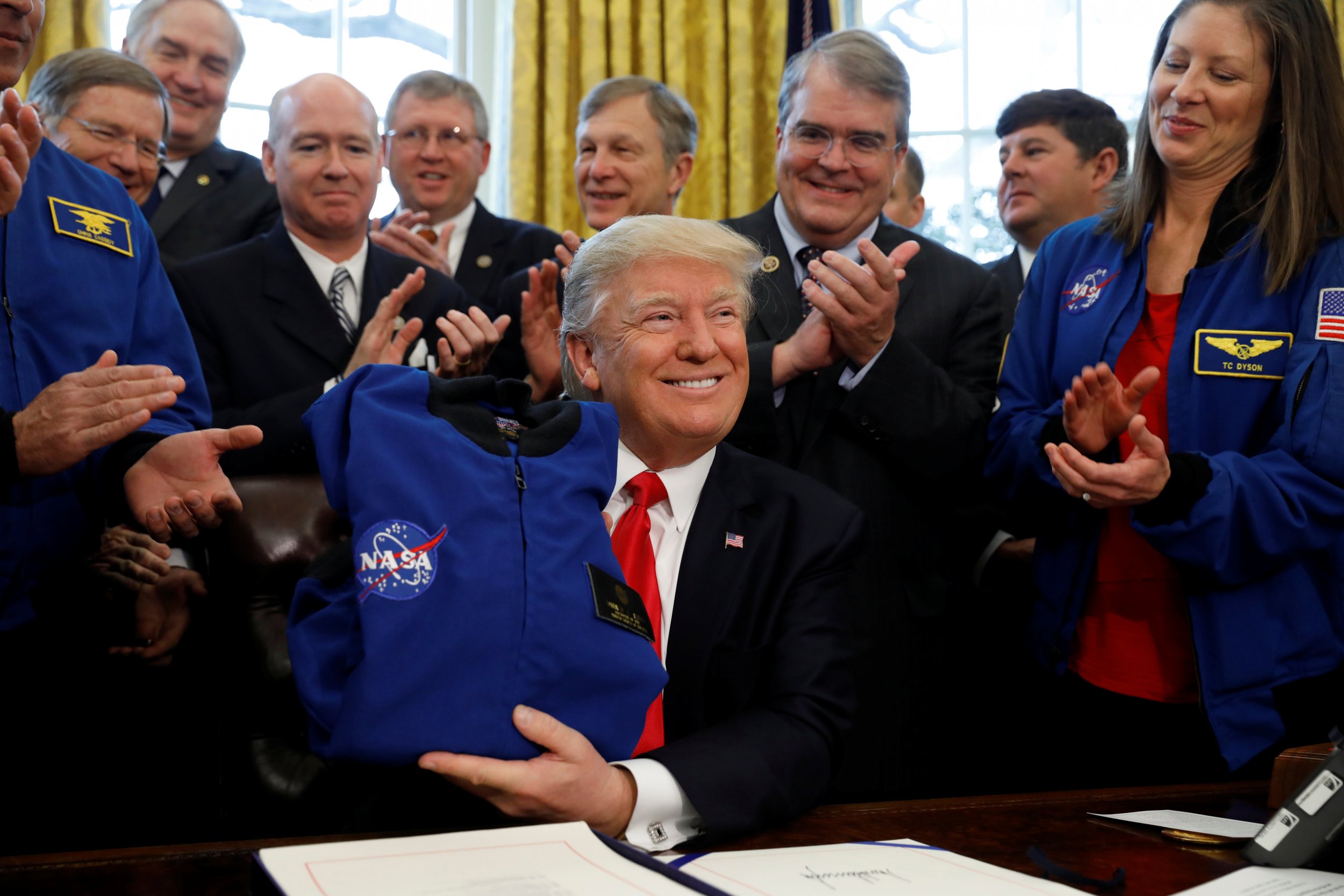 President Donald Trump and his daughter-adviser have been going all out to tout the administration's commitment to "high-quality STEM and computer science education" as a means of boosting the U.S. economy. But Trump has yet to choose a top science adviser, who would play a crucial role in turning the White House horn-tooting into reality.
The White House Office of Science and Technology (OSTP) has been without a boss for the longest stretch since its establishment in 1976, a former longtime member told Newsweek.
John Holdren, who served as former President Barack Obama's science adviser and as the Senate-confirmed director of his OSTP, is raising an alarm about what he calls the "very sizable vacuum" that persists in the science-advisory realm under Trump.
Now the Teresa and John Heinz Professor of Environmental Policy at the Harvard Kennedy School of Government, Holdren couldn't precisely account for the holdup in naming someone to advise Trump on science and lead OSTP: "They've had quite a few distractions…including trying to get NFL players fired for kneeling," he deadpanned during a conversation with Newsweek.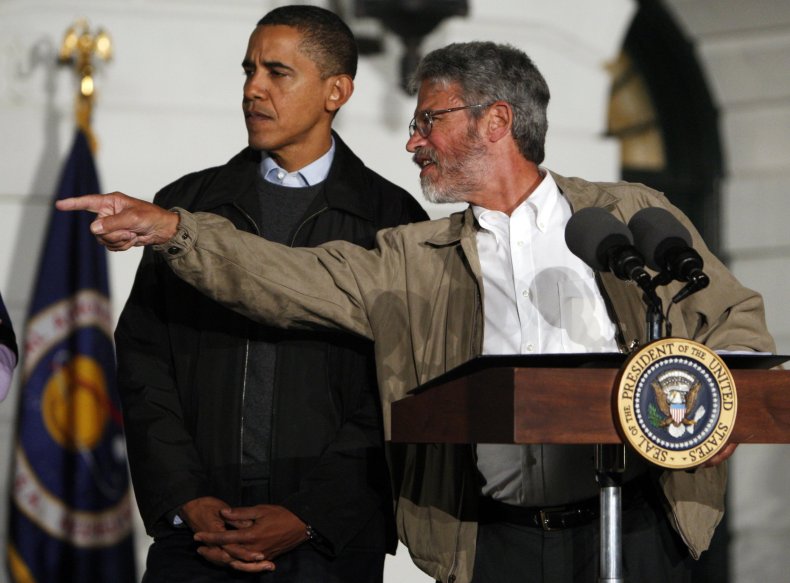 Dry humor aside, Holdren made clear during the interview that he considers the lack of new science and technology experts in the current administration no joke.
The OSTP may not be as well known as other executive offices, such as Management and Budget or the Council of Economic Advisers, but that doesn't mean it isn't as important.
It is charged with advising the president and his top aides on "the scientific, engineering, and technological aspects of the economy, national security, homeland security, health, foreign relations, the environment and the technological recovery and use of resources."
Holdren asserts: "If you don't have science and technology advice in the White House, you're going to miss opportunities to use science and technology to advance the rest of the leadership's agenda. You're going to make decisions, in some cases, that would be better decisions if they were informed of the science and technology dimensions."
If the nation is in the midst of, say, discussing a potential North Korean missile attack on the U.S., Holdren said, it might be prudent to include an expert who understands "the likely effectiveness of U.S. defenses against ballistic missiles."
The same would apply, he said, if and when the Trump administration faces public health crises of the kind the Obama administration had to deal with, such as the H1N1 flu pandemic and the Ebola virus.
Science and tech matter because they're not just theoretical conceits, advocates say. They have specific effects on not only how well government work but also at what cost: "If the government doesn't make the right investments in these spaces, you cannot assume, as some in the Trump administration seem to have assumed, that the private sector will step in to do it," Holdren said.
Asked when the public might see more nominees for top science posts, a White House spokeswoman told Newsweek she'd check into it.
OSTP has been pretty quiet since the inauguration: This year, it made just six news announcements between June and September, per its web page. The related National Science and Technology Council, which is chaired by the president to coordinate federal research and development initiatives, has apparently not put out a single report since Trump took office.
In the meantime, Trump last week announced his intention to nominate Raymond Martinez of New Jersey as administrator of the Federal Motor Carrier Safety Administration, and Robert McMahon of Georgia as assistant secretary of defense, logistics and materiel readiness. He also rolled out his "eighth wave of judicial candidates."
Trump earlier this year named Michael Kratsios, former chief of staff to tech executive Peter Thiel, as deputy U.S. chief technology officer. (Thiel, a billionaire who spoke at the 2016 Republican National Convention where Trump accepted the GOP nomination, reportedly may be under consideration for a top-flight job intelligence post.)
Many government employees, including science experts, left the administration once Obama departed. That's par for the course when power is transferred to a new president.
Some walked away from the Trump administration for other reasons. Energy professor Daniel Kammen of University of California-Berkeley quit as science envoy to the State Department based on Trump's reaction to neo-Nazi demonstrations in Charlottesville, Virginia. He wrote a resignation letter to Trump in such a way that taken together, the first letters of every paragraph spelled out the word "IMPEACH."
Trump has raised eyebrows within the science community with high-profile moves such as choosing someone with no space exploration credentials to lead NASA: Rep. Jim Bridenstine, a Republican climate-change skeptic from Oklahoma.
Kumar Garg, who served as senior adviser in the Obama OSTP, spoke effusively about Obama's passion for science and technology, but even looking farther back in history, he told Newsweek, "there were a lot of critiques that people had about the Bush administration's policies on science."
Still, he said, Bush chose the head of a national laboratory for his science adviser: "They didn't necessarily give him a huge amount of room to run, but they picked somebody who is considered well respected in the scientific community."
Garg is now a senior fellow at the Society for Science and the Public and part of what's known as the "Obama Science Diaspora," former members of the administration who keep an eye over the role technology is or isn't playing in the age of Trump, as well as how that plays out in Trump's budget proposals.
Regarding the current administration, Garg said, "One, it's crazy that they haven't picked anybody, and then two, are they going to pick somebody who believes in facts and the scientific method—or are they going to pick somebody who thinks we're in a cooling period?"
Some of the pushback from the "diaspora" seems to have been effective, Garg said, but OSTP still lacks a top dog.
"None of the deputies have been chosen, the technology officer position has not been chosen, and the office, which we left with 120 people, is now around 30 to 40, [and] as many as half are administrative," he said.
Like others who spoke with Newsweek, Tamara Dickinson, the former principal assistant director of energy and environment at OSTP under Obama, says that although the office has been depleted, it doesn't mean there aren't capable workers still on the job.
The critical issue—and both she and Holdren say this is what makes it so crucial for the top person to have the rank of adviser to the president, which gives direct access to the Oval Office—is whether concerns get to the people at the top once they're identified.
"There are quality people there," she told Newsweek of OSTP, but "do they have access? That's the thing. Is anybody asking them to be at the table? Can they get to the table? Is anybody listening?"
She says she has "a feeling the answer is no, because I haven't seen any evidence of it."
Dickinson's perspective on the importance of keeping the West Wing informed may be of particular relevance: One of her specialties while working for OSTP was disaster risk reduction, which spanned everything from hurricanes and floods to earthquakes, oil spills and wildfires.
Her team met not only to prepare for predictable events, such as storms, but also to conduct detailed reviews afterward to see what worked and what didn't, from a scientific point of view. Such data could be used to inform future decisions.
For example, Dickinson said, Obama signed flood risk management standards after Hurricane Sandy wreaked havoc on the East Coast. Among other things, the rules said that "if federal funds were used to rebuild, you had to use the best science and rebuild more resiliently."
Shortly before Hurricane Harvey walloped Texas, however, Trump rescinded that rule in order to pick up the pace on infrastructure projects.
Would a fully staffed OSTP have prevented Trump from nixing the flood standards?
Hard to say, Dickinson said: "There are sort of two pieces," and the spot where they meet may be the bigger answer to what happens with science and technology in the Trump era.
"There's [having] a science adviser and assistant to the president in place, but there's another thing: an administration that's willing to listen to science," she said. "You can have the best science adviser, and if he can't get a seat at the table—or get the Trump administration to listen—you're not going to be any better off."