Donald Trump Has Encouraged White Supremacist Groups That Are a Threat to U.S., Majority of Americans Say in New Poll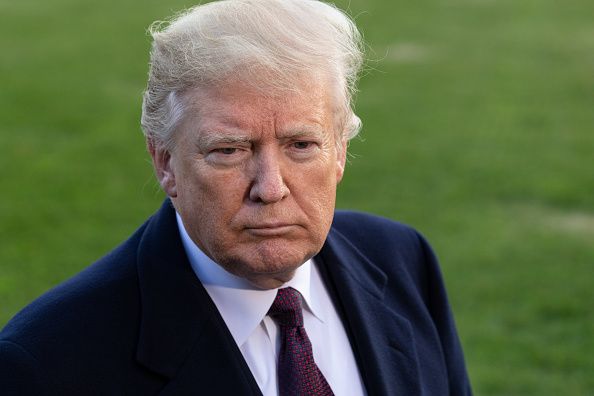 A majority of Americans say that during his first two years in the Oval Office Donald Trump has emboldened white supremacist groups that pose a threat to America, according to a new poll.
Fifty-six percent of Americans say that President Trump's decisions and behavior have encouraged white supremacist groups, while only three percent say that he has discouraged them. About a third of those polled say that the president's actions have not impacted the situation either way, according to a new Quinnipiac University poll released on Wednesday.
Of the 56 percent of participants who said that Trump has encouraged white supremacy, 90 percent identified themselves as Democratic while only 17 percent identified themselves as Republican. More women than men polled say that Trump has encouraged such groups.
Those polled who think that Trump has emboldened white supremacists overwhelmingly say that he did so on purpose. Sixty-two percent say that he "deliberately encouraged" white supremacist groups, while only 32 percent say that he "accidentally encouraged" them.
Nearly 60 percent of Americans say that white supremacist groups pose a threat to America, though only 37 percent say that they are an "immediate threat." The survey was conducted from November 14-19 and polled over 1,000 voters nationwide.
President Trump has received heavy backlash over his seemingly ambivalent attitude toward white supremacist groups across the country. After deadly rallies in Charlottesville, Virginia, last year he infamously defended the white nationalist groups who were in attendance, saying that they included "some very fine people."
He also mentioned that there was blame to be placed "on both sides" even though the only death to occur happened after a white nationalist allegedly drove his car into a crowd of counter-protesters.
"What about the alt-left that came charging at, as you say, at the alt-right," Trump remarked while giving a speech in the lobby of Trump Tower days after the rally. "Do they have any semblance of guilt?"
Former President Barack Obama has condemned Trump for his inability to denounce white supremacy. "How hard can that be? Saying that Nazis are bad," Obama said during a speech at Illinois University in September.
In late-October during a campaign rally in Houston, Trump made headlines for announcing that he was a "nationalist." The president said using the term was "old-fashioned" but proceeded to tell the crowd that "you know what? I'm a nationalist, okay? I'm a nationalist."
Earlier this month, former white supremacist skinhead Christian Picciolini told CNN that Trump's rhetoric is a "bullhorn" for such extremists.
"Now that hate is being normalized, they feel they are in power," he said. "People need to be held accountable for their words."