Is Donald Trump a White Supremacist? Trevor Noah Says President 'Prefers White People'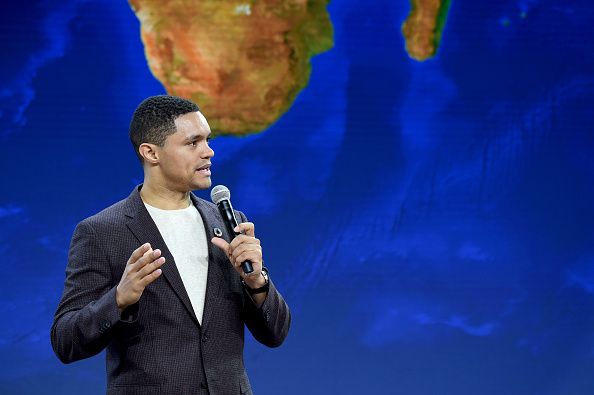 The Daily Show host Trevor Noah set aside the comedy and got serious in an interview for BBC Newsnight, speaking about politics, racism and his own experiences in South Africa during apartheid.
"I think Donald Trump is a challenge and a gift at the same time," he told the BBC's Nick Bryant diplomatically, explaining that he's only been at the helm of The Daily Show at a time when Trump was either a presidential candidate or the president of the United States. But he didn't remain diplomatic for long. Bryant cited the writer Ta-Nehisi Coates, who has said that Trump "might be a white supremacist" and has described Trump's presidency as focusing on the negation of the presidency of Barack Obama, the first black man elected to America's highest office. Bryant asked whether Noah would go so far as to call the 45th president a white supremacist.
"I don't know if Donald Trump is a white supremacist," Noah began. "I do know that he prefers white people over black people. I do know that he has said on multiple occasions that he doesn't want black people involved in the counting of his money or the running of his world. I do know that he has specifically gone out of his way with his companies to oppress black people. I do know that he hasn't been as quick to react in the aid of black people as he has been with others. I do know that he has supported and continues to retweet white supremacists on his Twitter account," he continued. "So I always say to people, I go, 'You tell me.'"
But Trump doesn't live in a vacuum. He's a product of a society that has severe difficulties grappling with racism, which Noah describes learning about as an outsider coming from a place with its own recent history of legalized discrimination.
"It's weird because America is the kind of place where someone can get more offended at you calling them a racist than the fact that they are a racist," he explained. "That's become a new thing I've stumbled across. People go, 'How dare you call me a racist?' Well how dare you be racist?" he added. "That's the world Donald Trump is in, is people try and trap you into being afraid of saying what the person is doing as opposed to them being afraid of acknowledging the world that they're living in."
Noah goes on to talk about his personal history, being "born a crime" as the title of his recent book declares, to a black woman and a white man in South Africa during apartheid, "when it was illegal for black and white people to fraternize, especially in a romantic way." His father was absent and his stepfather a violent alcoholic.
"I won't deny that adversity shapes you as a human being. You know, the more challenges you face and overcome the stronger you become as a human being. They also have the ability to debilitate you," said Noah, who went on to explain his dislike for the equivocal response, everything happens for a reason. "The bad thing didn't happen to you for a reason, but now that it happened, what can you take from it?" he asked. "And that's really a world that I was brought up in. My mother said we can't control what happens to us, we can control how we react to what happened."
While Noah was clearly talking about his childhood and his family at this point in the interview, a viewer might see him coming full circle to his handling of Trump onThe Daily Show. The president may be a "challenge" who "prefers white people over black people," but adversity, and figures like Trump, aren't new to Noah. He and his colleagues can't control who is elected or how the president treats people, but they can control how they react to it.