White Supremacist Website Urges Readers to Harass Clinton Supporters to Point of Suicide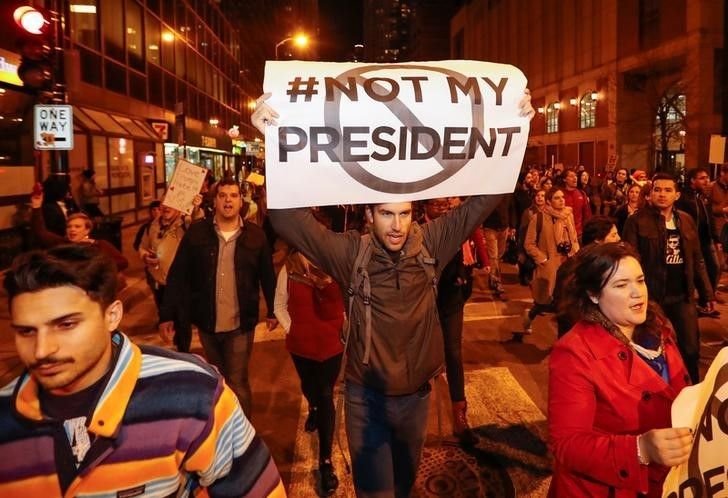 The Daily Stormer, a Neo-Nazi website, published a list of dozens of Twitter users who expressed sadness over the election outcome on Wednesday, urging its readers to target and harass them to the point of suicide.
The frontpage of the white supremacist website shows a large photo of President-elect Trump and his wife, Melania Trump, meeting with Speaker of the House Paul Ryan and Vice President-elect Mike Pence. "You should probably go ahead and be afraid now," writes Andrew Anglin, the website's publisher. The post suggests it's readers "can troll these people and definitely get some of them to kill themselves."
Several of the tweets embedded in the Daily Stormer post show fear over the fate of women, people of color and LGBT individuals in the U.S. under a Trump presidency. One person says they're worried about possible nuclear war. A disclaimer on the page reads: "We here at the Daily Stormer are opposed to violence."
Reports of hate-based violence against Hispanic people, Muslims and women continue to be documented around the country in the wake of Trump's victory in the polls on Tuesday.
Shaun King, writer for the New York Daily News, has been collecting and publishing on Twitter alleged incidents of intimidation and violence since Trump's win. They include a group of middle school students in Royal Oak, Michigan chanting "Build that wall," a reference to a wall Trump said he hopes will be built along the U.S.-Mexico border. King has also tweeted photos of pickup trucks in Brooksville, Florida covered in the words: "All Muslims are Terrorists," "Deport them All" and "I Hate Muslims."
A website, Why We Are Afraid, is similarly chronicling such incidents. One of the first images shows two water fountains at a high school in Jacksonville, Florida, with "Colored" and "Whites only" signs over each one. On Thursday, a statement from Trump calling on the "total and complete shutdown of Muslims entering the United States until our country's representatives can figure out what the hell is going on" was again live on his website after previously being removed.