Steve Bannon, the White House's former chief strategist under President Donald Trump, offered a "prediction" regarding the aftereffects of next month's election should Democratic nominee Joe Biden win. Speaking to The Australian in a report published Sunday, Bannon suggested Trump will pursue another term in office if he does not win this November.
"I'll make this prediction right now: If for any reason the election is stolen from, or in some sort of way Joe Biden is declared the winner, Trump will announce he's going to run for re-election in 2024," he told the newspaper. "You're not going to see the end of Donald Trump."
With the general election just over two weeks away, most national polls show Biden maintaining a substantial lead over his Republican rival. Bannon, who helped lead Trump's 2016 campaign prior to serving a seven-month stint as White House strategist, said he believes the current race is "closer than is being reported" in his comments to The Australian.
Trump often voices his own skepticism regarding poll results and tells supporters his campaign is on track to win in certain states where forecasting statistics do not indicate it. This week, the president claimed Biden was "losing big in Florida," despite polling numbers suggesting Biden was leading.
"Only fake polls show otherwise!" Trump said in a Tuesday tweet. During a campaign rally in Michigan on Saturday, the president made similar claims about the upcoming election's outcome in Minnesota, repeatedly telling attendees he expects to win there even as polling data showed Biden ahead of Trump by more than 10 percentage points in the state.
Bannon, whose relationship with the president was contentious following his 2017 White House departure, is now backing Trump and his 2020 reelection bid. He was charged with fraud over the summer for alleged misuse of donations collected through a private fundraising effort meant to back the president's proposed border wall between Mexico and the U.S. In comments to the New York Post this week, Bannon claimed Hunter Biden, the Democratic presidential nominee's son, attempted to recover a hard drive related to the federal inquiry into Russian election interference.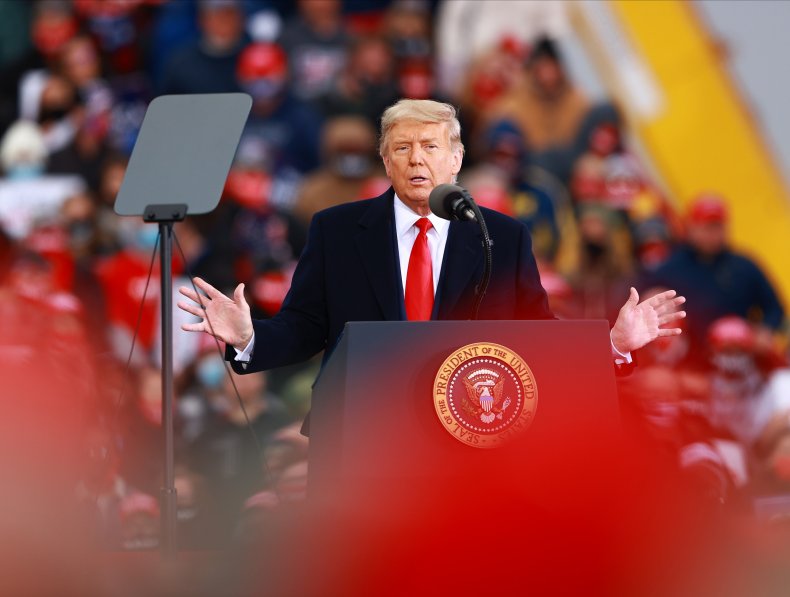 Trump referenced the Post's report on Twitter Sunday morning, calling Biden a "corrupt politician." In a subsequent tweet about Bannon, the president said, "I think Steve will be just fine." The latter message was attached to a re-tweeted post from journalist Tim O'Brien, who cited Trump's 2018 remarks about Bannon's White House exit.
"When he was fired, [Bannon] not only lost his job, he lost his mind," the president said at the time.
Newsweek reached out to Trump's campaign for comments but did not receive a reply in time for publication.