Donald Trump Will Run for Governor of New York if You Ask Nicely and Often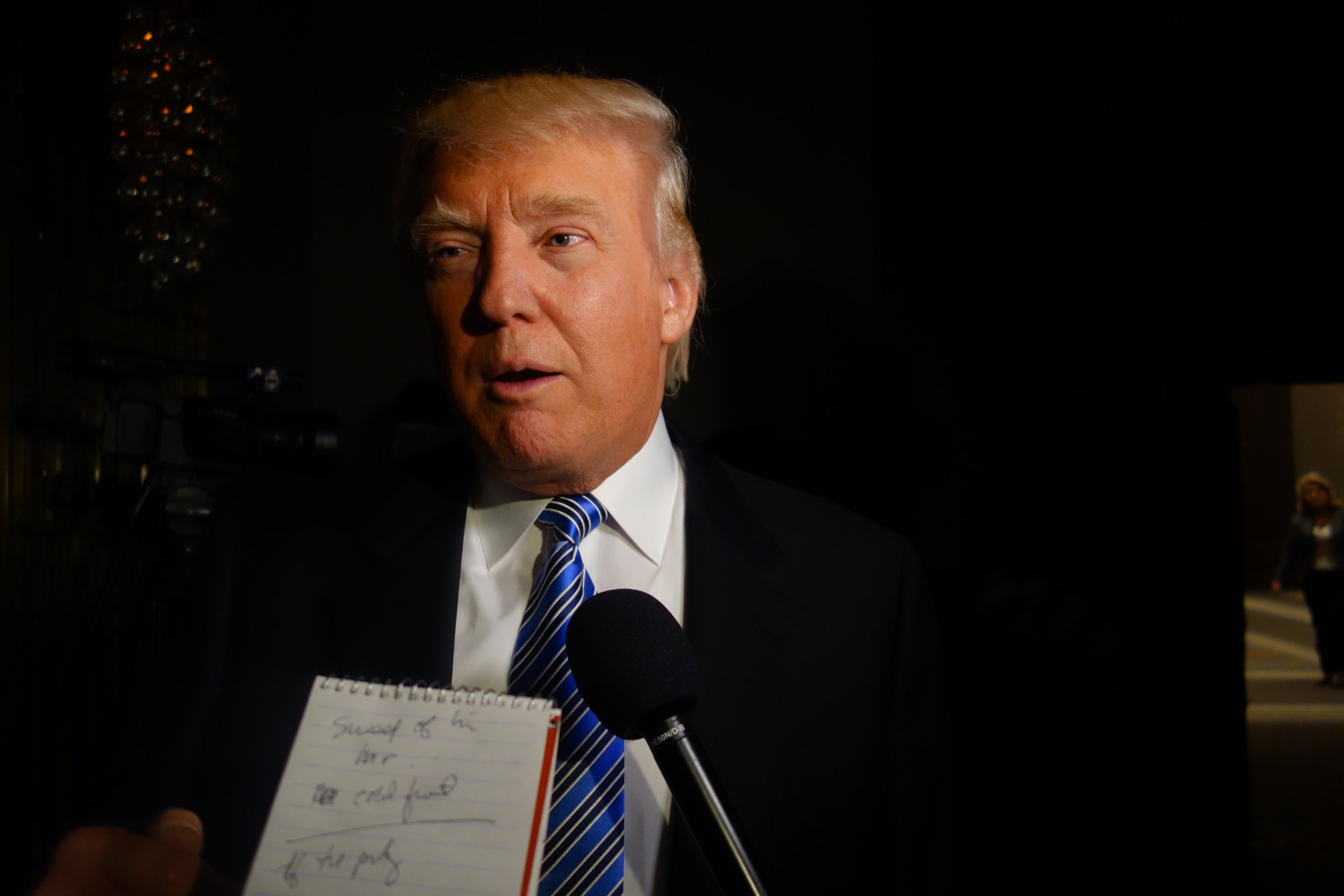 For two hours on the ballroom level of Manhattan's lavish Grand Hyatt last night, Donald Trump was not a Twitter punchline or a capitalist supervillain. He was the future of the Republican Party in New York.
Or he was supposed to be, at least.
It was a call the multibillionaire magnate heeded only teasingly, emphasizing that he is the one being courted — and that he will have to be courted a little more, thank you, if state GOP officials expect to land him in the governor's seat.
"If they want me, and if they go to the convention and ask me to do it, I would do it," he promised a cluster of reporters, his gleaming, yellowing hair a forest of tiny miracles when spied up close. "And I believe I'd win."
The occasion was the The New York Republican County Committee's annual Lincoln Day Dinner, an excuse for Republican movers and shakers to gather, nibble salami and remind each other that the GOP was the party of Lincoln, which can sound a little like Greek politicians boasting that their debt-ridden nation is where men first learned to walk like gods.
No matter. It was a surreal scene in the Democratic heart of Manhattan, a colorful fête where a jovial Uncle Sam on stilts juggled past a massive blow-up elephant and U.S. Army Specialist Oscar Cruz, billed as the guy who "personally hauled Saddam Hussein out of his hole," shared the limelight with French Connection star Tony Lo Bianco. An auction -- offering items like a "Never Forget September 11th" photo signed by Rudy Giuliani and Joe Torre -- was set up to benefit Cruz's medical expenses. In the shadows by the drinks stand stood Joe Lhota, the former MTA chairman who butted heads with Bill De Blasio in the fall's mayoral election.
But Trump, the keynote speaker, was the star. Whispers of will-he-won't-he filled the cocktail party, amid networking handshakes and mutters of Newt Gingrich's prospects in 2016 ("he's the smartest guy we could get behind"). When he took the stage, he spoke in front of a placard trumpeting "Trump for Governor." An introduction by Lo Bianco lauded him as "the man who may be our governor."
And yet The Donald wouldn't commit.
He would only commit to committing — if the circumstances were right. It was a stump speech coated in winks and hypotheticals, Trump playing hard to get as long as the nomination is easy to nab.
"If for any reason certain leaders in the Republican Party wanted to give me that opportunity, I would make New York State one of the great energy capitals of the world and I would cut everybody's taxes in half," he vowed. Scattered "Run, Donald, run!" chants echoed around the ballroom.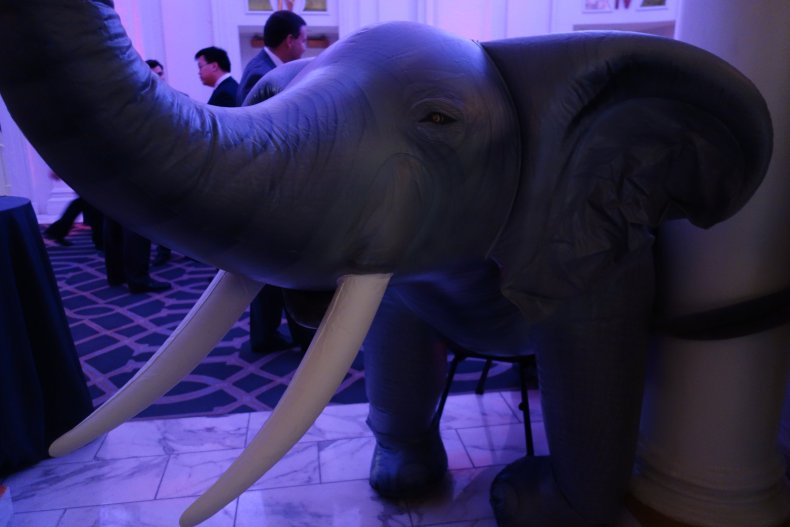 From there, it was a wandering, many-pointed traipse through the political mind of The Donald, a survey that suffused citywide concerns, state politics, and a national agenda into one hearty stew. Prominent New Yorkers, "people of wealth," he said, are fleeing the city in droves, decamping to Florida. ("It makes sense to do it," he conceded, if you consider the estate taxes, "but I happen to be loyal.") Obamacare is "a disaster," and, you know what, so is the Second Avenue Subway, it's "a tunnel to nowhere." Governor Cuomo is the heir of "a terrible governor — one of the worst!" — and he only lowered tolls on the Verrazano Bridge because Trump complained, and anyway they'll probably be even higher next year. Soon he'll approve fracking too, and you know why? "Because I mentioned it. Because he's gonna get his ass kicked if he doesn't."
"You can truly make New York State the Empire State again," the magnate promised toward the end of his speech. "It's scoffed at. It's laughed at."
It's familiar material for anyone who's followed Trump on Twitter — but what a difference an audience makes, in a hall where @realDonaldTrump is neither scoffed nor laughed at. He was met with cheers.
Brian Riordan, 24, an enterprising member of Young Republicans — and one of the few attendees under 40 — told Newsweek The Donald would make a fine candidate. "I think we need more people in government who have an understanding of how business works, how Wall Street works," he said.
The road from would-be candidate to candidate to New York State Executive Mansion won't be so swift. Rob Astorino, the Republican County executive, has confirmed his gubernatorial aspirations and is said to have party leaders' favor.
But Trump boasted to reporters that the Republican leadership had come knocking on his door. And he was unfazed by mention of Governor Cuomo's $33 million in campaign funds.
"Fortunately for me, that's not a lot of money," he said, brushing the sum aside like a pestering fly.