Donald Trump Will Try To Convince State Republicans to Change Electoral College Rules to Win: Report
President Donald Trump is expected to appeal to Republican state legislators to alter rules that govern the appointment of electors in order to retain the presidency, according to a Thursday report from Reuters.
Trump has thus far refused to concede the election to President-elect Joe Biden, contesting the voting process in court in some battleground states. Some observers have criticized Trump's allegations of widespread election manipulation as being presented without evidence. With many media outlets calling Biden the clear winner of the election, lawyers for Trump reportedly believe his best chance at remaining in office lies in states choosing to appoint electors who would not cast their votes for Biden.
According to Reuters, the Trump campaign's legal team has decided to take a "more targeted approach towards getting the legislators engaged" with a focus on Michigan. Biden was the projected winner in Michigan, garnering Biden the state's 16 electoral votes.
Electors are normally chosen by governors and the secretaries of state. Often, electors vote for the presidential candidate that won the popular vote in their state. However, Trump's legal team reportedly wants to shift the responsibility of appointing electors to GOP lawmakers.
Trump reportedly requested to meet with Michigan Republican House Speaker Lee Chatfield and Michigan Republican Majority Leader Mike Shirkey on Friday. Both Chatfield and Shirkey have reportedly agreed to attend. In a statement sent to Newsweek on Thursday, the Michigan Democratic Party criticized the decision.
"[Shirkey and Chatfield] are more focused on continuing the GOP smoke and mirrors show designed to hide Trump's humiliating defeat than taking care of the actual problems facing Michiganders," the statement said. "Both Shirkey and Chatfield are once again sending a message to everyone in this state that they care more about Trump than the people they were elected to serve."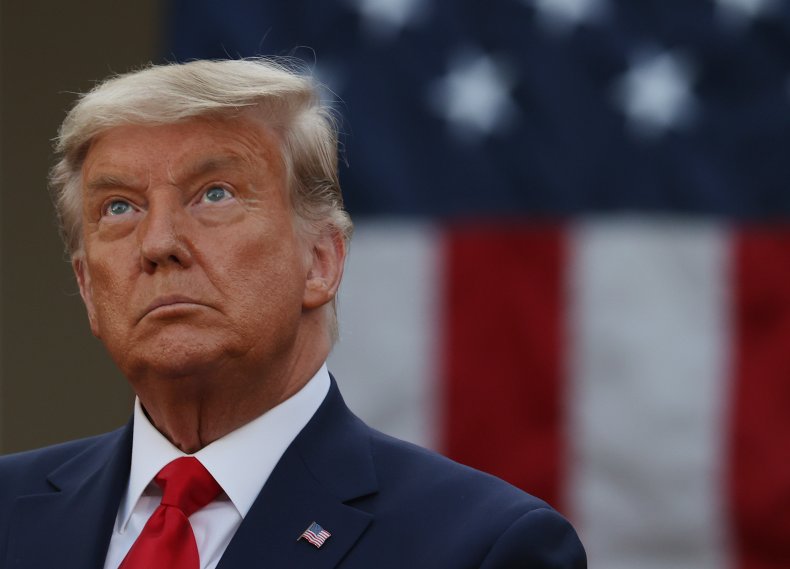 In a Tuesday interview with Bridge Michigan, Shirkey indicated that the state would not shift its electoral votes to Trump.
"That's not going to happen," Shirkey said. "We are going to follow the law and follow the process."
Although all the ballots have not been tabulated, Biden is projected to have 290 electoral votes to Trump's 232 electoral votes. Trump has claimed victory in the presidential election and has thus far refused to concede to President-elect Joe Biden. A candidate must receive more than 270 electoral votes to become president. On December 14, the 538 appointed electors will meet to cast their votes for a presidential candidate. The candidate who receives the most electoral votes will be declared the official winner of the election.
Before the final results of an election can be announced, they must be certified by election officials. In Wayne County, Michigan, the 2 Republican members of the Board of Canvassers flip-flopped on the matter of certification. On Wednesday, they voted against it, throwing the board into deadlock. After hearing public comments from residents, the Republicans later voted to certify the county's results with the caveat that an independent audit would be performed in areas where there were alleged disparities.
Early Thursday, the Republicans backtracked and attempted to rescind their votes, alleging they felt pressured into agreeing with the certification process. However, the deadline for certifying Wayne County's ballots expired on Wednesday.
In a Thursday statement, Michigan Secretary of State spokesperson Tracy Wimmer said there was no "legal mechanism" for the votes to be rescinded.
"Their job is done and the next step in the process is for the Board of State Canvassers to meet and certify," Wimmer said.
If Trump is successful in gaining the electoral votes from Michigan and Pennsylvania, he may still not have enough votes to obtain a second term. According to the Associated Press, Biden currently holds 290 electoral votes while Trump holds 232 electoral votes. If Trump picks up Michigan's 16 electoral votes, then he would have 248 electoral votes, still below the 270-vote threshold.