Donald Trump Gives William Barr Power to Declassify Intelligence Information in 'a Corrupt Act of Political Retribution,' Experts Say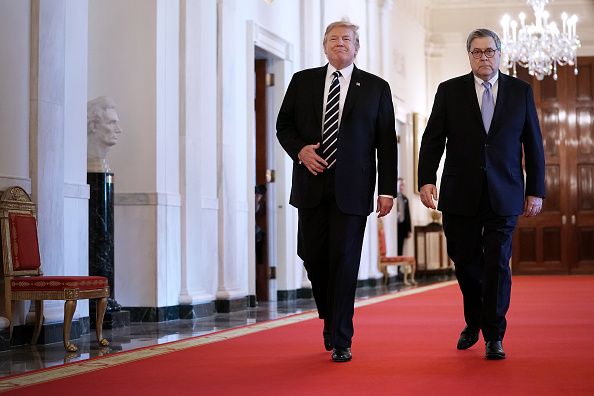 Donald Trump has given Attorney General William Barr permission to declassify intelligence information about the origins of the Russia investigation, a move legal experts say is a gross abuse of power.
"In a corrupt act of political retribution, our president has ordered his utterly compliant attorney general to root out Deep State demons that exist only in the unhinged mind of our nation's leader," Gene Rossi, a former federal prosecutor, told Newsweek.
The White House released a statement on Thursday announcing the declassification, claiming that it "will help ensure that all Americans learn the truth about the events that occurred" during the 2016 election.
Trump's order also demanded that intelligence agencies fully cooperate with the Justice Department's latest probe into the origin of special counsel Robert Mueller's investigation of Russian election meddling and "surveillance activities" during the presidential election.
Bradley Moss, a national security law expert, told Newsweek that this represents "an unprecedented set of actions by the president."
"It is virtually unheard of for the attorney general to have such expansive declassification authority," Moss said. "That it is being provided to Barr here, in a politically-driven inquiry into the president's adversaries, raises serious concerns that the power will be abused to allow for selective and cherry-picked declassifications."
Trump's latest order for declassification and cooperation from the intelligence community is a direct contrast to his approach to the congressional oversight into his administration and family business. He previously told his team not to cooperate with subpoenas or requests issued by House Democrats.
The president's order also places Barr under an even bigger microscope as he faces criticism for acting more like Trump's defense lawyer than the attorney general—especially when it comes to the handling of the Mueller report.
"This is a danger sign. Barr, who is willing to use criminal investigations as political tools, can now decide to selectively release classified information to further the WH's false narrative. But he won't file a motion asking a judge to turnover grand jury material to Congress," Joyce Vance, a former U.S. attorney, wrote on Twitter.
Barr has long argued that he cannot release the unredacted Mueller report to the American people or to Congress, citing sensitive grand jury material and intelligence information. Democrats have created multiple deadlines for Barr to make the report available, but none of them have been met.
The attorney general also claimed that he could not disclose the grand jury information without a court order, but Rossi said that any court would approve the request in a "New York minute."
The former federal prosecutor said that when it came to the release of information, the only difference between the two probes is that President Trump thinks that Barr's will help him and Mueller's will hurt him.
"It's pitiful, it's just pitiful," Rossi said. "At the end of the day, history is going to find that [Barr] was compliant, he was timid, and at times he was a sycophant. All to please Trump."