Donald Trump Will Likely Win in 2020, Says Commentator: 'Incumbency Has Its Privileges'
Donald Trump will likely win the 2020 presidential election because "incumbency has its privileges," according to a political commentator.
The president hasn't officially thrown his hat into the ring for the next race for the White House. But if he did, Trump would be the favorite to win despite a poor recent performance in voter polling and Republicans suffering the worst House defeat in U.S. history in the midterm elections, Republican strategist Ford O'Connell wrote for The Hill.
Read more: Trump wants to reclassify radioactive waste from nuclear weapons to 'low level' so disposal is cheaper
O'Connell, who served as director of rural outreach for John McCain's 2008 presidential campaign, noted that 20 presidents have run for election since the turn of the 20th century, with incumbents retaining the White House 15 times. They include President Gerald Ford, who automatically assumed the presidency after the resignation of Richard Nixon in 1974.
"If you remove Ford from the equation, the winning percentage among presidential incumbents would likely be good enough to capture baseball's Cy Young award in recent years," wrote O'Connell, who is also an adjunct professor at the George Washington University Graduate School of Political Management.
And although the midterm elections were regarded to be a litmus test of how voters would cast their ballots in the next presidential election, the correlation isn't all that strong in reality, said O'Connell, citing Bill Clinton losing 52 House seats in 1994, and Barack Obama's loss of 63 in 2010. Both men went on to be re-elected.
"Add in the fact that the 2020 Electoral College playing field will likely be very similar to the 2016 edition (40 states are essentially already decided and 10 are up for grabs), and one starts to see why Trump has a very real chance of securing four more years in the White House," O'Connell wrote.
The biggest obstacle standing between Trump and the Oval Office is the prospect of a recession in the election year, suggested O'Connell.
His comments came after a Fox News poll suggested that around one-third of those who voted for Trump in 2016 were undecided as to whether they would back him again in 2020. The graphic below by Statista illustrates the results of that poll.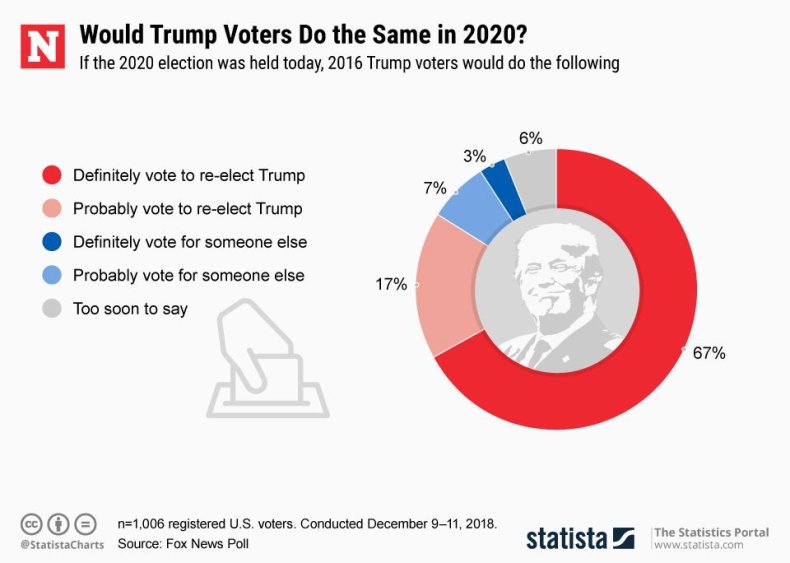 The 1,006 registered voters who took part in the survey between December 9-11 were asked whether they would choose Trump in 2020 if they could vote today.
Of those who voted for Trump in 2016, 67 percent said they would "definitely vote to re-elect Trump"; 17 percent said they would "probably vote to re-elect Trump"; 7 percent would "probably vote for someone else"; 3 percent picked "definitely vote for someone else"; 6 percent said it was "too soon to say"; and less than half a percent said they "wouldn't vote" or were "not sure."
The poll was conducted jointly by Anderson Robbins Research and Shaw & Company Research.
This article was updated to include an infographic.