Donald Trump Receives Heavy Backing to Win Election During Debate, Only 1 in 4 Bets Placed on Joe Biden
Just one in four bets placed on the US presidential election during Thursday's debate backed Joe Biden to win, with the vast majority being placed for Donald Trump, according to a betting site.
Oddschecker, which compares odds offered by dozens of bookmakers, said the president had received "heavy backing" while the two men were on stage.
The president attracted wagers from 73 percent of those placing bets during Thursday's second and final head-to-head in Nashville, Tennessee.
Just 25 percent of wagers went on Biden, with the remaining 2 percent made up of more speculative bets on Mike Pence and Kamala Harris.
U.K.-based bookmaker Betfair also reported positive movement for the president, with Trump's chances of re-election improving according to odds on the Betfair Exchange.
Trump was 21-10 (an implied chance of winning of 32 percent, according to Betfair) to win the 2020 election before Thursday's debate began. On Friday morning, the president had odds of 19-10—nudging the implied chance of winning to 34 percent.
Meanwhile, Biden's odds lengthened from 1-2 (68 percent) to 8-15 (66 percent).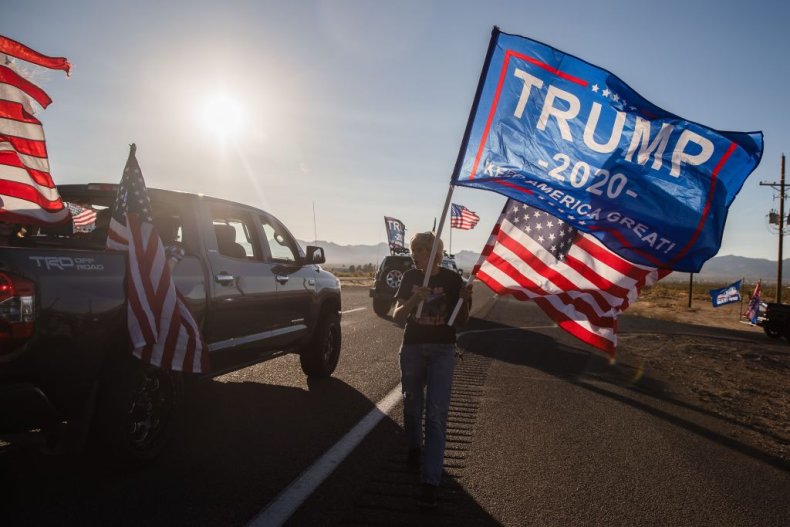 Betfair said £2m ($2.61m) was staked on Biden and Trump during the debate, taking the total bet on the next president in the last 24 hours to over £9m. As it currently stands, the market remains on course to reach £300m, making the 2020 US election the biggest single betting event of all time—breaking 2016's record £199m.
Betfair spokesperson Sam Rosbottom said: "Both candidates will claim to have won the debate but the odds speak louder than words and the money has come Donald Trump's way on Betfair Exchange with his odds of winning re-election improving from 21-10 (32 percent) to 19-10 (35 percent) as Biden's chances have decreased to 8-15 (66 percent).
"Over £9m has been bet on who will win the election in the last 24 hours, including £2m during the debate, which means this market remains on-course to hit £300m and break 2016's record £199m to become the biggest single betting event of all time."
Professional political gambler and Betfair's election expert Paul Krishnamurty said: "This was Donald Trump's best debate performance by a long way. He was much more disciplined and that's been rewarded by the odds moving in his favor. That said, Biden will be happy enough. He achieved his primary goal—avoiding any disasters. He came across as passionate and informed."
Trump shared multiple Twitter polls on Thursday night to claim he won the debate, including a Las Vegas Review-Journal poll that showed him with 92 percent. However, surveys by pollsters pointed in the opposite direction.
A CNN poll showed that 53 percent of people who watched Thursday's debate believed Biden had won, compared to 41 percent for Trump.
A YouGov/CBS News poll suggested a similar proportion of people (54 percent) thought Biden had won, with 35 percent saying Trump had and 9 percent stating it was a tie.