President Donald Trump renewed his attack against wind power during a rambling speech at a National Republican Congressional Committee dinner on Tuesday, saying that wind turbines undermined property values, killed birds and even caused cancer.
The president, who doesn't acknowledge climate change and has staunchly opposed wind-generated power, often outlandlishly criticizes renewable technology as he lauds coal and other traditional fossil fuels. Scientists call Trump's opposition to renewable energy "malicious ignorance."
Trump's most common line of attack on wind power is that the turbines kill birds—they do, but at a far lower rate than other energy sources—and that reliance on turbines (which he seems to confuse with windmills) would mean no electricity when there is no wind—an argument nullified by the existence of battery storage.
On Tuesday, he mocked wind power as part of an attack on his former presidential opponent Hillary Clinton, who proposed greater investment in wind turbines to reduce reliance on traditional fossil fuels and bring down carbon emissions.
"Hillary wanted to put up wind. Wind," he told the crowd. "If you have a windmill anywhere near your house, congratulations, your house just went down 75 percent in value." He then introduced his newest argument, telling the audience, "And they say the noise causes cancer," before mimicking the sound of a turbine as the crowd laughed and applauded.
There is no evidence that the noise of a wind turbine causes cancer. Anti-wind power groups have incorrectly claimed that the low-frequency noise—known as infrasound—given off by turbines can cause health problems including nausea, sleep loss and anxiety, among many other symptoms, The Atlantic explained.
No research has ever shown that harm came from such low frequencies, and no cancer of any kind has been linked to high levels of noise. Chemicals and patriculates released in the extraction, storage, transportation and burning of coal and other fossil fuels, however, have been associated with higher rates of cancer.
The graphic below, provided by Statista, illustrates projections for the generation of electricity from renewable sources in the U.S.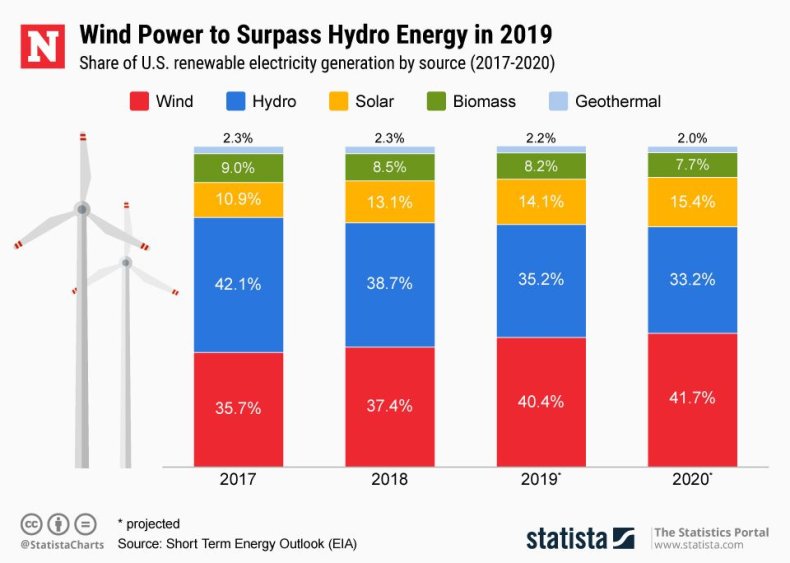 The president continued to lament the number of birds killed by the turbines. "And of course it's like a graveyard for birds. If you love birds, you'd never want to walk under a windmill, because it's a very sad, sad sight. It's like a cemetery. We put a little statue for the poor birds."
At a campaign rally in Michigan last month, Trump again attacked Clinton's plans to expand America's wind power infrastructure. "You know, Hillary wanted to put windmills all over the place. Let's put up some windmills. When the wind doesn't blow, just turn off the television darling, please. There's no wind, please turn off the television quickly," the president said. "I know a lot about wind," he added.
And at the Conservative Political Action Conference last month, Trump dismissed the effectiveness of wind energy as part of his attack on the Green New Deal. "When the wind stops blowing, that's the end of your electric," he claimed, incorrectly.
Despite Trump's continued opposition, the U.S. wind energy industry is growing. According to the American Wind Energy Association, the industry supported more than 100,000 jobs in 2017 and provided 6.3 percent of the nation's energy. The Energy Information Association said wind power was on track to surpass hydropower as the country's largest source of renewable energy by 2019.