Donald Trump Winning in 2024 Would Risk U.S. Role in NATO, Mitt Romney Says
Senator Mitt Romney (R-UT) has said that a second term for former President Donald Trump could risk the United States' role in NATO as members may "rethink" the nation's leadership of the military alliance.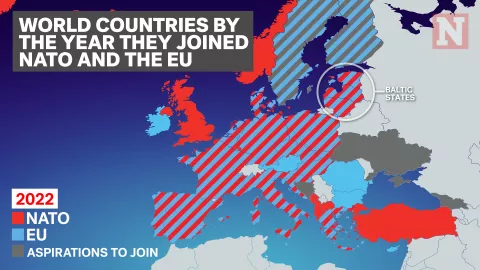 Romney told CNN's Kasie Hunt that Trump returning to the White House would see "a pretty dramatic departure" for the nations of the world and could cause a reassessment of their relationship with the U.S.
The senator's comments come amid the ongoing Russian invasion of Ukraine, which has seen the U.S. work closely with its NATO allies in providing assistance to Ukraine, imposing harsh sanctions on Russia and bolstering the alliance's own defenses.
Hunt took to Twitter on Tuesday and shared a clip of her interview with Romney from her new show airing on CNN's new streaming service, known as CNN+. She asked the Republican if Trump's time in office had "permanently damaged" NATO.
Romney said that NATO members were asking "Can we rely on the U.S.?" and that the "America first" approach adopted by Trump "frightens other members of NATO."
"And they wonder, 'Are we committed to NATO and to our mutual defense, or are we all going to go off on our own?'" Romney said.
"They wonder whether we're gonna return to the—if you will—the policies that we've had for the last 70 years or whether we're instead gonna take the turn that Donald Trump represented," the senator went on.
"If he were to come back as the U.S. president, I think it would represent a pretty dramatic departure for the world, and they would rethink whether they can count on the United States to lead NATO and to lead other nations as they push back against China and against Russia," he said.
Hunt asked Romney if he believed the 2024 presidential election would decide the question and the senator reiterated his belief that a second Trump term would represent a major change.
"I think if President Trump were to return as president, that the nations of the world would say that they have to really rethink their own national security and the extent to which they want to be allied with us and instead be allied with someone else," Romney said.
Former President Trump's office issued a statement to Newsweek on Tuesday in response to Romney's comments.
"No president has been better for NATO than President Trump, who secured more funding for NATO by getting European nations to pay their fair share," Trump spokesperson Liz Harrington said.
"As Secretary General Stoltenberg said, President Trump made 'NATO stronger' and did 'more together in this alliance now than we have done for many decades,'" she added.
Harrington was quoting from comments made by by NATO Secretary General Jens Stoltenberg during a press conference with Trump in December 2019 and a speech he delivered in April of that year.
John Bolton, who served as national security adviser in the Trump administration, told a Washington Post Live event on March 4 that he believed Russian President Vladimir Putin was waiting for Trump to withdraw from NATO during a second term.
"In a second Trump term, I think he may well have withdrawn from NATO, and I think Putin was waiting for that," Bolton said.
Trump spokesperson Taylor Budowich criticized Bolton for the remarks in a statement published by The Hill on March 5.
"John Bolton is only happy when America is at war. President Trump led America into one of the most peaceful times in U.S. history, which included growing investment into NATO by $50 billion," Budowich said.
"John Bolton is just mad he was fired before it could be spent," he said.
Trump has frequently been critical of NATO, which was formed by the U.S. and its allies following World War II. The former president has previously accused some NATO countries of being "delinquent" in defense spending, wrongly suggesting that NATO countries had unpaid defense bills due to be paid to the U.S.
One of the 2020 Trump campaign's "core priorities" was to "get allies to pay their fair share."
NATO members have committed to spending at least 2 percent of GDP on defense spending by 2024 but it remains to be seen how many of the alliance's countries will meet that goal with NATO estimates published in February showing that just 10 members were reaching that level of funding.
Trump is widely considered the leading contender for the 2024 Republican nomination and he's repeatedly hinted that his supporters will be "very happy" when he announces his decision but he has not yet launched an official campaign.
{{#isDisplay}} {{/isDisplay}}