Donald Trump Wishes Tiger Woods Well, Calls Him a 'True Champion'
Former President Donald Trump sent well wishes to golf superstar Eldrick "Tiger" Woods, who was involved in a single-car, rollover crash Tuesday morning in California. Woods had multiple leg injuries, and he was taken to a local hospital for surgery. Woods was the only occupant in the vehicle.
Trump sent this message Tuesday afternoon.
"Get well soon, Tiger. You are a true champion!" it read on a tweet from Jason Miller, a former senior adviser to Trump.
The Los Angeles County Sheriff's Department said Woods' crash happened around 7:12 a.m. Tuesday morning in Rancho Palos Verdes, California.
Woods, 45, struck a median at a high rate of speed, and his car rolled several times. Capt. James Powers of the Los Angeles County Sheriff's Department said the "jaws of life" were not used to extricate Woods from his vehicle, despite earlier reports from the sheriff's department that said the "jaws of life" were used. Powers called the earlier statement "inaccurate."
Powers said Woods was traveling north on Hawthorne Boulevard at a high speed on the road that has a steep slope. He said Woods lost control of his vehicle before striking a median and going into a roll. The captain said he believes Woods was conscious when he was pulled from the vehicle.
Mark Steinberg, who is Woods' agent, said the golfer has multiple leg injuries.
"Tiger Woods was in a single-car accident this morning in California where he suffered multiple leg injuries," Steinberg said. "He is currently in surgery and we thank you for your privacy and support."
Woods recently co-hosted the Genesis Invitational, a PGA tournament at Riviera Country Club in Pacific Palisades. Woods had back surgery in December, and he told CBS' Jim Nantz on Sunday that he wasn't sure if he'd be ready to play the Masters tournament in April, but that he was rehabbing his back so he could try to make it to Augusta.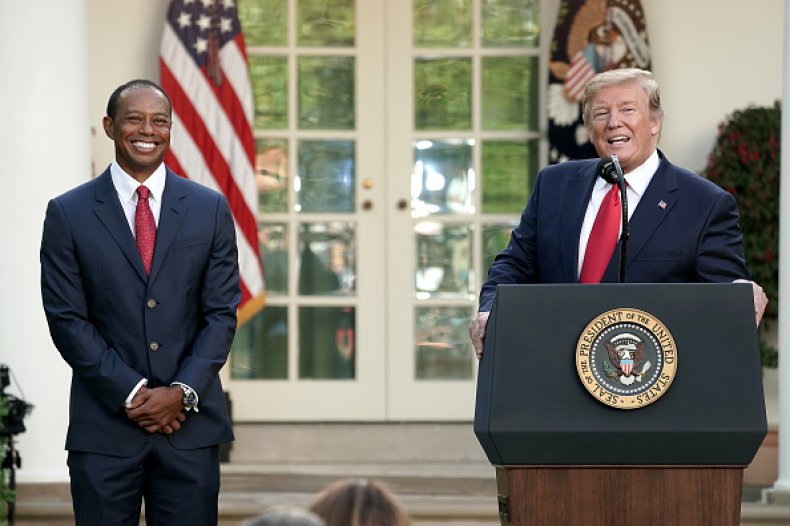 Trump awarded the Presidential Medal of Freedom to Woods on May 6, 2019, one month after Woods made a remarkable comeback to win that year's Masters. It was the first Masters win for Woods since 2008.
"Congratulations again on your amazing comeback and your amazing life and for giving sports fans everywhere a lifetime of memories," Trump said.
Trump and Woods have played friendly rounds of golf, and Woods says he respects the office of the president, whether or not you agree with their politics or personal beliefs.
"Well, he's the President of the United States," Woods said at the time. "You have to respect the office. No matter who is in the office, you may like, dislike personality or the politics, but we all must respect the office."
Woods is one of the best golfers in history. His 15 major titles are second only to Jack Nicklaus.