Donald Trump has rescinded his endorsement of Mo Brooks for "going woke" after the Alabama Senate candidate doubted the former president's unverified claims that the 2020 presidential election was a fraud.
Trump made the announcement in a statement issued on his website on Wednesday, saying he would instead be endorsing another candidate for the May 24 primary.
Republican candidates Trump sees as loyal, and who have enjoyed the former president's backing, have often been successful in local elections. In both the 2018 and 2020 elections, Trump-endorsed candidates—such as former football coach Tommy Tuberville, now a junior senator from Alabama, and Jason Lewis, a Massachusetts state senator—won nearly every primary they competed in, according to political data website FiveThirtyEight.
Trump's statement said: "Mo Brooks of Alabama made a horrible mistake recently when he went 'woke' and stated, referring to the 2020 Presidential Election Scam, 'Put that behind you, put that behind you,' despite the fact that the Election was rife with fraud and irregularities. If we forget, the Radical Left Democrats will continue to Cheat and Steal Elections."
Trump claimed that this was happening in Wisconsin, Arizona, Pennsylvania, Georgia and elsewhere, but said "tremendous progress" had been made that will help Republicans win the 2022 midterms and the 2024 presidential election.
"The 2020 Election was rigged, and we can't let them get away with it," Trump said, repeating his baseless claim that the results of the November 2020 ballot were a fraud.
In the statement, the former president said when he endorsed Brooks, he took a 44-point lead and was "unstoppable."
"He then hired a new campaign staff who 'brilliantly' convinced him to 'stop talking about the 2020 Election.' He listened to them. Then, according to the polls, Mo's 44-point lead totally evaporated all based on his '2020' statement made at our massive rally in Cullman, Alabama," Trump said.
Brooks made the comments at the rally last August. "There are some people who are despondent about the voter fraud and election theft in 2020," he said. "Folks, put that behind you, put that behind you." Brooks was then booed by Trump supporters.
Trump's statement continued: "When I heard his statement, I said, 'Mo, you just blew the Election, and there's nothing you can do about it.' Very sad but, since he decided to go in another direction, so have I, and I am hereby withdrawing my Endorsement of Mo Brooks for the Senate. I don't think the great people of Alabama will disagree with me. Election Fraud must be captured and stopped, or we won't have a Country anymore. I will be making a new Endorsement in the near future!"
Trump had endorsed Brooks in April 2021, making him the instant favorite in the race to succeed retiring Republican Sen. Richard Shelby. However, a recent poll suggested Brooks had struggled to find his footing and may lose to Shelby's former chief of staff, Mike Durant, and come behind Katie Britt.
Brooks has been an ally to Trump and even helped round up his supporters for the speech the then-president made in Washington, D.C., on January 6, 2021, before the Capitol riots.
An article published by the Washington Examiner on March 16 showed Trump criticizing Brooks for the first time, calling him "disappointing," citing his poor performance in the race and poor campaign staffing. He also lambasted Brooks for what he saw as a softening on Trump's claims about the 2020 election, which he lost to Democrat Joe Biden.
Newsweek has contacted Brooks for comment.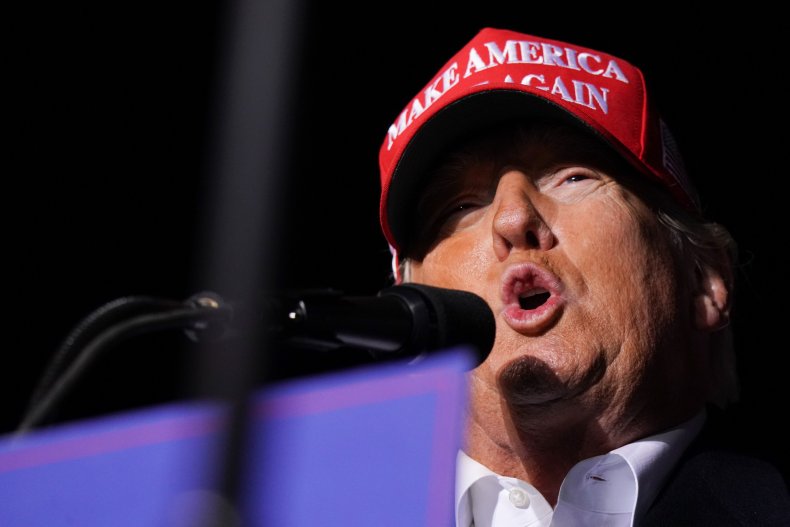 Update 03/24/22, 6:50 a.m. ET: This article was updated with additional context.