Trump White House Had Only 1 Woman, and 15 Men, at Congressional Meeting
President Donald Trump announced he would sign an executive order ending his administration's practice of separating immigrant families at the border during a meeting with members of Congress in the White House Cabinet Room on Wednesday. Of those invited to take part in the discussion, which centered on immigration and the military, just one was a woman, while 15 were men.
The sole female invitee, according to a list sent out by the White House, was Representative Liz Cheney. After the Congresswoman from Wisconsin had finished speaking, Trump told her, "Say hello to your father. Great guy," in reference to former Vice President Dick Cheney. In April, Trump pardoned Dick Cheney's former chief of staff Scooter Libby.
The only other woman reportedly in the room was White House press secretary Sarah Huckabee Sanders, who was standing.
In addition to the lack of gender diversity, every member of Congress present was white.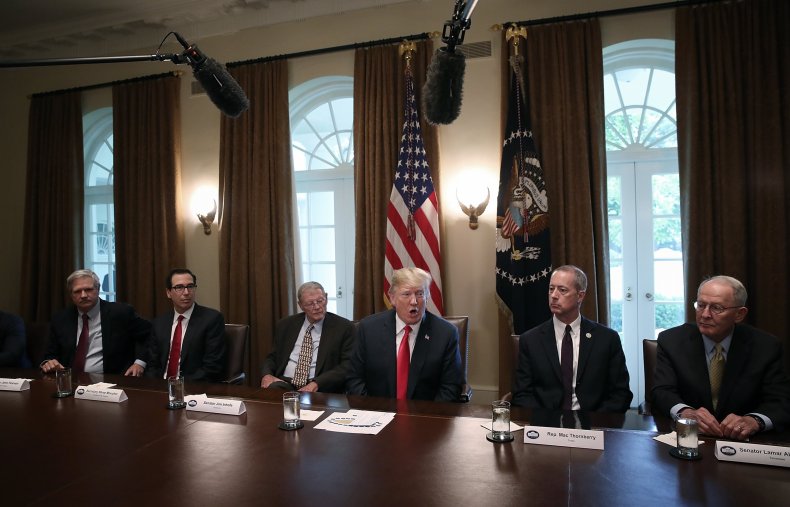 It is not the first time a lack of diversity surrounding Trump has been noted. Just 26 percent of those appointed to Trump's cabinet have been women, according to a December 2017 analysis by the Rutgers Center for American Women and Politics. That compares to 35 percent during President Barack Obama's second term and 30 percent for his first term.
The only black member of Trump's cabinet is Ben Carson, who heads the Department of Housing and Urban Development. Additionally, Secretary of Transportation Elaine Chao is Asian-American, Labor Secretary Alexander Acosta is Latino and United Nations Ambassador Nikki Haley is Indian-American.
Sixty-four percent of Obama's first cabinet and cabinet-level officials were women or nonwhite men, according to The New York Times.
At the meeting on Wednesday, Trump went around the room asking the members of Congress, all Republicans, for their thoughts, most of which lavished praise upon the president.
At the end of the discussion, a group of reporters present shouted out questions to Trump about the "zero-tolerance" immigration practice announced last month that has led to children being separated from their parents at the United States-Mexico border.
"We have compassion, we want to keep families together," Trump said. "It's very important. I'll be signing something in a little while that's going to do that and the people in this room want to do that and they're working on various pieces of legislation to get it done. But I'll be doing something that's somewhat preemptive but ultimately will be matched by legislation I'm sure."
Trump had previously falsely claimed that only Congress—with the help of Democrats—could stop the policy.