Donald Trump Has a Long History of Calling Women 'Dogs' Before Omarosa
President Donald Trump lashed out Tuesday against former White House aide Omarosa Manigault Newman on Twitter, labeling her a "dog." And it wasn't the first time he has used the word to describe a woman.
"When you give a crazed, crying lowlife a break, and give her a job at the White House, I guess it just didn't work out. Good work by General Kelly for quickly firing that dog!" the president said of Manigault Newman.
The president is known to have previously used the insult against women on the campaign trail and before he entered politics. His targets typically have been women who criticized him publically.
In Manigault Newman's case, the president was reacting to the damning allegations she made in her new book, Unhinged: An Insider's Account of the Trump White House, which was released Tuesday. Her salacious claims include that the president is mentally unstable and a racist, as well as that first lady Melania Trump wants his time in office to end immediately, so she can proceed with a divorce.
During one of the first Republican primary debates in 2015, NBC News host Megyn Kelly, who was with Fox News at the time, famously confronted Trump about his use of "dog" and "fat pig" to describe women. Trump shot back that he used the terms against only comedian and actor Rosie O'Donnell.
There are, however, examples that contradict Trump's claim.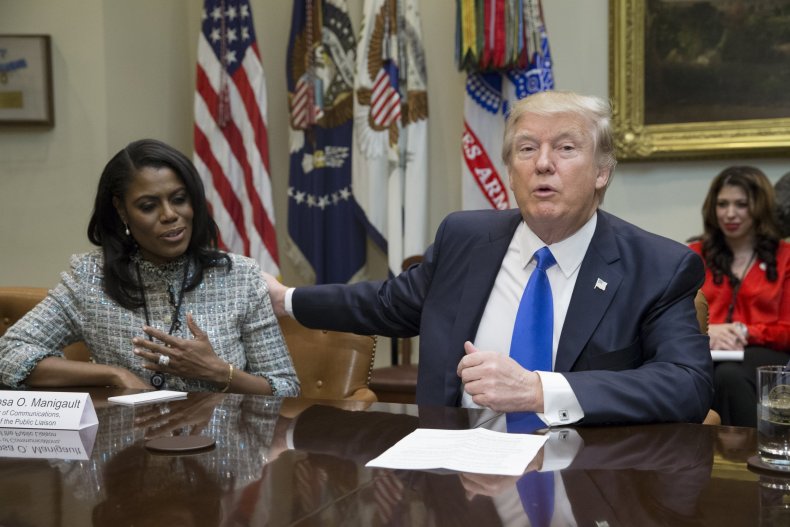 Nearly three years before he announced his candidacy, Trump went after actor Kristen Stewart after she and fellow Twilight star Robert Pattinson ended their relationship. Trump was on Pattinson's side in the split.
"Robert Pattinson should not take back Kristen Stewart. She cheated on him like a dog & will do it again—just watch. He can do much better!" Trump tweeted in October 2012.
Then there was columnist and commentator Arianna Huffington, whom Trump challenged two months before declaring himself a candidate for the White House.
"She is a dog who wrongfully comments on me," Trump tweeted in April 2015 in response to why he had mentioned Huffington's looks.
And that's only on Twitter. In April 2011, a columnist for The New York Times, Gail Collins, said she received a direct message from Trump after she described him in one article as a "financially embattled thousandaire." Trump reportedly sent her the column back with her picture circled and the phrase "The Face of a Dog!" written on top.