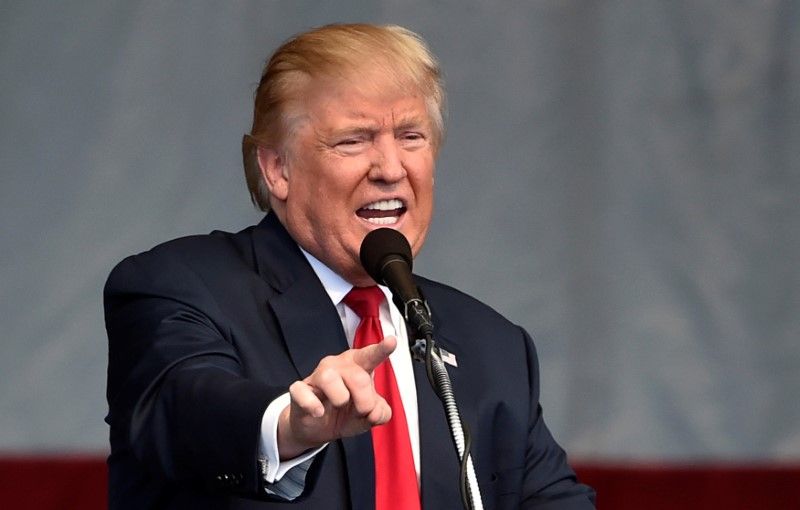 Updated | Donald Trump apologized for his 2005 comments about grabbing "pussy" and kissing women on the mouth, after initially brushing them off as "locker room talk." Many politicians and headline writers today have echoed that description, or called the tape "lewd" or "vulgar."
But at least two public accounts exist of Trump doing—not just talking about—precisely what he says he does in the tape. And lawyers say the activity he described amounts to sexual harassment or assault.
Jill Harth, a pageant owner trying to work with Trump in the mid-1990s, filed suit against him in federal court in Manhattan in 1997, describing a "relentless" campaign of sexual harassment and assault including an incident in which he reached under a table, put his hands on her thighs and grabbed her "intimate private parts" during a meeting at a New York restaurant.
Miss USA pageant contestant Temple Taggart, a former Miss Utah, last May told the New York Times Trump kissed her on the lips without her consent, and that she believed he did the same to other contestants.
Early this morning, the Trump campaign released a 90-second video of Trump personally apologizing for his comments. "I never said I'm a perfect person nor pretended I'm a person I'm not. I've said and done things I regret, and the words released today on this more than a decade old video are one of them. Anyone who knows me knows these words don't reflect who I am. I said it I was wrong, and I apologize."
He went on to discuss his campaign for president and how "my travels have also changed me."
Trump did not concede to nor apologize for any actual behavior that he described on the tape. In the 2005 audio clip, Trump told "Access Hollywood" host Billy Bush: "You know, I'm automatically attracted to beautiful—I just start kissing them. It's like a magnet. Just kiss. I don't even wait. And when you're a star, they let you do it. You can do anything."
When Bush responded "Whatever you want," Trump went further: "Grab 'em by the pussy. You can do anything."
Civil rights lawyer and sexual harassment expert Lisa Bloom, who represents Harth, told Newsweek in a phone interview: "Let's be very clear, he is talking about sexual assault. He is talking about grabbing a woman's genitals without her consent. Some of the media has described it as locker room talk. It's way beyond that." She also said that the tape itself, in which Trump talks about a woman they are about to meet—among others —is evidence of workplace sexual harassment. "This is a workplace. It was harassment. They're talking about a woman, and they come out of a bus, and they interact with her."
In 1992, Harth and her then-boyfriend George Houraney were negotiating to get Trump involved in their beauty pageant, The American Dream competition. Harth maintains Trump aggressively came onto her at their first meeting. In her lawsuit—and in an interview with Newsweek Friday night—she described physical interactions that almost exactly echo Trump's comments to Billy Bush.
Regarding "grabbing pussy," Harth recalled that she was at a restaurant with Trump in December 1992, at a table with him and several other women. "I had a dress on, and I constantly had to lean to the left, into the other women, to get away from him. He had his hands right there." In her lawsuit she described him touching "my intimate private parts."
Harth said she and her business partner and boyfriend at the time believed they were on the verge of a deal to get Trump involved in their enterprise.
"At the time, he had agreed to do this, he sold us on how big he was going to make this deal," she said. "The fact that he was grabbing on me, it was like, Oh my God, how am I going to handle this now? It was shocking to have someone of that caliber doing this. I was the director of the pageant, I wasn't one of the contestants."
The harassment continued throughout the business relationship, she says. "Anytime I had to deal with him on the phone or in person, I always had to fight him off of me. He was always bringing it up, how 'I'm gonna be the best lover, I'm gonna ruin you for anybody else.' It was constant sexual talk. It was relentless, it was nonstop, he never took me seriously as a businessperson. He was so busy trying to get with me."
Harth described two, more serious incidents in 1993 during which she says Trump overpowered her, once pulling her into a bedroom at Mar-a-Lago, and lay down on top of her. Harth had continued to try to work with Trump, despite his sexual aggression, because he was giving her male partner "the cold shoulder" and would only deal with her.
She steeled herself to talk business with him, and in March 1993 he asked her to meet him at Mar-a-Lago (she lived in nearby Boca Raton).
"I went up there, and I was so nervous." she recalled. She said she and her partner "were going over every word I was going to use" before she left for the meeting.
Inside his house, she said he manhandled her into a children's room, and onto a bed. "He grabbed me. He's a big dude, 6 foot 3, and at the time I was waif-like. He was like, 'I'm tired, let's lay down.' So in this bedroom — I hate talking about this — he went for it with the kissing, he had his hands all over me, really pressing down on me, definitely had a hard on. I had worn pants strategically. I knew better than wearing a skirt around him anymore. It was a barrier of protection."
Harth says she wriggled free and told him she was there to talk business. That was the the last time she interacted with Trump in person until he held their American Dream competition pageant at his Trump Castle casino and hotel in Atlantic City later that year.
When Trump did not go into business with Houraney and Harth, Houraney filled a contractual lawsuit in 1996 seeking $5 million. During the depositions for that case, Harth started describing the harassment. Lawyers in the room "shut her down" she recalled, telling her those issues weren't germane to the case.
Meanwhile, the National Enquirer reported that Trump had told an anonymous source: "The truth is Jill Harth is obsessed with ME—and would do everything she could to get into my pants."
A Trump campaign spokesperson told Newsweek that,"Mr. Trump denies each and every statement made by Ms. Harth. These 24-year-old allegations lack any merit or veracity as evidence by her repeated requests for employment, attempts to seek out Mr. Trump, and her support of Mr. Trump's candidacy."
In 1997, Harth filed her own sexual harassment case. A few weeks after Harth filed her lawsuit, Trump settled with Houraney for $100,000. As part of their agreement, she agreed to withdraw her case. But she never signed a confidentiality agreement.
There is public confirmation of Trump's self-described compulsion to kiss unsuspecting women on the mouth. Former Miss Utah Temple Taggart has said she was a recipient. "He kissed me directly on the lips," Taggart said. "I thought, 'Oh my God, gross.'" Taggart added that she thought "there were a few other girls that he kissed on the mouth. I was like 'Wow, that's inappropriate.'"
Given Trump's taped confession about grabbing "pussy" and his compulsion to kiss beautiful women "on the mouth"—and his two decades as owner of the Miss Universe, Miss USA and Miss Teen USA pageants, it seems plausible that the nation is on the verge of seeing a major party presidential campaign mired in a sexual harassment scandal, in which other women start trickling out of the shadows. Friday night, CNN's Erin Burnett reported that an anonymous friend of hers said Trump caught her "off guard" and kissed her on the mouth in his office in 2010.
High-profile sexual harassment lawyer Gloria Allred also told Newsweek she has fielded similar calls. "I've had a lot of women contact me," Allred said. "They are all confidential. Needless to say, there are a number of women who are intimidated in fear of what Mr. Trump would say or do and are not willing to say or do anything to provoke that."
Attorney Bloom says she has received calls from other women with stories about Trump, but that so far, they have been afraid to go public.
"The Bill Cosby parallels are very similar," Bloom said. "Jill has had the guts to come out publicly, unlike many others in the shadows who are afraid. The reason they came down so hard on her is to deter the others. Women see what other women go through and say I'm not signing up for that. It's effective."
Harth said she feels "vindicated" by the tape. "I would love to get some kind of apology from anybody in that camp," she said. "He thinks of this as his seduction technique, whereas I consider it assault and harassment."
This article was updated to include comments from the Trump campaign.