Donald Trump Would Send Nuclear Subs to Russia's Coast to Pressure Putin
Former President Donald Trump said if he were still in the White House, the U.S. would be taking more drastic measures against Russian President Vladimir Putin, going so far as to send nuclear submarines to the country's coast to pressure Russia to back out of Ukraine.
"You should say, 'If you mention that word [nuclear] one more time, we're gonna send [nuclear submarines and planes] over and we'll be coasting back and forth, up and down your coast," Trump told Fox Business on Monday. "You can't let this tragedy continue. You can't let these, these thousands of people die."
The former president said he "listened to [Putin] constantly using the n-word," referring to the world "nuclear," during his dealings with the Russian president but that he hoped he never had to use nuclear weapons because "it would be the tragedy of all tragedies."
Trump's latest comments shift away from the positive comments he made about Putin at the beginning of the war in Ukraine.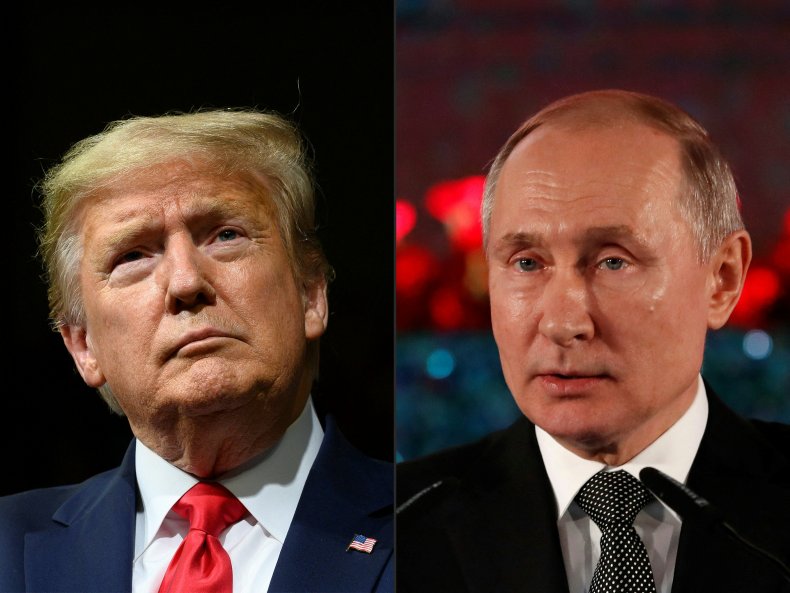 A day before Russia launched a full-scale invasion, Trump called Putin a "genius" for recognizing two separatists regions in Ukraine as independent.
"I said, 'How smart is that?' And he's going to go in and be a peacekeeper. That's the strongest peace force," Trump said in an interview on The Clay Travis & Buck Sexton Show on February 23.
While he hasn't backed down from calling Putin a "genius," Trump said: "The problem is that our leaders are dumb...and so far, allowed [Putin] to get away with this travesty and assault on humanity."
"Putin is playing [President Joe] Biden like a drum and it's not a pretty thing to watch," he said at the Conservative Political Action Conference last month.
Biden is expected to meet with European leaders in Belgium on Thursday before flying to Poland, to which more than 2 million Ukrainians have fled in the last month. There are currently no plans for the president to travel to Ukraine, according to the White House.
While Ukrainian President Volodymyr Zelensky has asked the U.S. to help deliver Poland's MiG fighter jets over the border, Biden has remained firm against sending the warplanes over fears that it would run a "high risk" of escalating the war.
"We do not support the transfer of the fighters to the Ukrainian air force at this time and have no desire to see them in our custody either," Pentagon spokesperson John Kirby told reporters this month.
Zelensky and other Ukrainian officials have also called on the U.S. and Western allies to impose a "no-fly zone" over the country, an idea that has also been rejected by the White House.