Former President Donald Trump will stump for GOP congressional candidate Harriet Hageman over the Memorial Day weekend, bolstering her challenge to Trump's longtime Republican rival Representative Liz Cheney of Wyoming.
Trump is scheduled to hold a rally in support of his endorsed candidate in the closely watched House race for the state's at-large district on Saturday, May 28.
The event is being held at the Ford Wyoming Center in Casper, Wyoming. Parking will open at 8 a.m., with doors opening and entertainment set to start at 11 a.m. Speakers will begin taking the stage at 1 p.m. before Trump delivers his remarks at 4 p.m.
The rally will feature a long list of conservative speakers, including some of Trump's closest congressional allies: Representatives Andy Biggs, Matt Gaetz, Lauren Boebert and Kat Cammack. House Minority Leader Kevin McCarthy, GOP House Chair Elise Stefanik and Representative Jim Jordan will deliver a special video address.
Also in attendance will be Wyoming Republican Party Chairman Frank Eathorne, state Senator Cheri Steinmetz, state Representative Chip Neiman, state Representative John Bear and former state Representative Marti Halverson.
Tickets are available on Trump's official website, but only two tickets can be reserved per mobile phone number.
The event will also be live streamed on Right Side Broadcasting Network's YouTube channel here.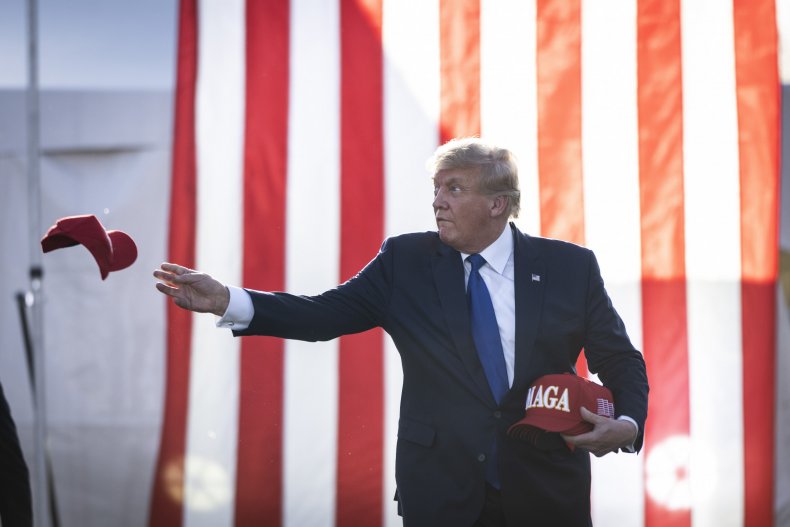 Cheney has emerged as one of Trump's most vocal critics in the Republican Party, voting for his second impeachment and becoming his greatest threat on the House committee investigating the January 6, 2021, Capitol riot.
Her opposition to the former president—as the bulk of the GOP has stuck by him—has not only cost the Wyoming Republican her leadership position in the House caucus but also jeopardized her chances of reelection this year.
Trump, McCarthy and Stefanik have all endorsed Hageman in the August 16 primary.
A statement describing Saturday's event has positioned the rally as "a continuation of President Trump's unprecedented effort to advance the MAGA agenda by energizing voters and highlighting America First candidates and causes."
Wyoming's largest print newspaper has warned that the "proxy war" between Cheney and Trump will only leave "rubble" once the midterms are over and could ultimately result in the state giving up what "political autonomy" it has.
A trio of satirical billboards attacking Hageman, who worked for Cheney's 2014 Senate campaign and criticized the former president during his 2016 presidential run, have popped up ahead of Trump's appearance in Casper, according to local outlets.
One billboard shows the two Wyoming candidates together with a quote from Hageman describing Cheney as a "proven, courageous, constitutional conservative," while another features Hageman's 2016 quotes calling Trump "the weakest" candidate in the GOP primary.
The third billboard addressed out-of-state visitors coming to catch a glimpse of Trump directly, telling them: "Out of state visitors for Trump Rally—Welcome to Casper! Support our local businesses and spend lots of $$$!"