Donald Trump: 'Mexico Will Pay for the Wall'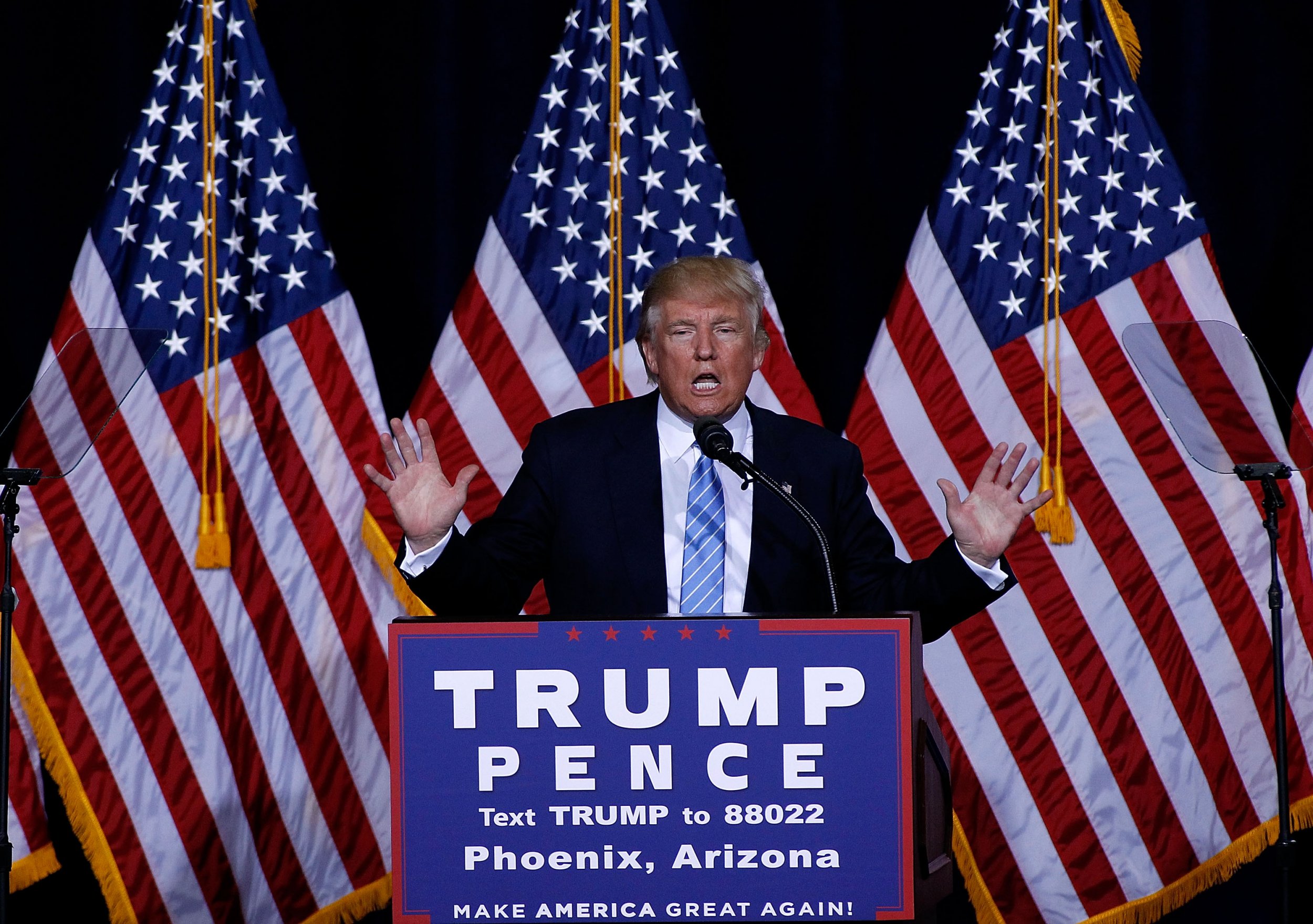 "Oh yes, you will."
That was Donald Trump's response to the issue of payment for his proposed border wall with Mexico, hours after a meeting with the Mexican President Peña Nieto, who stated separately on Twitter that his country would not be funding the border barrier.
Delivering a major immigration speech in Arizona on Wednesday after the meeting, Trump insisted that Mexico would "100 percent" pay for the wall and reaffirmed his tough stance on deporting undocumented immigrants living in the United States, of which there are an estimated 11 million.
The Republican presidential candidate said that measures he would introduce would include "extreme vetting" of immigrants —including asking them about their views on homosexuality and radical Islam—and the creation of a deportation force that would go about removing immigrants arrested on suspicion of crimes.
But his flagship policy of a border wall with Mexico remained the centerpiece of the speech. Trump had held a private meeting with President Nieto in Mexico City on Wednesday. In a press conference following the meeting, Trump told Nieto that he considered him a "friend" and spoke of the common interests of both countries, including tackling human smugglers and drug traffickers.
When asked about the wall, Trump said: "We did discuss the wall, we didn't discuss payment of the wall, that will be at a later date, this was a very preliminary meeting. It was an excellent meeting." But Nieto provided a contradictory account in a tweet sent from his account after the press conference. "At the beginning of the conversation with Donald Trump, I made it clear that Mexico will not pay for the wall," Nieto tweeted.
Yet just hours later, Trump—describing the proposed barrier as "an impenetrable, physical, tall, powerful, beautiful, southern border wall"—insisted that Mexico would pick up the bill.
Trump is currently trailing Democratic rival Hillary Clinton in the polls ahead of the November presidential election. Clinton, reacting to Trump's visit to Mexico, said that the Republican had "choked" by not discussing payment of the wall.