Donald Trump's 'YMCA' Dancing Video on Election Day Watched Over 10 Million Times
Donald Trump is no stranger to the spotlight and the president is reveling in what could be his last day as president of the United States.
The Republican candidate today took to Twitter to post a montage of him dancing on stage to the Village People anthem "YMCA" in a clip that has been viewed 10 million times at the time of writing.
Trump shared the video on Election Day, November 3, with the caption: "VOTE! VOTE! VOTE!"
It is unclear what exactly he is trying to achieve with the clip, most likely it is to whip up some excitement and hype on Election Day, like a virtual rally.
Trump regularly uses the '70s disco song—widely beloved as an LGBTQ+ anthem—to close out his rallies, often accompanied by his much-mocked style of fist pump arm dancing. He is also famously a fan of the Village People's other hit song, "Macho Man."
The reaction to the bizarre clip has been deeply mixed, with Twitter users either lauding or condemning the spectacle.
Comedian Tim Young tweeted: "If you would've told me 4 years ago that I'd get a bit misty-eyed at a President Trump dancing to the YMCA at his final rally of 2020... not sure I'd have believed you."
While another used the opportunity to criticize the U.S. death toll from the coronavirus pandemic: "The President, dancing on the graves of 233K Americans."
Another joked: "Is someone gonna tell him what this song is about?"
Fox News' Tucker Carlson shared a shorter version of the "YMCA" montage on his show on Monday, calling it "perhaps the most important video we've seen in quite some time."
"Millions of Americans sincerely love Donald Trump. They love him in spite of everything they've heard, they love him often in spite of himself. They're not deluded—they know exactly who Trump is. They love him anyway. They love Donald Trump because no one else loves them," Carlson said on Monday night.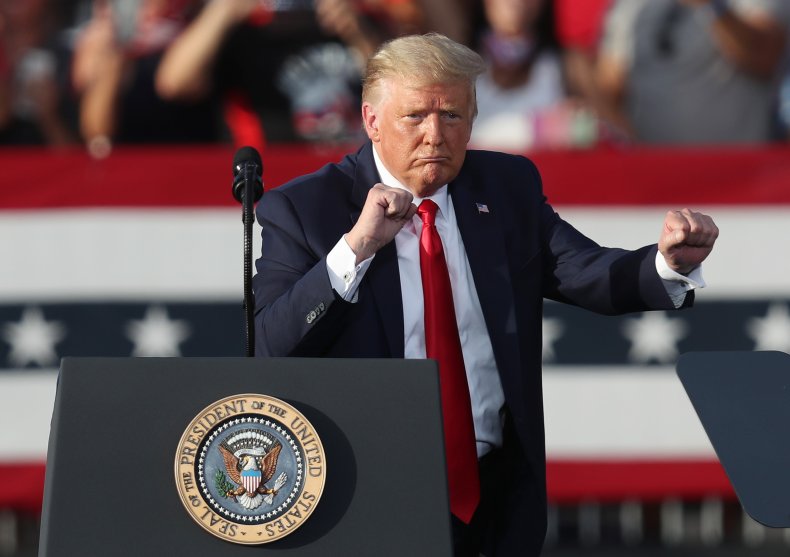 "Whatever Donald Trump's faults, he is better than the rest of the people in charge," Carlson continued. "Donald Trump, in other words, is and has always been a living indictment of the people who run this country. That was true four years ago when Trump came out of nowhere to win the presidency, and it's every bit as true right now. Maybe even more true than it's ever been."
Nearly 100 million ballots have already been cast and polls show the president trailing Joe Biden by an average of more than eight points, according to poll tracker FiveThirtyEight.