Donald Trump's 2020 Campaign Fundraising Behind Findings of Mueller Report: 'Dems Raised Millions Off a Lie. Now We Fight Back'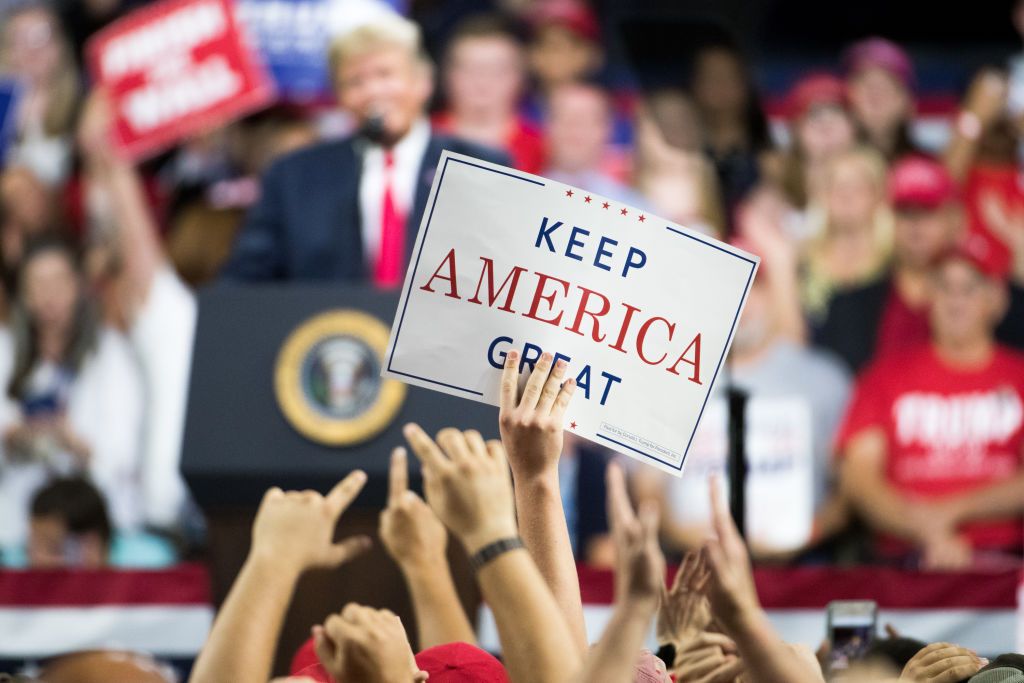 President Donald Trump's 2020 campaign team didn't waste any time.
Approximately an hour after Attorney General William Barr released a summary of the report provided to him by special counsel Robert Mueller, the president's campaign looked to fundraise off the revelation that Mueller's investigation did not find any conspiracy or collusion between the president, his 2016 campaign team and Russia.
According to tweets from Associated Press reporter Zeke Miller and Axios reporter Jonathan Swan, Trump's re-election campaign sent a text-message blast urging supporters to donate to the president's 2020 campaign.
"Pres Trump: NO COLLUSION & COMPLETE EXONERATION!," the text message read. "Dems raised millions off a lie. Now we FIGHT BACK! Donate in the NEXT HOUR & it'll be QUADRUPLED."
The message also appears on Trump's website.
Despite the campaign's fundraising message, Mueller's report made a point of saying that Trump was not exonerated from allegations of obstruction of justice in regard to the Russia investigation.
Quoting Mueller's report directly, Barr wrote in his four-page summary: "While this report does not conclude that the president committed a crime, it does not exonerate him." Barr said that Mueller had left it to the attorney general to determine if charges should be filed.
According to Barr, as he wrote in his summary, he and Deputy Attorney General Rod Rosenstein "concluded that the evidence developed during the Special Counsel's investigation is not sufficient to establish that the president committed an obstruction-of-justice offense."
While it is unknown how many people the text message reached, Trump's efforts to stay in the White House for another term have gone on for most of his tenure.
The president regularly holds rallies across the country, including a 'Thank You Tour' that began in December 2016, even before he took office. Trump has a scheduled rally in Grand Rapids, Michigan, on March 28. The Michigan rally will be the second of his official 2020 presidential campaign effort, as other rallies held in 2017 and 2018 were billed as midterm rallies.
While the president has no current challengers for the Republican nomination in 2020, 15 Democrats are currently campaigning to run against him, with another expected to enter the ring in the coming weeks—former Vice President Joe Biden.
Newsweek reached out to Trump's campaign for comment on the fundraiser, but did not immediately hear back.