Donald Trump's 2024 Campaign Theme: 'We Wuz Robbed and We Won't Be Robbed Again,' Aides Say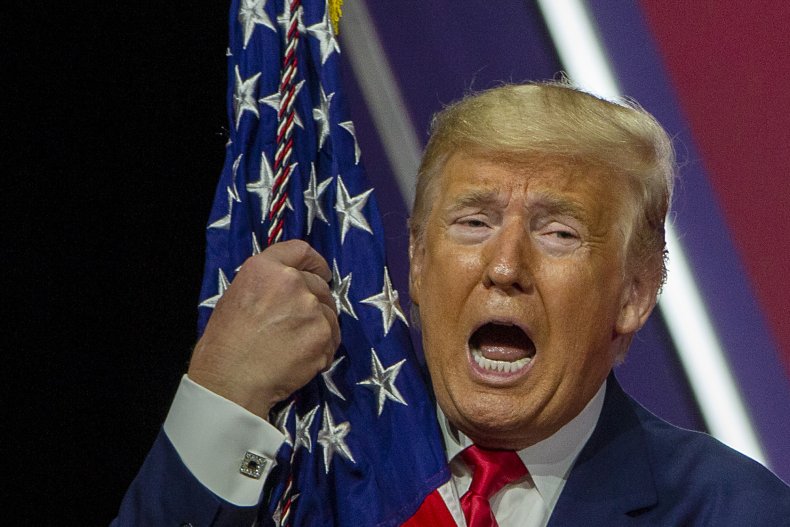 Grievance politics comes naturally to Donald Trump. Four years ago he rode populist resentment about illegal immigration, foreign trade, and culture-war issues like same-sex marriage and the "war on Christmas" all the way to the White House. Now he's the victim, in his view, and his personal sense of grievance is propelling him to plot a 2024 comeback.
Aides say Trump truly believes the November election was stolen from him. He says it every day, as he did again Tuesday in a ceremony in honor of the success of Operation Warp Speed. Courts around the country have thrown out numerous lawsuits filed by the Trump campaign, and on Tuesday afternoon the Supreme Court declined to hear a case on the constitutionality of Pennsylvania's decision to extend its deadline for accepting mail-in votes. Tuesday was also the so called "safe harbor" deadline, making official the vote counts in all 50 states. On December 14 the electoral college will meet and vote in state capitals across the country.
In other words, the proximate purpose of Trump's legal and political efforts—to have himself, not Joe Biden, certified as the winner of last month's election—no longer exists. And Trump's friends and advisers say there has never been any doubt that if Biden is certified the winner, Trump will leave office on January 20th. He told the press precisely that on November 27, and then added dismissively: "you all know that."
But the president's push to delegitimize the 2020 election, his friends and advisers say, won't stop. The effort is now all about the 2024 campaign—and the possibility, even likelihood, that Trump will run again. Trump's thinking now, aides say, is to run four years from now on this new grievance: "We wuz robbed, and we won't be robbed again." (The quote is a famous, often-used sports comment, originally made by boxing manager Joe Jacobs in 1930 when his fighter Max Schmeling lost a bout to Jack Sharkey—who later said the match was fixed.)
That argument plays well among Republicans. The campaign's relentless assault on the validity of the results, echoed by surrogates and on conservative cable news, has had its effect: according to a recent Monmouth poll, 75 percent of GOP voters do not trust the results of the election. That fact has led Trump—encouraged, campaign aides say, by sons Don Jr. and Eric—to consider seriously a 2024 re-run. "If you're asking me now, do I think he'll be a candidate again in 2024," says a campaign official, ''as of now, I'd say yes."
'No Eureka Moment'
How, and when, did the post-election effort to find fraud in key battleground states and reverse the results of the election—which one campaign official called "a Hail Mary" last month—become the first act of the 2024 Trump presidential campaign? Friends of the president and several of his aides agree that, as one put it, "there was no single 'eureka' moment in the last month. No one in the election's immediate aftermath was sitting around with a grand plan, saying, look, we can use this to delegitimize Biden and set us up for another run. That's where we are now, but this thing has evolved over the past month."
How did we get here? Resentment and rage, say Trump's friends. He was—and remains—utterly contemptuous of Biden. He views him as a typical product of the "swamp," corrupt, clueless, and now on the cusp of senility. "How can I be losing to this guy," he famously asked a friend late in the campaign.
When he went to bed on election night, still ahead in battlegrounds like Pennsylvania, he was convinced he had done it again: defied the polls and the pundits and won the key states needed for victory. This, despite the fact that campaign manager Bill Stepien, son- in-law Jared Kushner and others had warned him that the result would likely not be known on election night because of the vast number of mail-in ballots cast this year.
In the weeks since, as his campaign's lawyers and their allies have secured sworn affidavits from various poll watchers and other GOP election workers around the country alleging fraud, Trump's certainty only hardened. He was "utterly fixated," says one friend, by video from an Atlanta polling place of workers pulling suitcases of ballots from underneath a table, convinced it was obvious evidence of malfeasance.
White House officials say his resolve to push the voter-fraud argument has only intensified as he has watched Democrats and the mainstream media complain that Trump is undermining Biden's legitimacy by not accepting the election's result. This goes back to Trump's most fiercely held belief: that Democrats and the media never accepted his election, and instead ginned up a fable about how his campaign had "colluded" with the Russian government to steal the 2016 election. The "Mueller investigation" dominated Washington discourse for nearly three years, to Trump's fury. ''If you think Donald Trump is worried about 'delegitimizing' Joe Biden's administration, after what he's been through and what the Democrats always say to this day about how 2016 was 'stolen,' you seriously have not been paying attention for the last three years," says a Trump adviser. Adds a friend of the president: ''Payback's a bitch."
Multiple sources say Donald Trump Jr., who was dragged into the Russia investigation because he agreed to a Trump Tower meeting in which he expected "dirt" on Hillary Clinton from two Russians, has since Election Day been in his father's ear constantly, saying, in effect, look what they did to you! And now they just want you to concede and shuffle off? Screw 'em.
The president is more than a receptive audience. Aides say the question of 2024 never came up before last month's election--why would it, since Trump expected to be finishing up his second term at that point--but now, stunned and angered, he's eager for revenge. In the days after the election, the campaign began bombarding its supporters with emails and texts seeking to raise money to fund the myriad legal challenges it would bring. Those fundraising blasts haven't let up, even as the prospect of winning any legal challenge receded. And they have become more general fundraising appeals as the weeks have passed.
On December 8, for example, an email went out to millions of Trump supporters that said, "I trust you know that I am fighting every second of every day to Make America Great Again and defend the integrity of the election. Every time I see another Patriot make a contribution to save our Country, I'm inspired to fight even harder to win for you."
The constant barrage of solicitations had its effect. By the first week of December, the "Make American Great Again Committee"—a joint venture between the Trump campaign and the Republican National Committee—had raised more than $220 million. Those funds could legally be used to help fund a Trump 2024 campaign, should there be one.
Not until December 8, three days after Trump campaigned in Georgia, did the fundraising blasts begin targeting the two Senate run-off elections that will determine who controls the U.S. Senate. ''If you don't step up the Socialists and Communists win," a December 8 blast from Trump reads. The Trump campaign and the RNC both say that fundraising effort from now until the run-off will focus largely on the Georgia races, helping to pay for advertising in support of the two Republicans.
The results on January 5 may play a role in how seriously Trump considers another run. Should both Democrats win, following Biden's narrow victory last month, a senior campaign official says, "someone's going to need to sit down with the president and say, look, to lose Georgia entirely is actually an embarrassment for the GOP. It shouldn't happen. What would that say about the president's prospects in 2024?" The people most likely to have that conversation with him: daughter Ivanka, Jared Kushner and wife Melania, says this source.
Trump aides say he will likely make another Georgia campaign appearance this month, although it hasn't yet been scheduled. If the Republicans prevail next month, the same source says, "then he's going to be more convinced than ever that the election down there was stolen from him. It will harden his resolve to go again."
Sources say there has been no formal meeting convened to discuss the possibility yet, just informal conversations with family members, friends and advisers. But the sense among them is that it's not just talk. ''I think he's serious and getting more serious," says a longtime Florida-based business friend.
What could change that? Trump will be 78 in 2024, the same age that Biden is now. And while he appears more energetic than his rival now, that could change over four years, aides acknowledge. Trump may also need to worry about investigations into his pre-presidential business dealings, including an ongoing, wide-ranging probe led by New York state's attorney general. He also wants to make money, and there has been widespread speculation that he might try to stand up a media network—either cable or digital—to compete with Fox.
That's easier said than done, though. One of his friends, Chris Ruddy, has already done that with Newsmax, which is even more pro-Trump than Fox, and whose ratings have increased significantly since the election.
Still, friends acknowledge, after four years in the global spotlight, Trump will need to find some way beyond the occasional mass rally to elicit attention and adulation. He knows that his political enemies at the two other major cable news networks, CNN and MSNBC, will largely ignore him once he's out of office. The popular primetime hosts at FOX, despite the president's criticism of the network, remain slavishly devoted to him, but that may not continue indefinitely.
What is clear is that his consideration of a 2024 run has frozen the multitudes of other possible GOP contenders for 2024 in place. Everyone from Mike Pence to Nikki Haley to Ted Cruz—even, to some extent, Don Jr.—is now constrained. "It's Trump's party, and he can again tap into the deep, seething anger on the center-right that the system is rigged against them, using the 2020 result as another example,'' says independent pollster Scott Rasmussen.
By 2024, many Trump supporters believe, the debacle of the administration's Covid-19 response will be largely forgotten—except for the historically successful push for vaccines that may, next year, bring the pandemic to an end. Trump can then invoke his triumphs: a strong pre-Covid economy, a winding down of "endless wars," and an overwhelmingly conservative Supreme Court. He would, in other words, get to run the campaign he was planning on running back in December 2019, when no one in Trump World thought he could possibly lose.
''You know how they say in pickup basketball, when a team loses, let's run it again?'" says a New York financier friend of Trump's. ''That's where they are now. Let's run this thing again."