Donald Trump's 72 Million Popular Votes Is the Most for a Sitting President in U.S. History
President Donald Trump has received over 72 million popular votes in the 2020 election, the most a sitting president has received in U.S. history.
According to the Associated Press, Trump has received so far 72,071,588 popular votes in the 2020 presidential election, with several states still counting votes.
The number of popular votes Trump has received pushes him past the previous mark set by President Barack Obama from the 2012 election. Then-incumbent Obama received 65,915,795 popular votes in his victory of Republican challenger Mitt Romney.
The projected winner of the 2020 election, Joe Biden, has also broke records in the election, as he has received the most popular votes in any presidential election, with approximately 77,181,771 and counting, according to the AP.
The number of votes Trump has received in the 2020 election comes as the sitting president has continued to make seemingly baseless claims of widespread voter fraud.
"THE OBSERVERS WERE NOT ALLOWED INTO THE COUNTING ROOMS. I WON THE ELECTION, GOT 71,000,000 LEGAL VOTES. BAD THINGS HAPPENED WHICH OUR OBSERVERS WERE NOT ALLOWED TO SEE. NEVER HAPPENED BEFORE. MILLIONS OF MAIL-IN BALLOTS WERE SENT TO PEOPLE WHO NEVER ASKED FOR THEM!" Trump wrote in a tweet on November 7, which was flagged by Twitter as a disputed claim about election fraud.
"Now 73,000,000 Votes!" the president wrote in a tweet responding to his own on Thursday.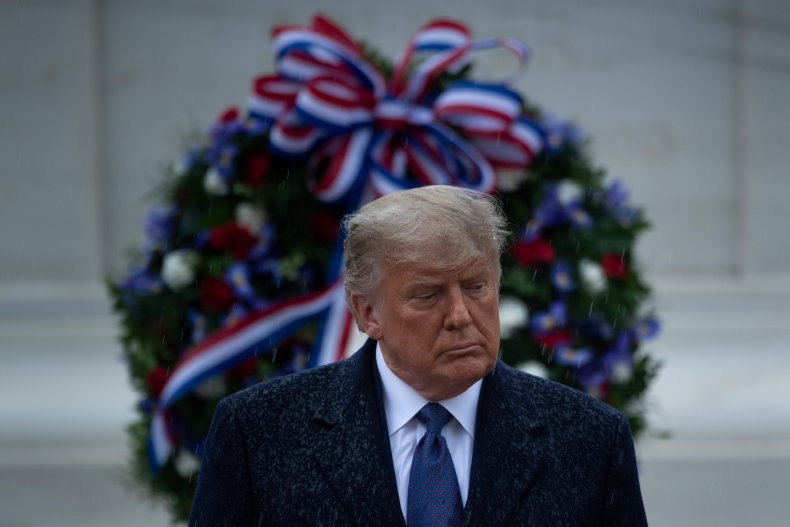 Despite Trump's claims and refusal to concede as he trails by over 5 million votes, election officials across the U.S. have recently said that they have found no evidence of voter fraud.
The New York Times contacted election officials and secretaries of state in all 50 states, with all but one responding saying there was no evidence of widespread voter fraud.
"I don't know of a single case where someone argued that a vote counted when it shouldn't have or didn't count when it should. There was no fraud," Minnesota Secretary of State Steve Simon told the Times.
According to the newspaper: "Officials in 45 states responded directly to The Times. For four of the remaining states, The Times spoke to other statewide officials or found public comments from secretaries of state; none reported any major voting issues." It also noted that the only state not to respond was Texas, where Lt. Governor Dan Patrick recently announced that he was offering up $1 million to citizens to come forward and report election fraud.
Newsweek reached out to Trump's campaign for comment, but did not receive a response in time for publication.