Donald Trump's Air Force One Savings Just Don't Add Up
When the White House unveiled its new deal with Boeing in February 2018 to build the two next-generation Air Force One planes, officials said President Trump's savvy dealmaking had saved American taxpayers more than $1.4 billion.
By the time Boeing was formally handed that Air Force One contract in July, Trump touted his hard-won savings as $1.5 billion in an interview with CBS News. The contract is at a fixed price of $3.9 billion, protecting taxpayers from runaway project costs.
But on closer inspection by Newsweek of the estimated costs before Trump negotiated the Boeing deal to deliver the Air Force One planes of tomorrow, something didn't quite add up about the president's savings claims.
The president may have even saved us nothing at all. White House figures do not appear to stand up to scrutiny, and it hasn't responded to requests for comment.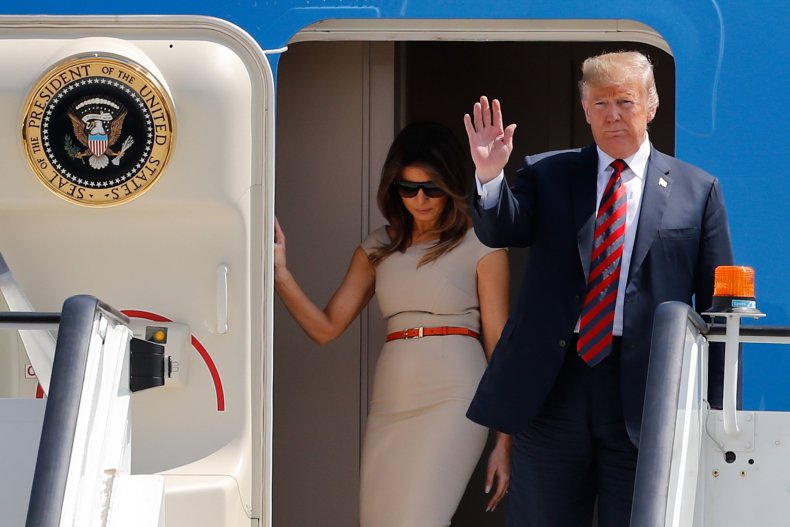 When asked if Boeing was the source of the cost estimate of $5.4 billion, the company's spokesperson Todd Blecher directed Newsweek's questions to the White House. The White House did not respond to a request for comment and clarification.
Trump was unhappy with the rising cost of replacing the 30-year old Air Force One fleet with two new modern aircraft.
"Boeing is building a brand new 747 Air Force One for future presidents, but costs are out of control, more than $4 billion. Cancel order!" Trump tweeted in December 2016 after winning the election.
Later that same day in the lobby of New York City's Trump Tower, Trump told reporters: "I think it's ridiculous. I think Boeing is doing a little bit of a number. We want Boeing to make a lot of money but not that much money," Reuters reported.
A Fox News report in February on Trump's new deal with Boeing cited an unnamed White House official as saying the president had "bad information" and that the actual cost estimate was higher than $5 billion, explaining the claim of savings in excess of $1.4 billion.
"Boeing is proud to build the next generation of Air Force One, providing American Presidents with a flying White House at outstanding value to taxpayers," the company said in a statement to Twitter at the time. "President Trump negotiated a good deal on behalf of the American people."
But the question remains: Where does the $5.4 billion figure come from?
In 2016, the Government Accountability Office estimated the total cost of replacing the Air Force One fleet to be $3.2 billion, including costs related to research and development, procurement, and military construction spending.
Two years later, in April 2018, the GAO estimated this cost to have reached $3.7 billion, though this figure does not include military construction spending. The GAO told Newsweek military construction spending for 2018 was $314 million, giving a total estimate of just over $4 billion.
The GAO report noted that since the contract had not been awarded at the time, there was no baseline from which to gauge cost performance of the project, making it difficult to keep track of how much money was being spent and would be spent.
According to the Air Force budget for 2019, the total military construction cost relating to replacing Air Force One plane was $254 million. Combining the GAO's latest cost estimate and this figure gives a new total estimate of more than $3.9 billion—bang on Trump's new deal.
So how, exactly, the White House reached a number of $1.5 billion in savings remains unclear.
There is, however, a mathematical error easily made in using the GAO's 2016 estimates that would lead to a total of around $5.4 billion, making Trump's deal of a $3.9 billion fixed cost with Boeing appear like a $1.5 billion savings.
Here's how that works.
Three figures are listed by the GAO. The total program cost of $3.21 billion; research and development costs of $1.987 billion; and procurement costs of $282.2 million.
Add them all up and you get $5.47 billion.
What is not obvious from the document is that the research and development and procurement costs are already factored in to the $3.21 billion total program cost, as is military construction spending. Shelby S. Oakley, a director at the GAO, confirmed as much to Newsweek.
Could this potential mistake be the source of Trump's claim to be saving money on Air Force One?
When asked if she knew the source of the White House estimate above $5 billion, Oakley told Newsweek: "I don't know where the estimate is coming from."
Perhaps the White House could tell us.