Donald Trump's Annual Exam Finds He 'Remains Healthy' Despite Elevated Blood Pressure, Obesity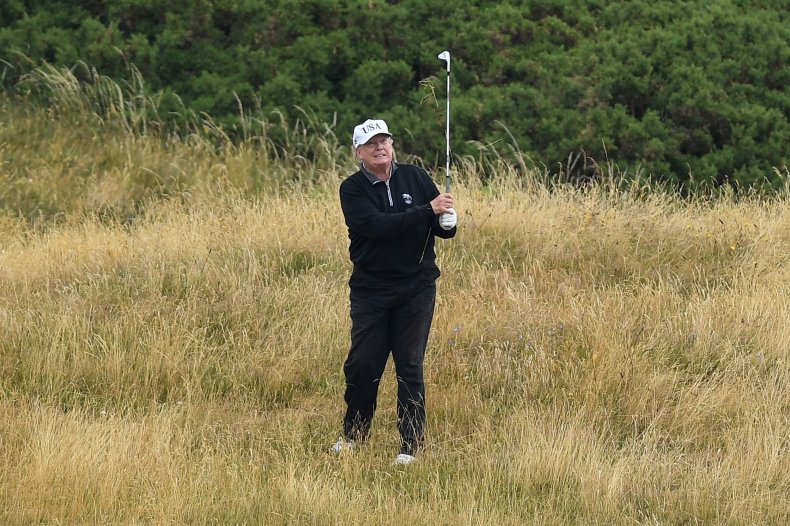 President Donald Trump, who has a penchant for fast food and relies on golf for exercise, is obese and has elevated blood pressure, according to results from his annual physical exam the White House released Wednesday.
Still, his physician, Navy Dr. Sean Conley, concluded that Trump, who turns 74 in June, "remains healthy" and had "no significant changes to report" from last year's physical.
The results come more than a month after the conclusion of his two-part exam, but the White House didn't provide details about the delay.
Conley's note confirms it was split over two parts—one conducted at Walter Reed National Military Medical Center in November, an unannounced visit that was later reported. The second half took place at the White House, as is traditional, in April.
At 121/79, Trump's blood pressure was slightly elevated, based on information from the Mayo Clinic. His body mass index, based on the National Institutes of Health's calculations for his 6-foot-3-inch height, 244-pound weight, puts him into the obesity category.
The doctor's note confirms that Trump took two weeks' worth of hydroxychloroquine, an anti-malarial drug that Trump has touted as a potential treatment or prophylactic for the coronavirus after two White House aides tested positive for COVID-19. Trump previously admitted he had begun taking the unproven drug and has said he'll take it again if he comes into contact with someone else who tests positive for coronavirus.
Trump takes three medications daily: rosuvastatin for cholesterol; finasteride, which is used to treat baldness; and aspirin. His routine vaccinations, including flu vaccine, are up-to-date, the doctor noted.
Trump's health has been a frequent point of topic because he's the oldest person to have been elected to a first presidential term and he's seeking reelection.
His decision to take hydroxychloroquine prompted some of his critics to raise questions about the potential impact on someone Trump's age and weight.
"He's our president and I would rather he not be taking something that has not been approved by the scientists, especially in his age group and in his, shall we say, weight group—morbidly obese, they say," Pelosi said in a May 19 interview with CNN's Anderson Cooper. "I think it's not a good idea."
But Trump's annual physicals, typically conducted near the start of the year, have mostly yielded positive results.
"Based on my history, examination and consultations, the data indicates the president remains healthy," Conley wrote in the latest memo released.