Donald Trump's Approval Drops Among Independents as They Blame Him for Government Shutdown: Poll
President Donald Trump is becoming less popular among independents as more of them blame him for the partial government shutdown, a new poll shows.
Close to half, 46 percent, of registered voters who consider themselves political independents in a Hill-HarrisX survey released Tuesday said Trump and GOP members in Congress are the primary ones responsible for the shutdown, a 7-point increase from a survey conducted in the last two days of December. Only 17 percent of independents in the latest survey blamed Democrats in Congress, a 1 percent jump from the earlier survey, and the remaining 35 percent blamed both Trump and Republicans as well as Democrats.
By comparison, 81 percent of Democrats blamed Trump and the GOP, 10 percent blamed both and 8 percent blamed members of their own party. Among Republicans, just 13 percent blamed Trump and the GOP, 29 percent blamed both and 56 percent blamed Democrats. Since December, Republican voters are 9 percentage points more likely to blame Democrats.
The latest survey was conducted by HarrisX from January 19 to 20 among 1,000 registered voters and had a margin of error of plus or minus 3.1 percentage points.
At 32 days, the government shutdown is the longest in U.S. history. Trump continues to stand firm on his demand for $5.7 billion to build a wall along the border with Mexico, while Democrats have refused to provide money for the wall and instead offered a fraction of the amount for border security.
Trump on Saturday proposed a three-year extension for the Deferred Action for Childhood Arrivals (DACA) program providing temporary status protection and work permits to recipients, but Democrats declined to provide money for the wall in exchange.
The majority of those who support Trump also back his unwillingness to compromise on his demand. Among voters who strongly approved of Trump, 54 percent said that sticking to his principles was more important than compromising during the shutdown, according to a Hill-HarrisX survey conducted earlier in January.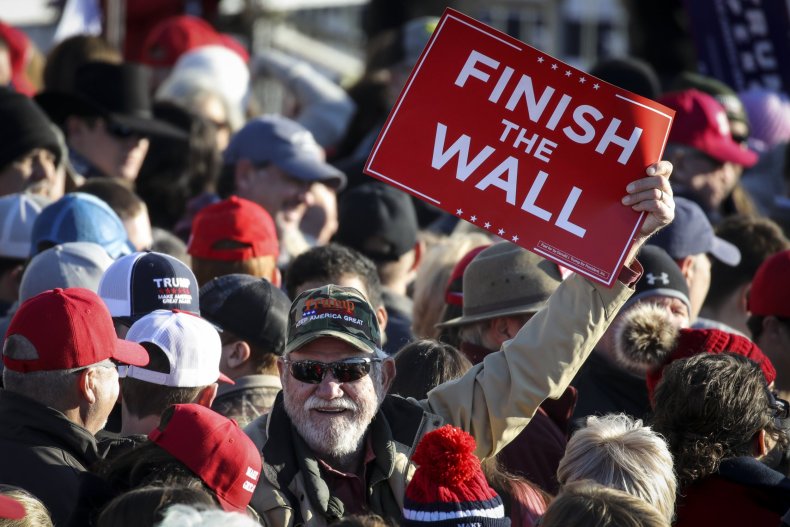 Trump's dipping popularity among independents could hurt him down the line, in his bid for re-election. A Gallup poll report released last week found that Trump's second-year average approval rating was 40.4 percent and fell to 37 to 39 percent a half dozen times.
"His overall approval ratings in the 30s and subpar approval among independents currently give him long odds of winning the general election and a second term as president," the Gallup poll report stated.
Gallup attributed Trump's low ratings to "record political polarization" and stated that "this ties most of the flexibility in Trump's ratings to the views of independents."