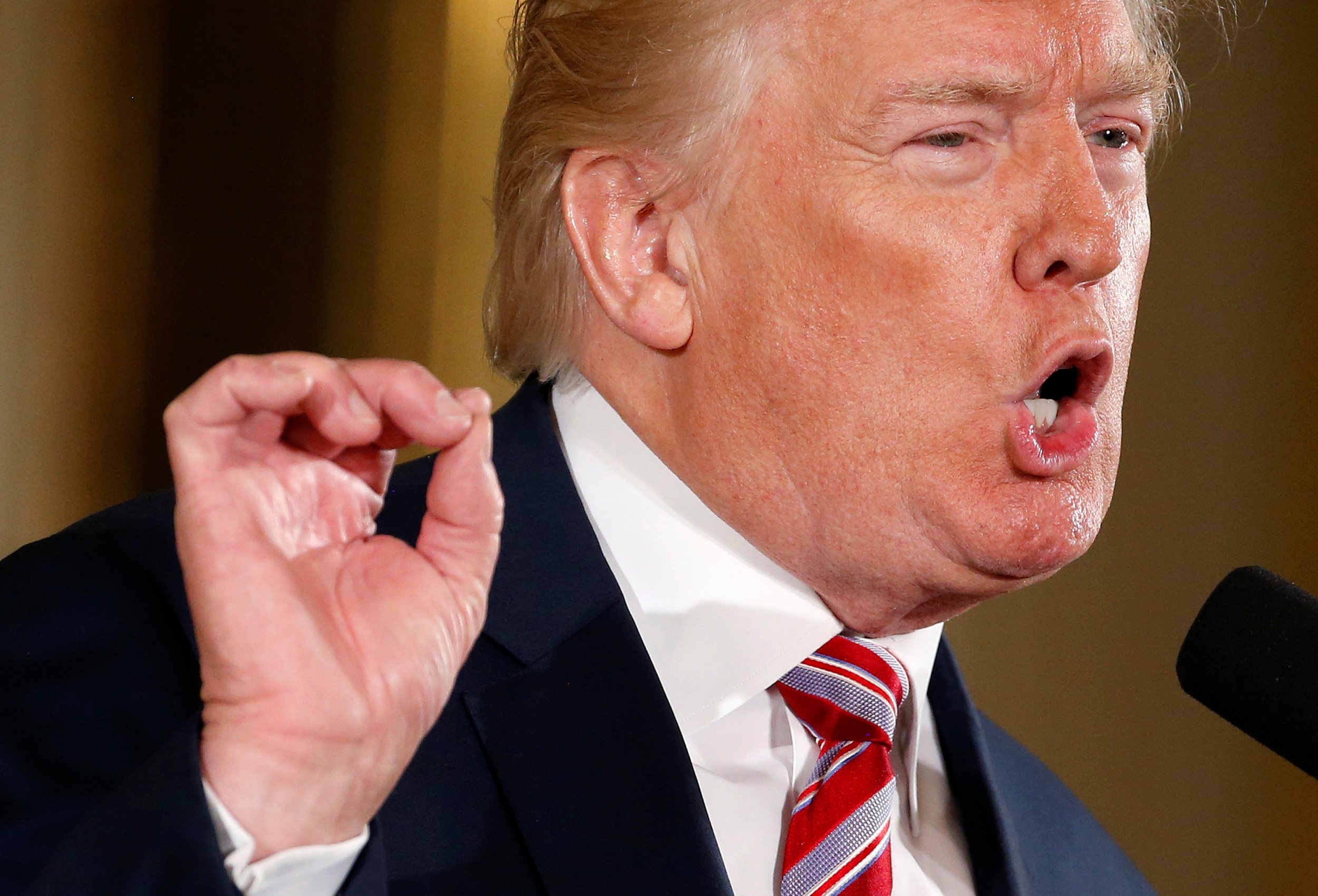 Already in the basement, President Donald Trump's approval rating dug a little deeper into the cellar this week. But, in a small bit of good news, it's still not as bad as the worst-ever rating for former President George W. Bush, the last Republican president.
Trump's approval rating among voters stood at just 34 percent, according to a new survey this week from Quinnipiac University. That marked the lowest point yet for the president in the university's survey. Fifty-seven percent disapproved of his job performance in the White House.
The poll was full of bad news for Trump. Forty percent of voters said they thought Trump's advisers did something illegal in their dealings with Russia—which the intelligence community assessed had worked to get the GOP candidate elected through online hacks and a so-called influence campaign. Sixty-eight percent of voters were either "very concerned" or "somewhat concerned" about Trump's relationship with Russia. Sixty-eight percent of voters said they thought Trump isn't levelheaded, including 32 percent of Republicans.
"There is zero good news for President Donald Trump in this survey, just a continual slide into a chasm of doubt about his policies and his very fitness to serve," said Tim Malloy, assistant director of the Quinnipiac University Poll, in a statement. "If this were a prizefight, some in his corner might be thinking about throwing in the towel. This is counterpuncher Donald Trump's pivotal moment to get up off the mat."
Trump's 34 percent is far from stellar, but it could get worse, as it's still a few percentage points better than Bush's lowest mark. In May 2008, Quinnipiac found Bush had an approval rating of just 28 percent, while 67 percent disapproved. Of course, that came toward the end of Bush's eight years in office, and amid two unpopular wars and a struggling economy. Former President Barack Obama, meanwhile, never dipped as low as Trump, the 44th president going only as low as 38 percent in 2013.
It's worth noting that early in their respective tenures, presidents typically experience a grace period of sorts when it comes to approval from the American people. At about this point in his first term, for instance, Bush's approval rating stood at 55 percent in the Gallup tracking poll.
Trump's approval this week did rise above where former President Bill Clinton's rating stood at the same point in his first term, but that seems like it could shift in the coming days. Clinton's approval rating shot back up to the mid-40s by the end of June, but there have been no real signs of a turnaround for Trump.
The latest Quinnipiac survey interviewed 1,361 voters from May 31 through June 6. It had a margin of plus or minus 3.2 percentage points.