Donald Trump's Approval Rating Drops to Lowest of Presidency After Capitol Riots
Donald Trump's public favorability waned in the immediate aftermath of Wednesday's violent riot at the U.S. Capitol, new polling data shows.
Results of a national survey, conducted by Morning Consult and Politico on Wednesday and Thursday, suggested the sitting president's approval rating reached its lowest point since the beginning of his term in the White House. Figures indicated that 60 percent of respondents now disapprove of Trump's handling of the presidency, with 49 percent noting "strong" disapproval.
Just 39 percent of the individuals surveyed said they approved of the president, and an even slimmer portion of responses expressed strong approval. A majority of answers also reflected the survey participants' unfavorable views of white nationalists, white supremacists and far-right, Trump-allied groups, such as the Proud Boys.
Morning Consult and Politico distributed the survey to nearly 2,000 registered voters across the U.S.
Ongoing data, which tracked Trump's approval rating as it developed over time, pointed to a general decline in his favorability numbers during the second half of last year. His administration's response to the coronavirus pandemic and Black Lives Matter movement drew widespread criticism throughout the spring, summer and into the fall, ostensibly contributing to this decline. Trump's public approval ratings declined further after November's general election, according to Morning Consult's running statistics.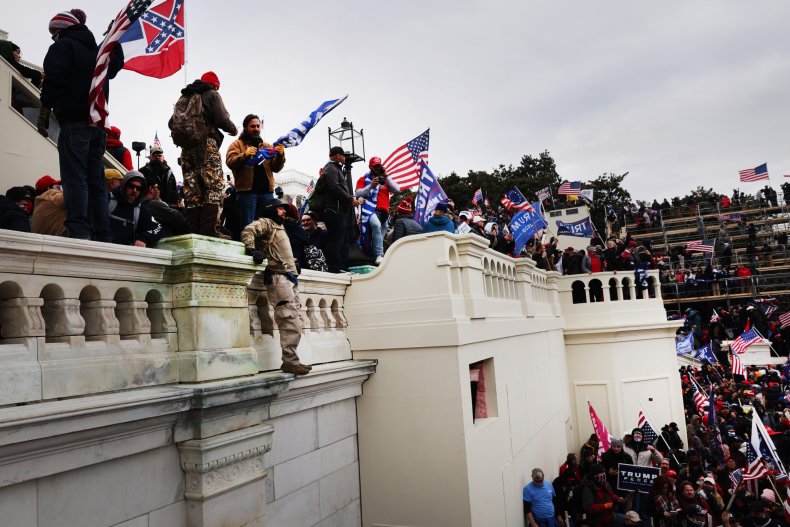 Following his loss to President-elect Joe Biden, Trump, his campaign and civilian supporters pushed back against the contest's outcome, claiming without evidence that Democrats "stole" the presidency. Trump's string of unsuccessful lawsuits, each of which aimed to contradict election results in states or counties where Biden won, and relentless allegations of voter fraud seemed to culminate in Wednesday's uprising at the Capitol complex.
The unrest trailed a rally, held in Washington, D.C., attended by Trump's supporters to oppose his election loss. Many traveled to the capital city to attend the pro-Trump demonstration at the sitting president's request. The rally took place as Congress met for a joint session to certify Biden's Electoral College victory, which they were eventually able to do late Wednesday night. Some Senators and U.S. House representatives objected to the electoral count, using Trump's baseless claims of election fraud to build their rationales, but their challenges did not affect the ultimate certification.
Congressional leaders were forced to suspend their deliberations on Wednesday afternoon during the riots. Hundreds of pro-Trump rally attendees, some armed, descended on the Capitol complex in a display of insurrection that shocked and disturbed the nation. The Capitol was placed under lockdown as a result of the violence that ensued, several buildings in the vicinity were evacuated, and National Guard members from D.C. and its surrounding states were deployed to the area to assist local law enforcement's response. Mayor Muriel Bowser implemented a curfew for all D.C. residents that began Wednesday evening and continued through the following morning in light of safety concerns.
Unlike his response to demonstrations against police abuse and racism over the summer, Trump addressed rioting supporters who stormed the Capitol with relatively unpersuasive tweets requesting they respect law enforcement and a video message calmly telling them to "go home." The video was removed from several social media platforms. Twitter, Facebook and Snapchat suspended his accounts, with the latter two companies banning his activity indefinitely.
Numerous politicians and public figures have called for Trump's removal from office in light of the riots and his conduct surrounding them, amid a wave of resignations from members of his administration. Federal lawmakers suggested using impeachment proceedings or the 25th Amendment to force his early departure.