Donald Trump's Approval Rating Following Capitol Riot Ties His All-Time Low: Poll
President Donald Trump is leaving office on a low note, according to a new poll released Monday from Quinnipiac University.
The survey, conducted after the January 6 riot at the U.S. Capitol, found just 33 percent of registered voters approve of the way Trump is handling his job as president—tying his all-time low approval rating set in August 2017.
A majority of voters (60 percent) said they disapprove of Trump's job performance. Still, the president enjoyed support from his conservative base as 71 percent of self-identified Republicans gave Trump their approval. Meanwhile, 94 percent of Democrats disapprove of how he's handled being commander-in-chief.
The president's 60 percent disapproval rating is a big drop from the 51 percent disapproval he saw in December 2020. Quinnipiac University polled 1,239 registered voters from January 7 to January 10. The survey has a margin of error of 2.8 percentage points.
Trump has faced backlash from both sides of the aisle after a mob of his supporters clashed with federal police and breached the U.S. Capitol building following a rally to protest the congressional certification of President-elect Joe Biden's victory. Five people died in the riot, including one police officer who was struck in the head with a fire extinguisher.
On Monday, the House of Representatives released a resolution to impeach Trump by charging him with "incitement of insurrection." A vote is expected to take place in the lower chamber later this week.
"In all of this, President Trump gravely endangered the security of the United States and its institutions of government," the impeachment article states. "He threatened the integrity of the democratic system, interfered with the peaceful transition of power, and imperiled a coordinate branch of government. He thereby betrayed his trust as president, to the manifest injury of the people of the United States."
A majority of voters—58 percent— told Quinnipiac University that they do not believe there was widespread voter fraud in the 2020 election.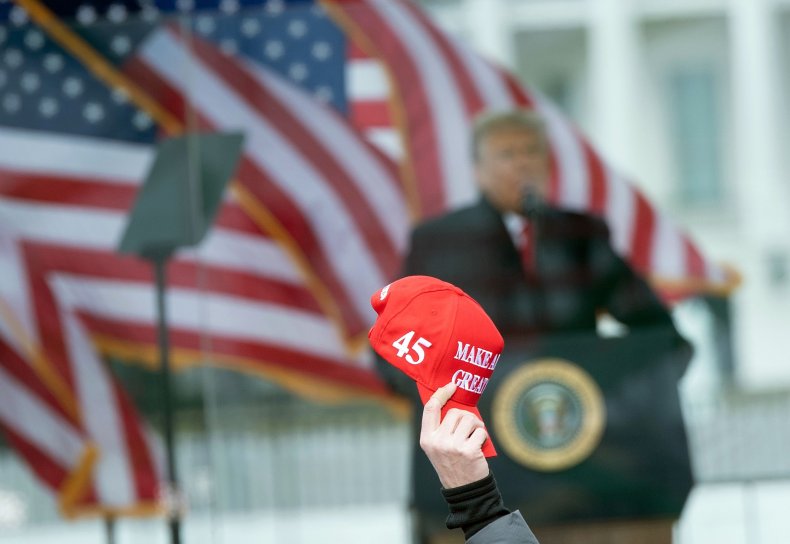 While the riot temporarily delayed the vote count in Congress, Vice President Mike Pence cemented Biden's Electoral College victory at 3:40 a.m. on January 7. Just hours earlier, Pence had formally broken with Trump by stating he didn't have the authority to object to the state electors that went for Biden. But more than 140 Republican members of Congress voted to overturn the 2020 election results.
Fifty-eight percent of registered voters said the GOP lawmakers who tried to stop the formal certification of Biden's victory were undermining rather than protecting democracy. Sixty percent of respondents said the same about Trump.
Trump has since stated there will be a peaceful transition of power, but he has refused to attend Biden's inauguration. The Democrat is due to be officially sworn into office on January 20.
"I'm genuinely shocked and saddened that our nation, so long a beacon of hope and light for democracy, has come to such a dark moment," Biden said in remarks addressing the January 6 riot. "America's about honor, decency, respect, tolerance. That's who we are. That's who we've always been."
Looking ahead to his presidency, just one-third of voters think Biden will be able to unite the country. Fifty-six percent of respondents said they expect partisan divisions to remain the same under his tenure as they are today.