Donald Trump's Latest Approval Rating Shows Independents in Red-State Iowa Are Not Happy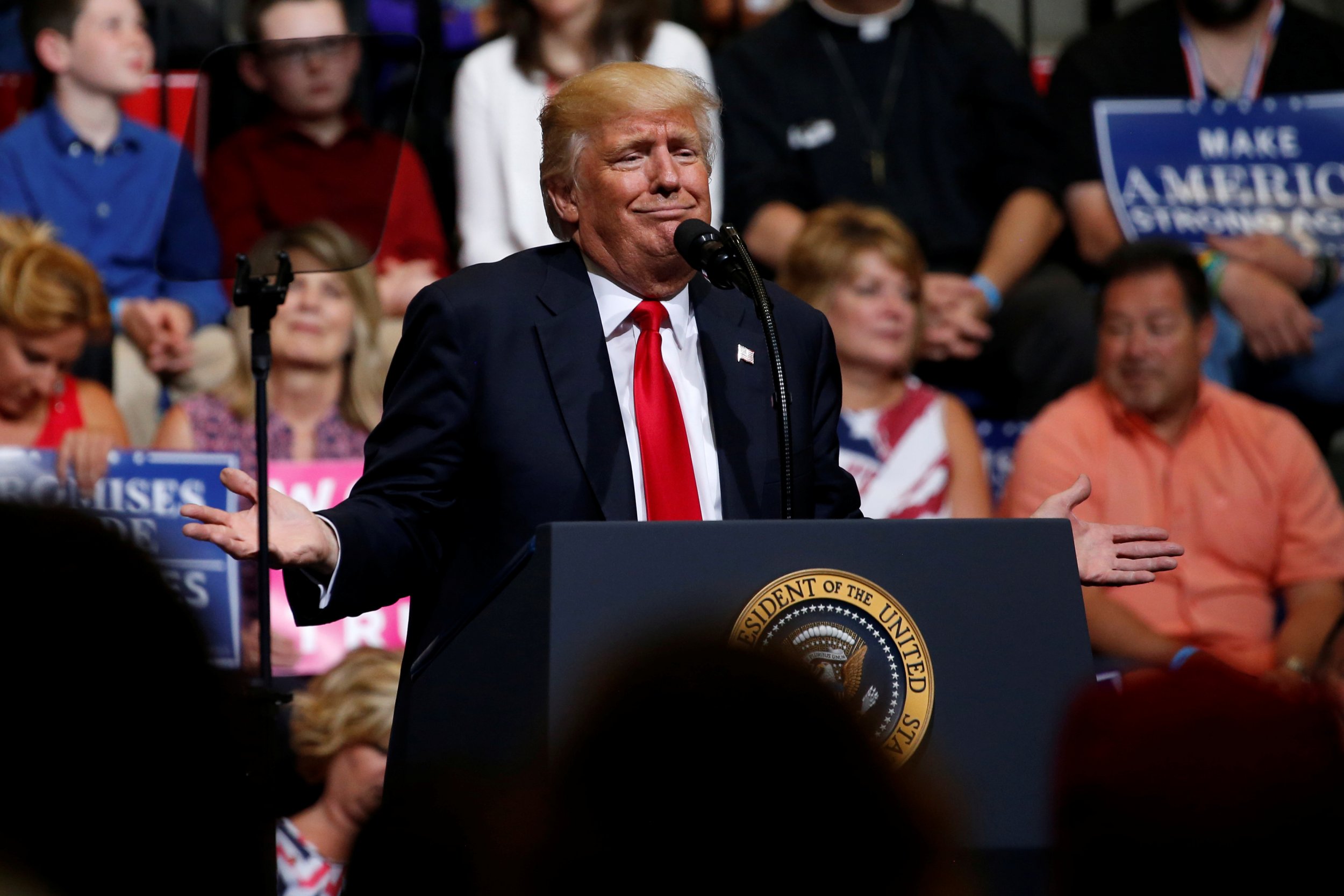 In November's presidential election, Republican Donald Trump won Iowa with relative ease, earning 51.1 percent of the vote compared to just 41.7 percent for Democratic nominee Hillary Clinton. A little more than eight months later, the state is far less pleased with the now-president, according to a new poll released Monday.
The survey, from the Des Moines Register/Mediacom Iowa Polls, found that 43 percent of people in the state approved of the job Trump is doing in the White House, while 52 percent disapproved. Fifty-six percent felt the nation was on the wrong track, while only 32 percent said things were moving in the right direction.
Trump's approval rating in the state was largely unchanged from the last Des Moines Register/Mediacom Iowa Polls survey released in February. In the poll released on Valentine's Day, 42 percent approved of the job Trump was doing. But disapproval has risen 3 percentage points in the five months between the two polls.
The latest poll from The Des Moines Register noted that independents have begun to sour on Trump, which could explain a majority of respondents in the state disapproving of the president's job performance. Fifty-nine percent disapproved of the president in the July poll, up from 50 percent in February.
Fort Dodge, Iowa, poll respondent Jeremy Leo, an independent, told The Des Moines Register he didn't vote for Trump (instead writing in failed Democratic candidate Bernie Sanders) but feels the Republican has failed to enact the change promises he ran on, and that his presidency has been hindered by the ongoing investigation into his administration's contacts with Russia.
"I felt that when Trump took office, here's a man who's going to get stuff accomplished—he's not going to take any guff from people, and he's actually going to go in there and get stuff done," Leo told the paper. "Now, he's been kind of railroaded on all that, and he's doing it to himself."
The survey, conducted by Selzer and Co., interviewed 800 Iowa adults from July 9 through July 13 and had a margin of error of plus or minus 3.5 percentage points.
Trump's popularity across the country has suffered during his brief tenure in office. The weighted average from data-focused website FiveThirtyEight pegged his approval rating Monday morning at 38.7 percent, while his disapproval stood at 55.8 percent. According to FiveThirtyEight's tracker, that's the worst average approval rating for any president in the history of modern polling at this point in his tenure. Trump had, at points, risen above former Presidents Bill Clinton and Gerald Ford, but has since sunk below his predecessors.