President Donald Trump's approval rating has hit a record low as the House of Representatives moves forward to impeach him for an unprecedented second time, according to a new Politico/Morning Consult poll.
The survey wrapped up as Congress launched its first impeachment proceedings on Monday. It found that Trump's approval sits at just 34 percent, the lowest it's been in the four years since he first took office, according to Politico/Morning Consult.
More than six in 10 voters, or 63 percent, said they disapprove of the president. The largest drop in approval existed among Republicans and independents, as a great majority of Democrats already disapprove of Trump's performance.
Among Republican voters, 75 percent said they still approve of Trump, a number that has dropped from the 83 percent reported in a Politico/Morning Consult poll conducted in December.
For independent voters, the decline was similar: 29 percent of independents said they still approve of Trump, down from 38 percent last month.
The poll was conducted between January 8 and 11 and surveyed 1,996 registered voters online. It has a margin of error of plus or minus 2 percentage points. According to these results, Trump will exit his term as one of the worst-rated presidents in U.S. history, along with George W. Bush, Jimmy Carter and Richard Nixon.
Trump has faced a severe backlash in the past week after a mob of his supporters stormed the U.S. Capitol on January 6. The violent attack resulted in five deaths, including that of a Capitol Hill police officer, and delayed the congressional certification of President-elect Joe Biden's victory.
Trump has since faced calls for his resignation and removal from both sides of the aisle.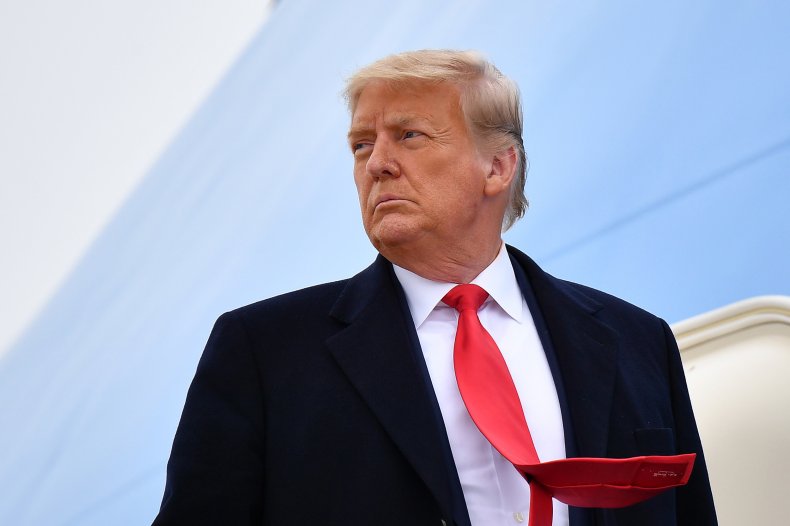 On Monday, the House introduced a single article of impeachment against the president, accusing him of "inciting an insurrection" and endangering government institutions.
"In all of this, President Trump gravely endangered the security of the United States and its institutions of government," the impeachment article states. "He threatened the integrity of the democratic system, interfered with the peaceful transition of power, and imperiled a coordinate branch of government. He thereby betrayed his trust as president, to the manifest injury of the people of the United States."
On Tuesday, the House voted to ask Vice President Mike Pence to invoke the 25th Amendment to remove Trump from office, but the vice president has said he will not do so. On Wednesday, the House will meet to vote on impeachment.
Though the process has largely been a Democratic-led effort, a growing number of Republicans have spoken out against the president. Among them is Representative Liz Cheney, the No. 3 Republican in the House.
"Much more will become clear in coming days and weeks, but what we know now is enough," Cheney said in a statement on Tuesday. "The president of the United States summoned this mob, assembled the mob and lit the flame of this attack. Everything that followed was his doing. None of this would have happened without the president."
On Tuesday, Trump described the impeachment efforts as "absolutely ridiculous." Last week, the White House released a statement saying that the "politically motivated" proceedings "will only serve to further divide our great country."
The Politico/Morning consult poll showed that voters were largely split on impeachment. Roughly 48 percent of respondents agreed that Congress should begin proceedings to remove Trump from office, compared with 44 percent who disagreed. An additional 8 percent did not express an opinion.
If the proceedings succeed, Trump will be the first president to ever be impeached twice.
Newsweek reached out to the White House for additional comment but did not hear back in time for publication.