Is Donald Trump's Border Wall Already Being Built? Construction Begins in Texas on 4-mile-long Section Costing $22 Million
Construction on new sections of a partially "see-through" 18-foot border wall in El Paso, Texas, reportedly began over the weekend, bringing President Donald Trump one step closer to seeing construction of his long-promised border wall between the U.S. and Mexico.
The U.S. Customs and Border Protection agency said it started building the wall on Saturday, with the steel structure replacing fencing that had once marked the divide between the U.S. and Mexico, according to Fox News 11.
The Department of Homeland Security told Fox the wall is expected to replace a 4-mile section of a former chain link and metal fence.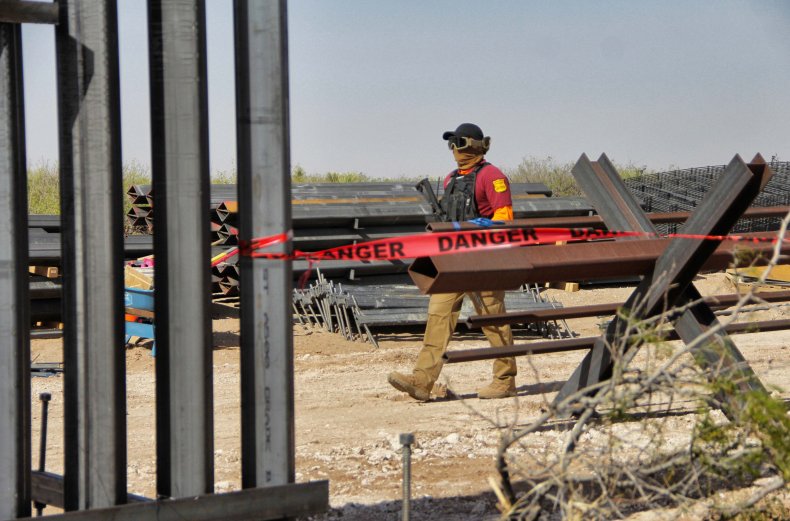 "This new wall will be far more durable and far more effective in deterring would-be illegal entrants," Chief Patrol Agent Aaron Hull told Fox.
The construction project is expected to be completed by late April 2019, at an estimated cost of $22 million, according to Fox.
Images of the wall appear to show the bottom half consisting of bars, which allow people on either side to see through the barrier, with the upper half solid and opaque.
In other areas along the border, photos taken in April appear to reveal further construction underway, with images showing construction sites for a roughly 20-mile-long border wall expected to create a barrier between Santa Teresa, New Mexico, and Ciudad Juárez in Chihuahua, Mexico.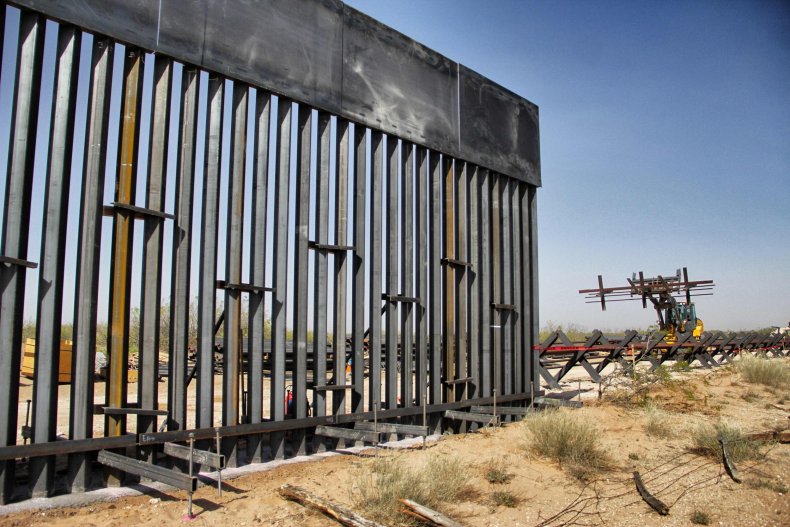 The construction sites appear to support Trump's claims months ago that construction on his wall had already begun.
"We've already started building it," Trump said in West Virginia on April 5, according to FactCheck.org. "We have a billion-six. We've started building it and fixing miles and miles of wall that's already up—and fence. And we're going to have our wall."
Both designs also appear to reflect the U.S. leader's demand for a border wall that is "see through."
Discussing his plans for a "see-through" wall back in January, the president said during an interview with The Wall Street Journal, "If I'm standing here, I want to be able to see 200 yards out."
He added, "I want to be able to see. I don't want to have a piece of concrete that I can't see."
The president asserted that if the wall was not see-through, people would "have no idea who's on the other side."
While the wall developments may appear to be well underway, the president has made abundantly clear his frustrations over a lack of funding for his border ambitions.
Indeed, the government has less than a week to go before it faces a potential partial shutdown on September 30, with Trump suggesting he may not be willing to sign off on a crucial spending bill unless adequate funding for his wall is included.
It is unlikely that either Republicans or Democrats will want to see any kind of government shutdown with the November midterm elections just weeks away.
However, Trump's stance on whether he would be willing to risk a government shutdown to get funding for the wall has repeatedly wavered, despite the Senate approving the spending measure last week, with only seven senators voting no.