Donald Trump's 'Brutal' Brexit Advice for Theresa May: Sue the European Union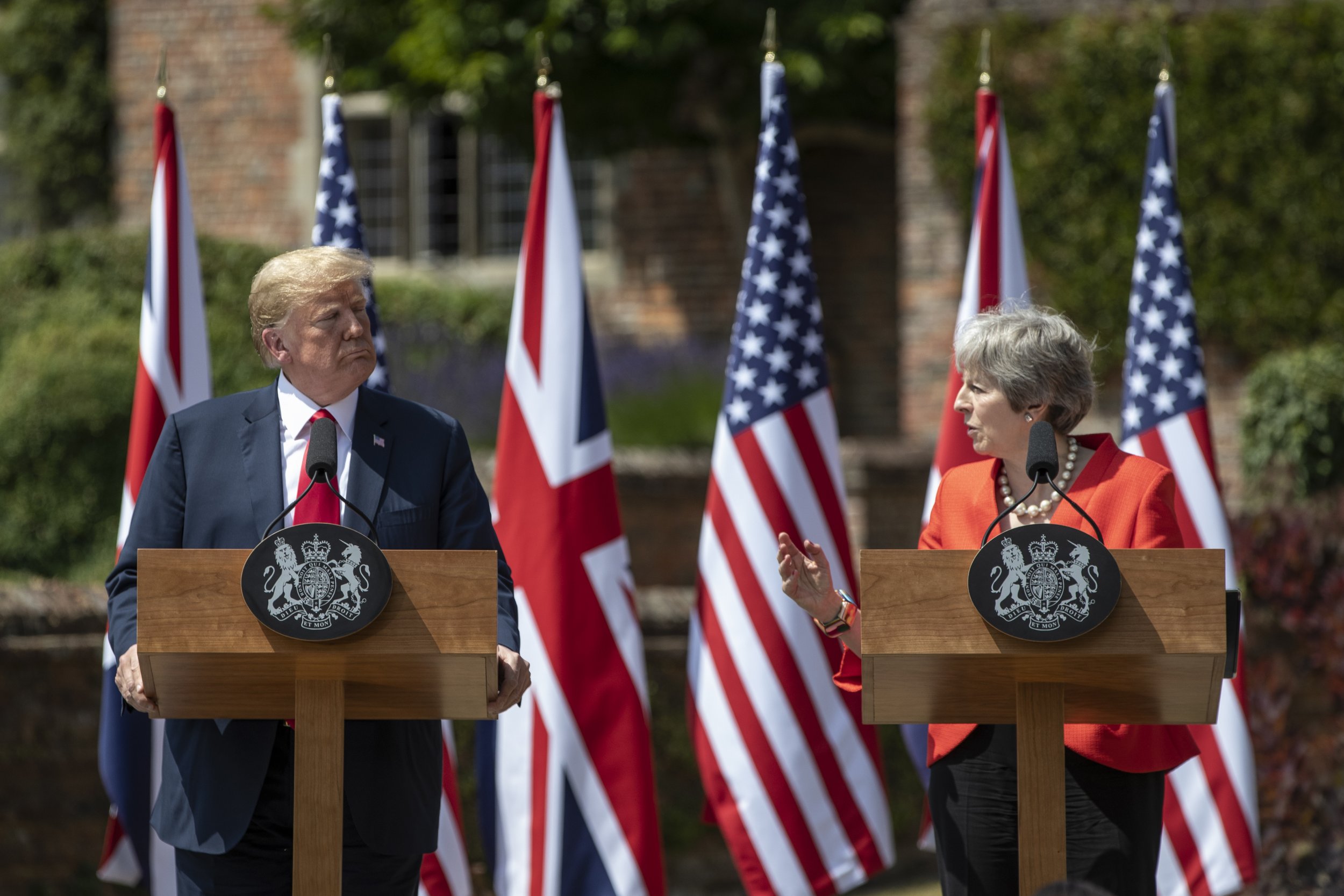 British Prime Minister Theresa May has revealed the advice President Donald Trump gave her on Brexit: you should sue the European Union.
Speaking to the BBC's Andrew Marr on Sunday, May was asked what Trump's "brutal" suggestion on how to handle Brexit had been. She replied: "He told me I should sue the EU—not go into negotiations."
Her comment comes following a joint press conference between the pair at Chequers on Friday, during which the president said that he had respectfully given the prime minister a suggestion on how to handle things.
"I think she found it maybe too brutal," Trump said of the suggestions he made to May regarding Brexit.
"And that's OK, I can see that. I gave her a suggestion, not advice. I could fully understand why she thought it was a little bit tough," he added, although he did not offer any details on the suggestion, which May revealed on Sunday.
Trump was asked a number of questions about Brexit at the joint press conference with May after he gave an exclusive interview to British newspaper The Sun, in which he suggested May's Brexit white paper could threaten future trade with the U.S.
May's plan, which was revealed on Thursday, "will definitely affect trade with the United States, unfortunately in a negative way," Trump said in the exclusive interview with The Sun.
"We have enough difficulty with the European Union," he said, adding: "We are cracking down right now on the European Union because they have not treated the United States fairly on trading. No, if they do that I would say that that would probably end a major trade relationship with the United States."
But walking back on the comments he made to the newspaper, Trump said at the press conference that he would leave the U.K. to handle the Brexit deal, commenting: "Whatever you're going to do is ok with us just make sure we can trade together–that's all that matters."
Asked specifically about the advice he gave the prime minister, Trump said he would describe it as more of a suggestion, stating: "Maybe someday she will do that, if they don't make the right deal. She might well do what I suggested that she might want to do but it is not an easy thing."
Neither leader commented on what the suggestion had been at the time, but May revealed the president's comment on Sunday.
"Interestingly what the president also said at that press conference was 'don't walk away'," May added in the BBC interview.
"Don't walk away from those negotiations because then you'll be stuck. So I want us to be able to sit down to negotiate the best deal for Britain," she added.