This story is being co-published with Capital & Main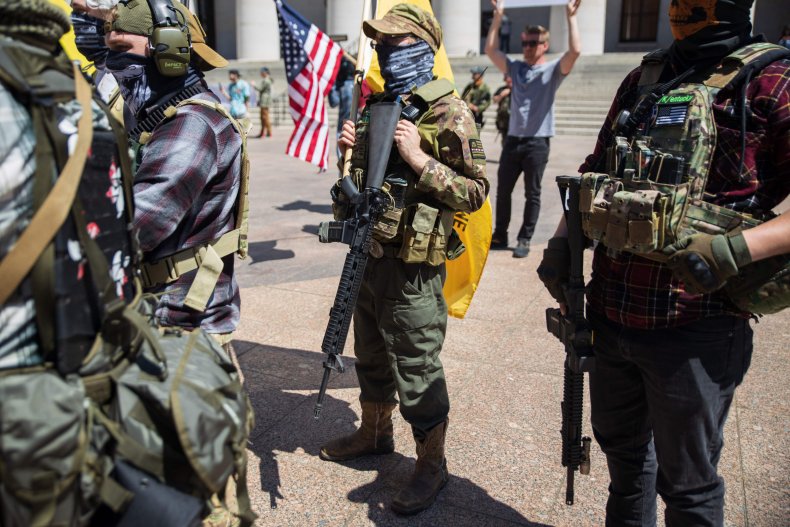 At 2020's first (and perhaps only) presidential debate, President Trump's plea to his "people" to "go into the polls and watch very carefully" got the attention of voting advocates and militia members alike. And no wonder: private militias have become a very visible symbol of polarized America, and have been deploying themselves with increasing belligerence at anti-racism rallies and other social protests. Last week, in a sign portending major escalation of militia violence, 13 men were arrested in a kidnapping plot against Michigan Gov. Gretchen Whitmer.
"Hate groups," declared Whitmer, "heard the president's words not as a rebuke but as a rallying cry, as a call to action."
Federal law bans any activity that would "intimidate, threaten, or coerce a person" to interfere with the right to vote, but doesn't prohibit citizens from, say, brandishing submachine guns in the parking lots outside polling locations. Those laws, written in seemingly more genteel times, did not anticipate political actors with names like the Wolverine Watchmen, Pennsylvania Patriots United and the III% Defense Militia.
But this election is unfolding against a backdrop where a variety of militias and other right-wing groups have felt emboldened, in large part by Trump's repeated refusal to denounce them, and, at times, his tacit encouragement of them. Trump didn't specify how his "people" should monitor urban polling centers, to counter unfounded claims of "massive voter fraud," nor did he say which such groups should go to the polls, except for a shout-out to the Proud Boys to "stand by."
One group, the Oath Keepers, has even provided "security" at Trump events, and earlier this year, when Trump tweeted that his impeachment meant America was on the brink of a civil war, the founder of the Oath Keepers, Stewart Rhodes, apparently agreed in a tweet that has been attributed to him: "We ARE on the verge of a HOT civil war. Like in 1859. That's where we are." Rhodes has said the group's goal is "to get patriots prepared and ready to defend their homes, towns, and counties from the ongoing Marxist insurrection we now see erupting and expanding nationwide."
Just days before the Whitmer kidnapping plot was exposed, the Department of Homeland Security had released its first annual Homeland Threat Assessment, summarizing domestic terrorism threats and warning "ideologically motivated lone offenders and small groups" of "Domestic Violent Extremists" are now a likely terrorist threat. Last month, a report by the Giffords Law Center to Prevent Gun Violence predicted that "significant numbers of people will bring guns to polling places under the guise of preventing election fraud."
Militias, freelancing "poll watchers" and guys with guns
Both voter intimidation and election dirty tricks in the U.S. are nothing new, and just earlier this month two men were charged with four felony counts for disseminating robocalls in majority-Black Detroit that claimed that if listeners voted by mail they could be subject to arrest, debt collection and forced vaccination.
Although California is not considered a swing state, the state GOP is engaging what could be considered a dirty trick—setting up unofficial ballot drop boxes in front of conservative churches, gun stores and other likely Republican gathering spots in several counties, in defiance of a cease and desist order by the secretary of state and attorney general. The motive is unclear, but observers have said it could be an attempt to muddy election results or claim voter fraud if votes deposited in the boxes aren't counted.
But these seem like Halloween pranks compared to the blockading of polling stations by men dressed in camo and armed for World War III. According to the American Civil Liberties Union, voter intimidation includes aggressive questioning, harassment or threats. Six states—Arizona, California, Florida, Georgia, Louisiana and Texas—prohibit guns in polling locations. However, even in states with open carry laws and no restrictions on guns at locations that host polling, such as churches and schools, prohibitions on guns prevail, according to Suzanne Almeida, interim executive director of Common Cause Pennsylvania.
"There are valid concerns now," Almeida added, "but we must let voters know about them without involuntarily discouraging them from coming to the polls."
A report on voter intimidation from the Brennan Center for Justice states that not only are freelance militia members not allowed at polls, armed federal law enforcement isn't allowed to intimidate voters either: "State and local laws and practices place limits on the role of law enforcement and poll watchers. And a host of federal and state laws, many of which also carry severe criminal penalties, prevent anyone—whether a law enforcement officer or a vigilante—from harassing or intimidating voters."
Elected officials, at least Democratic ones, are preempting any activity by armed poll disruptors. Attorneys general of Michigan, Nevada and Wisconsin, all swing states, have pledged to prosecute anyone who intimidates voters in any way. Larry Krasner, the district attorney for Philadelphia, a city where Trump has claimed unspecified "very bad things are happening" at the polls, vowed that anyone who tried to suppress the vote would be jailed.
California Secretary of State Alex Padilla said, in an email, that while he expected a safe voting experience for all Californians, "Elections officials are prepared for any attempts to disrupt or interfere with voting. California voters should be assured that we are in close contact with elections officials across the state, and will address any issues during in-person voting." He added that poll monitors would be dispatched throughout the state.
A spokesperson for the Nevada AG told Capital & Main its office was "actively working with the Secretary of State's Office and other members of her Election Integrity Task Force, including federal and local authorities, to address any crimes related to voting," and was "fully confident in the security of Nevada's election and the ability of Nevada voters to safely exercise their right to vote."
Not every state is so upfront about telling voters how to handle possible intimidation. Florida, for example—a key swing state—has a voter fraud hotline, but not one for voter intimidation.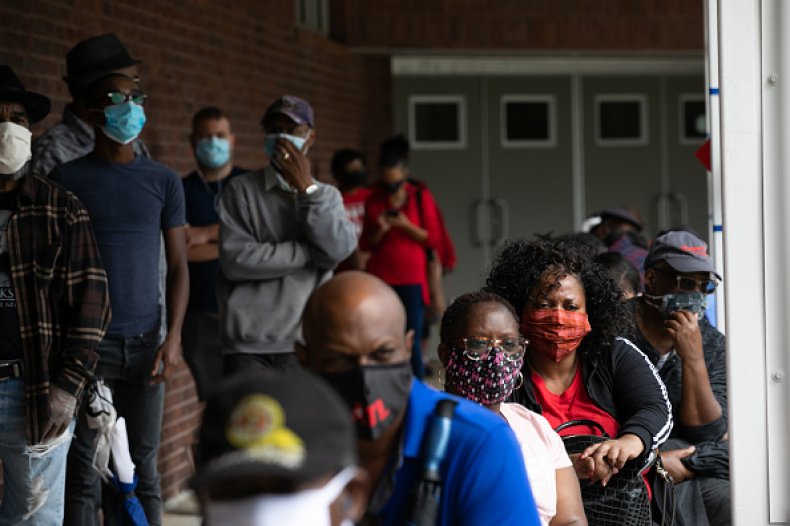 Jonathan Backer, counsel for the Institute for Constitutional Advocacy and Protection at Georgetown Law School, said that elected officials and local sheriffs and police chiefs, and DAs like Krasner, need to speak out against any groups or individuals who might try to disrupt voting or threaten voters.
Backer warns against repeating the mistakes of Kenosha, Wisconsin, from this past August: "Law enforcement said, 'We don't welcome militias but they have Second Amendment rights.' That statement is harmful and gives militia groups comfort."
Backer added that poll workers throughout the U.S. are likely to be trained to alert local law enforcement if there's intimidation.
Speaking with Capital & Main, Josh Ellis, owner of MyMilitia, a search engine for people looking to form militias, said that militia members will be at polls, but characterizes them as low-key, voting-rights guardians, and asserts that there won't be groups of armed guys in camo.
"There will be plainclothes [militia members] who may be there to vote and rotate on shifts. We're making sure that there isn't any voter intimidation." Ellis added that militia members will be on the lookout for Antifa or Black Lives Matter protesters "who may try to prevent people from voting," but that militia members won't be there to cause trouble themselves. "We will call the cops if we see trouble if it's coming from anyone, including Trump supporters."
Ellis, who was one of the organizers of the May 1 COVID-lockdown protests, had choice words for high profile militias, calling the Wolverine Watchmen, whose members were arrested in the plot to kidnap Michigan's governor, "idiots," and Boogaloo Boys "extremist nutjobs."
"True militia members are not extreme left or extreme right, and we don't want to overthrow the government," he said.
Capital & Main also reached out to the Oath Keepers' Stewart Rhodes for comment, but received no response by time of publication.
In an email, Black Lives Matter co-founder Melina Abdullah refuted Ellis' statement that BLM would disrupt voting. "Where white-supremacists and right-wingers are trying to block the vote, our work is to encourage and support everyone in getting out to vote." Those get out the vote activities include producing a voter guide, engaging in voter education and marching to the polls and drop boxes, Abdullah wrote.
Expect more (legit) poll watchers
The presence of poll watchers to monitor voting and track voter turnout for their parties is legal in many states, according to the National Conference of State Legislatures.
But, possibly because of Trump's repeated claims of fraud, polls on Election Day may have many more legitimate poll watchers than usual, and there is less protection from possible intimidation this year.
For this election the Republican National Committee (RNC) has vowed to recruit a 50,000 volunteer network of poll watchers across the nation, plus $20 million for legal battles. The RNC can do this because 2020 is the first election in nearly 40 years in which it hasn't been barred from coordinating poll monitoring with a presidential campaign. In 2018 a district court ended a consent decree requiring the RNC to obtain judicial approval of any such operations. The decree, imposed in 1982, and modified in 1987 and again in 1990, was a response to Republican intimidation schemes in the name of preventing fraud.
RNC poll watchers, who include some volunteer lawyers, will not only observe the elections process to document potential fraud or irregularities, but will help people vote, according to RNC spokesperson Mandi Merritt, in an email to Capital & Main.
"All volunteers and poll watchers receive rigorous training to abide by each state's laws for observing the voting process," Merritt wrote. "We make very clear to volunteers they need to be respectful and polite, and are not there to be intimidating."
Rules for poll watching vary from state to state. In general poll watchers may be invited to ensure that voting rules are followed, but they're not allowed to intentionally slow down the process. The National Conference of State Legislatures states that intimidation or interfering in the election process itself is illegal.
And except in Wisconsin, people can't just show up and watch the voting process. Still, the fear of meddlesome and frivolous voter challenges slowing down what is already record turnout at many polls, may be overblown, according to Almeida of Common Cause Pennsylvania.
"We will have more than 1,000 volunteers at polling stations for questions, and to be eyes and ears on the ground and have voters' backs," Almeida said. "We make sure voters have a good experience."
Be prepared, but don't panic
Voting-rights advocates say they must tread a fine line between alerting voters to their rights and possible problems, and scaring them away from the polls.
"We must not add to the drumbeat of terribles," Almeida said, adding that in 2016 Trump made similar demands for his "people" to monitor the polls for possible fraud in Philadelphia, but no intimidation materialized.
Still, out of an abundance of caution, various groups have released election protection helplines, including 866-OUR-VOTE. ICAP created fact sheets for all 50 states on what to do if people encounter armed "poll watchers." For its part, the Southern Poverty Law Center is currently monitoring three unidentified right-wing groups for signs they'll disrupt voting.
The threat of intimidation even made its way into the Supreme Court confirmation hearing for Judge Amy Coney Barrett. On Tuesday, when asked by Sen. Amy Klobuchar (DFL-Minn.) whether a reasonable person would be intimidated by a gunman at the polls, Barrett demurred, answering that it wasn't appropriate for her to comment. Barrett is expected to be sitting on the high court shortly after Election Day.
Copyright 2020 Capital & Main