Donald Trump's 'Chaos for the Sake of Chaos...Doesn't Work': Morning Joe's Scarborough Slams President's Approach
MSNBC's Joe Scarborough slammed the president's style of governing on Monday's Morning Joe, saying that "chaos for the sake of chaos" simply doesn't work.
Scarborough and his co-host Mika Brzezinski were discussing several topics on the show, all of which could have been a lead story on a normal day, the two noted.
Read more: Americans blame Donald Trump and the GOP for looming government shutdown: Poll
Among these was the appointment of a new White House chief of staff, Mick Mulvaney, who shortly before the 2016 election called Donald Trump a "terrible human being."
"Also, a major court decision has now placed the entire Affordable Care Act in real jeopardy, forcing tens of millions of Americans—including those with pre-existing conditions—to now have to worry over the Christmas holiday about their son, their daughter, their mother, or father, no longer having health care coverage," Brzezinski said.
Other talking points were Trump's "Twitter rampage" over the weekend and Rudy Giuliani's appearances on the Sunday talk shows during, which the president's lawyer gave performances "filled with dodges, admissions, confused answers, and a disjointed defense of the president in the independent counsel investigation."
Other talking points included a recent article in The Washington Post that pointed out that almost every organization the president has ever run is now under some form of investigation.
"That's the definition of the walls closing in," Scarborough said.
And new NBC national polls had some "dangerous indications" for the president, according to Brzezinski.
"His re-elect ratings sunk into the 30s," she said. "And unless a sudden compromise is reached, large portions of the federal government will shut down on Friday.
"What do all those major stories have in common? Like so much of the country's public dialogue these days, they all revolve around Donald J. Trump. And the most distressing fact of all for those like us who have known him a long time, that is exactly how he likes it, Joe. We know that."
Scarborough then said that this kind of disruption was not helping the president.
"The evidence is all out there that disruption for the sake of disruption, chaos for the sake of chaos, tossing around insults for the sake of tossing around insults, this strategy—it doesn't work," he said. "Look at polls over the last several weeks—only 28 or 29 percent of Americans support the way Donald Trump and Rudy Giuliani have handled the Mueller investigation. That's about as bad as it gets."
"You can look at the polls from this weekend and what do you find? He's got re-elects in the 30s. It used to be that if you were a politician, being in the 40s was seen as something that made you vulnerable. Being in the 30s, well that's just untenable for the president. It doesn't get any worse than that for somebody who wants to be re-elected."
Scarborough then talked about the recent midterm elections, during which Americans voted in "almost record numbers."
"Republicans lost the popular vote by more than any party has ever lost the popular vote in midterms," he said. "They lost 40 seats, they had the worst performance since Watergate. I mean Mr. President, listen to all of this. This is not working. This disruption every day, the chaos, the tweets—not working.
"And the question is whether there is anybody who can reach the president," he said. "I suspect it won't be the new chief of staff because, of course, when you have somebody that has called you a terrible human being in public, that's a difficult person to trust."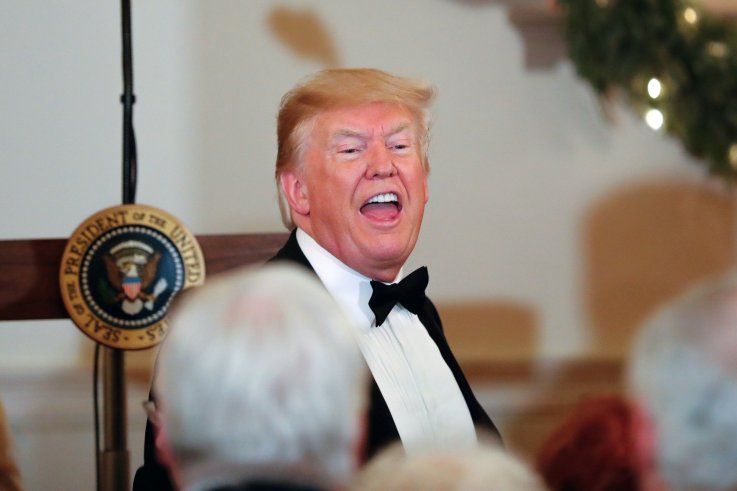 Donald Trump's 'Chaos for the Sake of Chaos...Doesn't Work': Morning Joe's Scarborough Slams President's Approach | U.S.