Donald Trump's Right-Hand Man Steve Bannon and His History of Attacks Against Women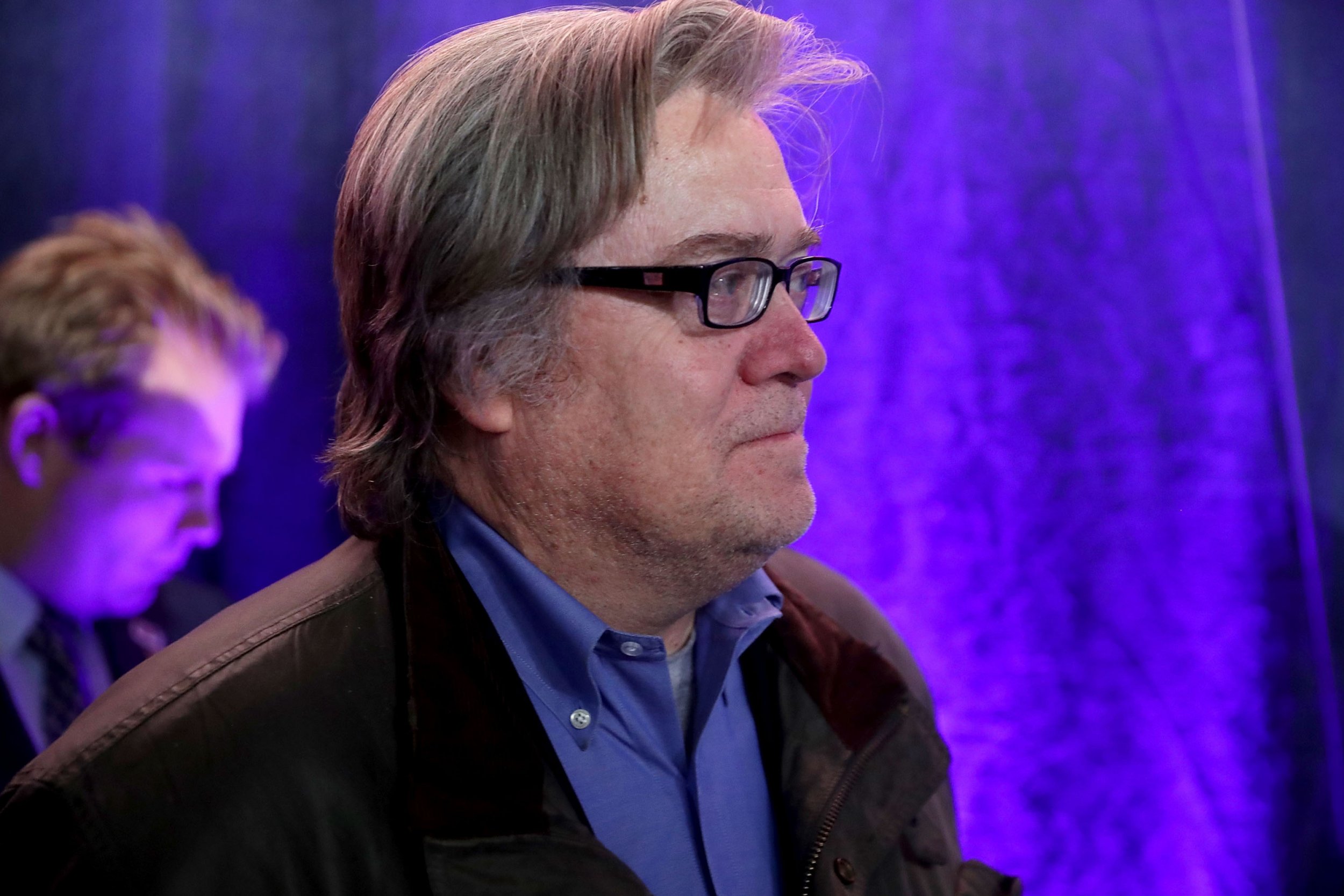 U.S. President-elect Donald Trump has tapped Stephen Bannon to be his chief strategist and right-hand man in the White House, prompting outrage from women's rights groups.
Bannon is the executive chairman of Breitbart News, a politically conservative news, opinion and commentary website noted for its connection to the alt-right. He joined Trump's election team as CEO late in the campaign, in August, quickly becoming a member of the inner circle.
But Bannon's background and reputation is steeped in accusations of misogyny and assault, and critics are protesting his appointment.
"Donald Trump spent his campaign surrounding himself with known misogynists and he's doing the same with the White House," a spokeswoman for U.S. political action committee Emily's List tells Newsweek. "Women can and will hold him accountable."
Headlines published by Breitbart News have included "Would You Rather Your Child Had Feminism or Cancer?" "Birth Control Makes Women Unattractive and Crazy" and "There's No Hiring Bias Against Women in Tech, They Just Suck at Interviews."
And Bannon has directly insulted women. During a 2011 radio interview, he said that progressives vilify prominent women in the conservative movement because they are not "a bunch of dykes that came from the Seven Sisters schools."
"That's why there are some unintended consequences of the women's liberation movement," he said. "That, in fact, the women that would lead this country would be pro-family, they would have husbands, they would love their children. They wouldn't be a bunch of dykes that came from the Seven Sisters schools up in New England. That drives the left insane and that's why they hate these women."
Bannon also fired a disabled employee on maternity leave, according to a lawsuit obtained by The New York Post. "Julia Panely-Pacetti, a new mother who suffers from multiple sclerosis, was terminated by defendants from her position as head of public relations and corporate marketing because of her sex and her disability," states the lawsuit, filed in Manhattan federal court in September 2005. Panely-Pacetti was working for Vantage Companies at the time, reporting directly to Bannon. The claim was settled in 2006.
Court documents, also obtained by The New York Post, detailed accusations that Bannon attacked his ex-wife. Divorce paperwork from 1996 states that the media mogul grabbed then-wife Mary Louise Piccard "by the throat and arm," and threatened "to take the girls [the couple's twin daughters] and leave." The case was eventually dismissed because the "victim/witness" was unable to be located, The Cut reported.
Also during the 1990s, Bannon was accused of sexual harassment. The suit related to Bannon's time as director of Biosphere 2, a research facility in Oracle, Arizona. The company's former director, Margret Augustine, claimed that a financial backer, Edward Bass, had alienated her from a project she was working on. She also claimed, within the same suit, that Bannon and a fellow banker, Martin Bowen, had made "sexually suggestive remarks and lewd remarks toward her, and had disparaged female employees of the research facility," Buzzfeed News reported.
Augustine claimed Bannon once said that the problem with an employee was that she "was a woman in a man's job" and he often openly discussed women's "boobs," calling them "titties." At a company party, Augustine claims she danced with Bannon and he "held my wrist tightly and told me that once I'd done it with him, I'd never want to do it with anyone else."
In recordings obtained by BuzzFeed News, Bannon referred to a female colleague as a "bimbo" and vowed to take comments the woman made about the safety of the research facility they worked at and "ram it down her fucking throat."
Bannon made the remarks, which were reported at the time by the Tucson Citizen and have resurfaced via several news outlets this year, in the course of legal action involving Biosphere 2.
"I have never had an engineering mishap at sea and I am not about to have a 29-year-old bimbo criticize the people at this place for running something—compare it to the Challenger—compare us to the Rockwell—the O-rings—do you realize how mad that made me?" Bannon can be heard saying.