Donald Trump's Convention Acceptance Speech Drew Fewer Viewers Than Joe Biden's
The fourth night of the Republican National Convention drew fewer viewers than the Democratic Convention's final night last week, surprising some observers who are accustomed to seeing large numbers for speeches delivered by the usually unpredictable President Donald Trump.
According to early data from Nielsen, the the Republicans drew 19.9 million viewers across Fox News, CNN, MSNBC, ABC, CBS and NBC on Thursday night while last Thursday the Democrats drew 21.8 million.
The television numbers were also down for both parties compared to four years earlier, though that's less meaningful given more people streamed online this time around or simply surfed the internet for highlights.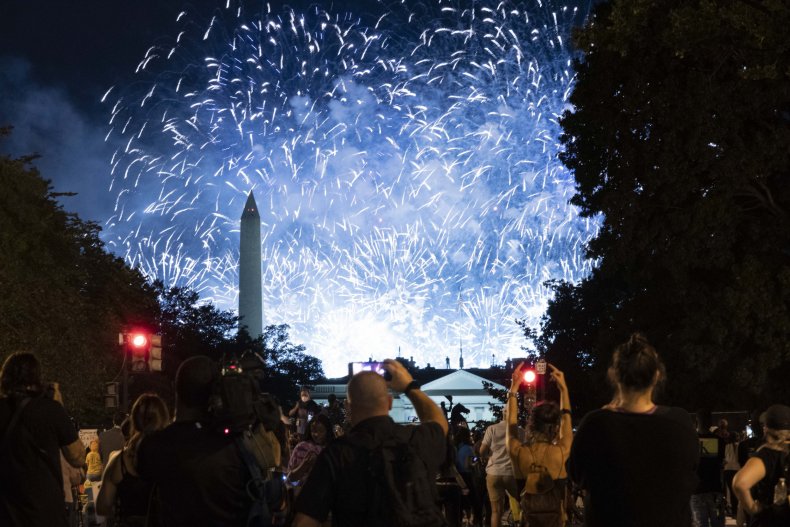 Neither convention seemed quite as exciting as in years past, as the pandemic caused the Democrats to go completely virtual without live audiences, while the Republicans went half-virtual with audiences slimmed way down.
While MSNBC captured the largest audience at the Democrat's finale, Fox News dominated for the Republicans — so much so that 46 percent of the total audience across the six major networks belonged to Fox News on Thursday night. By comparison, MSNBC boasted a more modest 28 percent share when it dominated last week's Democratic finale.
"The Trump administration is a TV show that is starting to bore its audience," warned John Pitney, a professor of American Politics at Claremont McKenna College. "He has a limited repertoire of verbal and political tricks, which have become all too familiar."
According to Nielsen data, Fox News also set a record for the largest audience in the history of cable news for a fourth night of coverage of a political convention. The outlet also outperformed all other networks on social media for the last day of the convention with 2.6 million interactions on Facebook, Twitter and Instagram, according to Socialbakers.
Pitney predicted that if Trump doesn't regain his old form while introducing new tactics, the lackluster turnout on TV might spill over to debates.
"In 2016, he tried to stir up debate interest by inviting Bill Clinton accusers," said Pitney. "He might try something similar this time, perhaps involving people who suffered from urban violence."
But with a pandemic, it's not clear if there will be a live audience for the three debates, the first of which is scheduled for September 29 in Cleveland. And on Thursday, Speaker Nancy Pelosi told reporters, "I don't think there should be any debates" because Trump will "probably act in a way that is beneath the dignity of the presidency."