Donald Trump's Coronavirus Diagnosis Unlikely to Change How Americans Vote, Poll Finds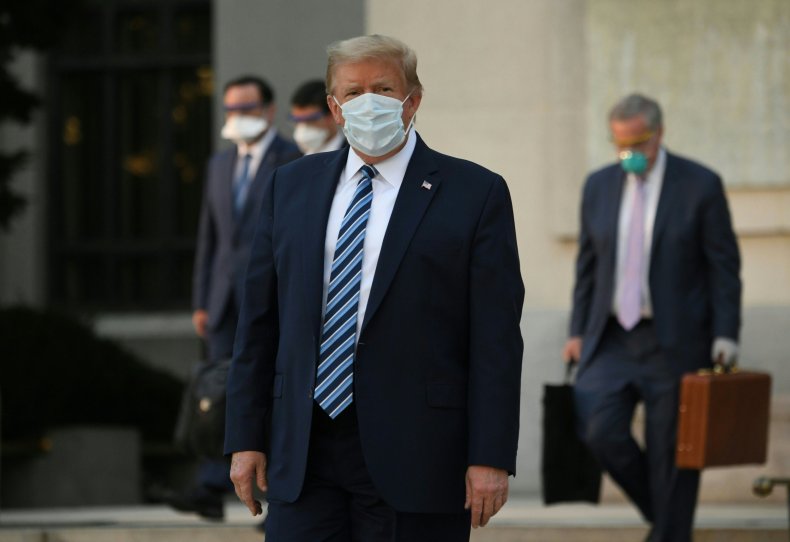 President Donald Trump's coronavirus diagnosis may have thrown the final weeks of the 2020 campaign into disarray, but a majority of voters say it's unlikely to sway how they will vote on Election Day.
According to a Redfield & Wilton Strategies survey conducted this past weekend, 79 percent of registered voters said they are unlikely to change how they will vote following the news of Trump testing positive for coronavirus.
Just 11 percent of respondents said they were likely to change how they will vote in the November 3 contest following the news of the president's diagnosis. Ten percent said they didn't know if it would change their voting attitude.
The poll, conducted for Newsweek, surveyed 2,500 registered voters from October 3 to October 4. The poll had a margin of error of 2.19 percent, according to Redfield & Wilson Strategies.
The president confirmed in a Twitter post early in the morning on October 2 that he and First Lady Melania Trump had tested positive for the coronavirus. He spent three days at the Walter Reed National Military Medical Center to receive treatment. Dr. Sean Conley, the physician to the president, said Monday that Trump "may not entirely be out of the woods yet" but met the necessary criteria to leave the hospital.
Even in the aftermath of his diagnosis, the president has continued to downplay the deadly threat of the virus. In a Twitter post on Monday, Trump told the public not to be scared of COVID-19—a virus that has killed more than 210,000 people in the United States.
"Feeling really good! Don't be afraid of Covid," he wrote. "Don't let it dominate your life. We have developed, under the Trump Administration, some really great drugs & knowledge. I feel better than I did 20 years ago."
Later when Trump arrived back at the White House, he removed his mask to film a video in which he told the American public: "Don't be afraid of it. You're gonna beat it. We have the best medical equipment. We have the best medicines, all developed recently."
After removing his mask at the White House, Trump joined several people inside. The White House is battling its own coronavirus outbreak, as an increasing number of staff and members of the president's inner circle have been testing positive for the virus. The list includes press secretary Kayleigh McEnany, counselor to the president Hope Hicks, campaign manager Bill Stepien and others.
In response to Trump, Democratic presidential nominee Joe Biden posted a video on Twitter urging people to wear masks. The clip featured contrasting clips of Biden putting on a face covering while the president removes his own.
"Masks matter. They save lives," the video caption reads.
A majority of registered voters always wear a mask when they leave their home, the Redfield & Wilton Strategies survey found. Fifty-eight percent of respondents said they always wear a mask, 20 percent said they wear one most of the time, 12 percent said they sometimes don a mask while 4 percent said they rarely do and 4 percent said they never do.
The polling data of 2,500 registered voters from all political affiliations across the U.S. was collected through an online survey created by Redfield & Wilson Strategies. The pollster group is a member of the British Polling Council (BPC) and the American Association for Public Opinion Research (AAPOR) Transparency Initiative.