Donald Trump's 'Don't be Afraid of COVID' Tweet Met With People Sharing Family They Lost to COVID
President Donald Trump's October 5 tweet, telling Americans "don't be afraid of COVID," has been met with a number of people sharing the family and friends they lost to the novel virus.
"I will be leaving the great Walter Reed Medical Center today at 6:30 P.M. Feeling really good! Don't be afraid of COVID. Don't let it dominate your life," Trump wrote in his tweet. "We have developed, under the Trump Administration, some really great drugs & knowledge. I feel better than I did 20 years ago!"
Shortly after his tweet, a number of Twitter users responded by sharing their experiences with the novel virus, the family and friends they lost, as well as the over 200,000 fatalities caused by the virus.
Twitter user Gabe Dryer responded to the president's tweet with a picture of a recently dug grave at a cemetery, with a caption that read, "My grandpa didn't let COVID dominate his life either."
Several other Twitter users shared similar responses, such as Kim Norvell, a reporter for the Des Moines Register in Iowa.
"My grandfather died alone in a hospital 1,400 miles away because he contracted COVID," Norvell wrote.
Actress Heléne Yorke wrote, "This disease 'DOMINATED' my friends [sic] life for 3 months before it took him. He won't live a tomorrow, he won't see his son grow up. It is the same for 209k+ others. Please demand more than this from your country and our leader. Please."
British Labour Party politician Ali Milani also responded to Trump's tweet, writing, "I lost my Dad to #COVID-19. If only he had known not to 'be afraid' and let it 'dominate' his life."
"Your [sic] an embarrassment to your country and responsible for thousands of deaths," Milani's tweet said.
In another response to Trump's tweet, Twitter user Herbert Maduro wrote, "My mother died of Covid, she couldn't get in a car an come to see me. I couldn't see her at the hospital. We couldn't pay the respects. She didn't have 8 specialists with her. Yes the virus can dominate your life."
Movie director, producer, screenwriter and comedian Judd Apatow also posted a response to the president's tweet.
"Let's start a new hashtag. #whyiamafraidofcovid with our stories. I lost a friend a relative and many heroes," Apatow wrote. "210,000 people have died in our country. I don't want to die too. You have no plan. You are pretending it's not real for political gain. That's #whyiamafraidofcovid."
The tweets in response to Trump come shortly after he left Walter Reed National Military Medical Center. The president will continue his COVID-19 treatment at the White House.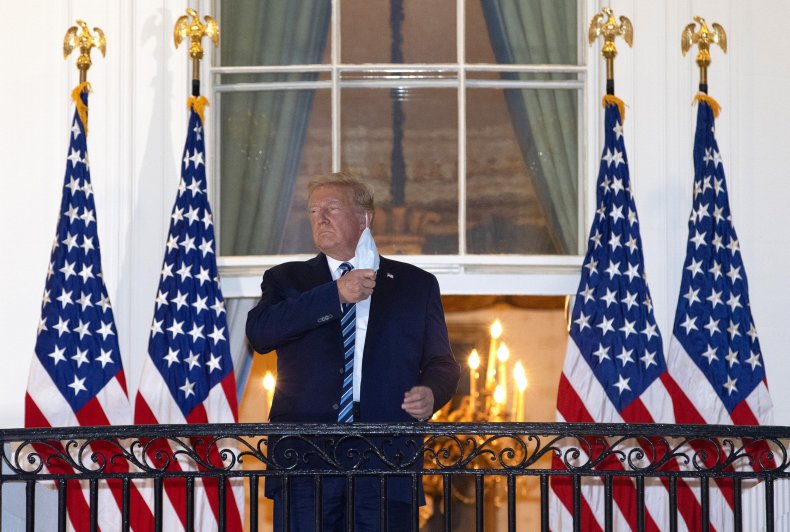 Upon arriving at the White House, Trump was seen removing his mask, signaling a thumbs-up to reporters nearby and saluting Marine One.
Newsweek reached out to the White House for comment but did not receive a response in time for publication.