Donald Trump's Envoy for Middle East Peace Tells Israelis a Two-State Solution Is 'Just a Slogan'
The ongoing conflict between Israel and the Palestinians is so complex and nuanced that no one understands what a two-state solution means, President Donald Trump's Middle East peace envoy Jason Greenblatt said in an interview.
"Different people think it means different things, and in isolation, it does not really mean anything…The Israeli-Palestinian conflict is so nuanced, so complicated. No one understands what a two-state solution really means, particularly when it comes to issues related to Israel's security or recognizing Israel as a Jewish state," Greenblatt told the Israeli newspaper Hamodia in an interview. "There are just too many layers…Without the right context, it's just a slogan, which is why we don't use it."
Greenblatt has been working closely with Trump's son-in-law and adviser Jared Kushner to come up with the Trump administration's long-awaited peace plan for the Middle East. The plan has not yet been released publicly, but Kushner and Greenblatt traveled to the Middle East in late June to discuss their proposal with leaders across the region.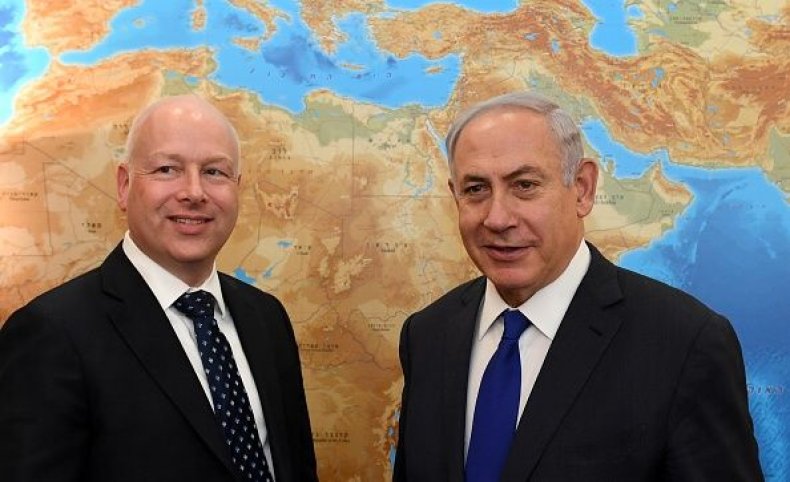 For some Middle East observers, Greenblatt's interview with Hamodia raised alarm bells because it signaled that the administration may be willing to abandon the prospect of a two-state solution, which would see a Palestinian state established alongside Israel.
"We should take seriously those comments because they suggest any proposal this administration puts forward is going to stray from the long-held bipartisan consensus in support for a two-state solution," Dylan Williams, the chief lobbyist for J Street, a Washington-based non-profit, told Newsweek.
"It's not a slogan, it's the only way for Israel to remain Jewish and democratic. We're very concerned that any plan they [Kushner and Greenblatt] put forward is likely to be a sham, a sham that is designed to elicit a Palestinian 'no,'" Williams added.
Some critics point to Trump's decision to recognize Jerusalem as the capital of Israel as a sign that the administration isn't serious about fostering peace between Israelis and Palestinians. In an interview with the Palestinian newspaper Al Quds in June, Kushner pointed out that most Middle Eastern leaders would like the eastern half of Jerusalem to be the capital of a future Palestinian state.
"They conveyed they want to see a Palestinian State with a capital in East Jerusalem. They want a deal where the Palestinian people can live in peace and be afforded the same economic opportunities as the citizens of their own countries," Kushner told the paper following his tour of the Middle East. "They want to see a deal that respects the dignity of the Palestinians and brings about a realistic solution to the issues that have been debated for decades."
Support for a two-state solution is widespread among U.S. lawmakers, too. In March, 191 U.S. congressmembers sent a letter to Trump urging him to "clearly reaffirm the United States' longstanding, bipartisan commitment to a two-state solution to the Israeli Palestinian conflict."
On Monday, Representatives Gerald Connolly, a Democrat from Virginia, and David Price, a North Carolina Democrat, wrote to Trump again to remind him of the letter.
"In anticipation of your Administration's expected Israeli-Palestinian peace plan, we write to reiterate longstanding bipartisan support for a two-state solution and urge the Administration to promote meaningful engagement between the Israelis and the Palestinians," the letter reads.