Fake News: Seth Meyers Mocks Donald Trump's Fake 'Time' Magazine Cover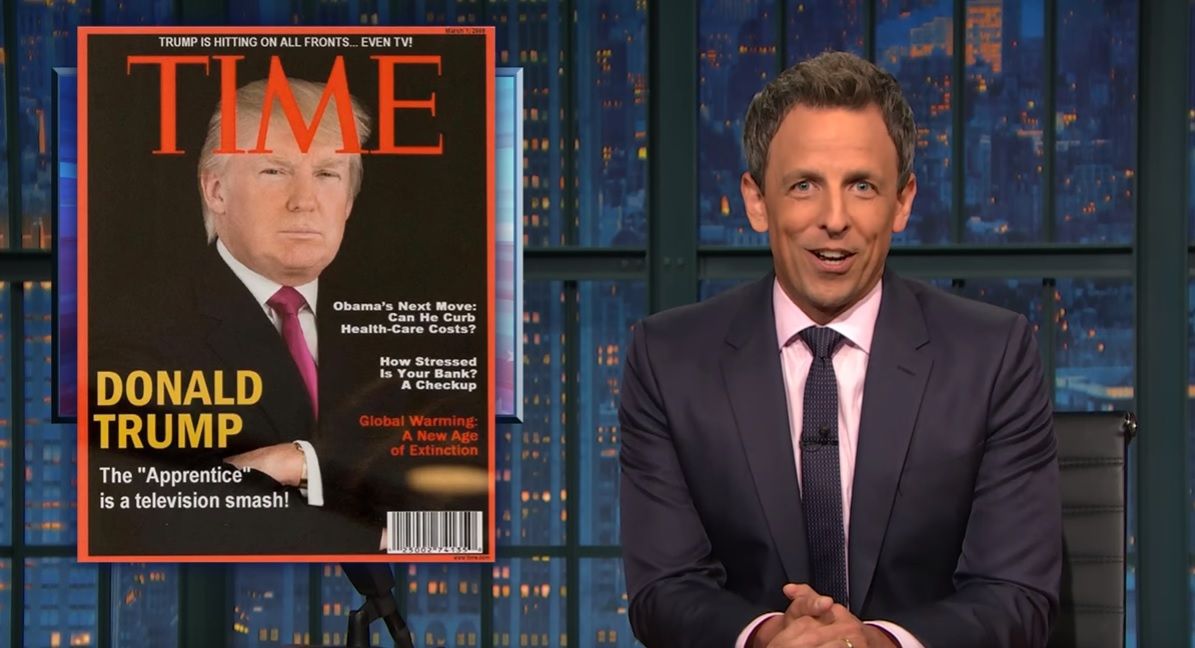 Oh, Donald, you make it so easy.
President Trump handed late-night talk show writers comedy material on a silver platter after The Washington Post reported Tuesday that a Time magazine cover bearing his likeness framed on the walls of five of his resorts was a fake.
NBC's Seth Meyers certainly had a field day Wednesday night with what he branded "the literal definition of fake news."
The Post said the cover adorned the walls of several of the president's golf clubs, including Mar-a-Lago, in Florida, where Trump has spent many of his weekends since inauguration. The cover, dated March 1, 1999, is headlined: "The 'Apprentice' is a television smash!"
A strapline also sings the businessman-turned-president's praises: "Trump is hitting on all fronts…even TV!"
"That's right, Trump hung a fake Time magazine cover with his face on it in his private golf clubs," Meyers said Wednesday night on Late Night while trying to stifle his laughter.
He continued: "This would be the saddest I've ever heard if it wasn't the funniest thing I've ever heard."
"Do you also get your presidential salary paid to you in giant novelty checks?" Meyers then quipped.
Of course, the unflattering report of Trump's ego-stroking did not sit well with the president, who, on Wednesday, fired off a Twitter missive at the Post, branding it "fake news." He also dragged Amazon into the fray with the apparent threat of imposing "internet taxes" on the online retailer. Why? Because Amazon and The Washington Post are both owned by Jeff Bezos.
"There's just one problem with that," Meyers said about the internet tax threat, "there is no such thing as an internet tax."
The comedian quipped: "The only thing we have that's close to an internet tax is the fact that if you use the internet, you have to read Donald Trump's tweets. That's the tax."
By the way, Trump also has a Newsweek cover hanging on his wall at Mar-a-Lago. That one isn't fake.