Donald Trump's Family Ignored Mandatory Mask Rule at Presidential Debate With Joe Biden
President Donald Trump's family ignored mandatory mask-wearing requirements at the debate between him and Democrat candidate Joe Biden on Tuesday.
On Tuesday, members of the Trump family and the Trump administration entered the debate hall, where rules required everyone in the room wear masks, without masks, according to NBC News correspondent Hallie Jackson.
A doctor in a white lab coat was reported to have started to approach Trump family guests to ask them to put on masks, also offering them one in case they did not have one.
As the doctor got closer to them, Jackson said on the news channel's live blog covering the debate, "someone shook their head and no one she reminded to put on a mask ended up putting one on."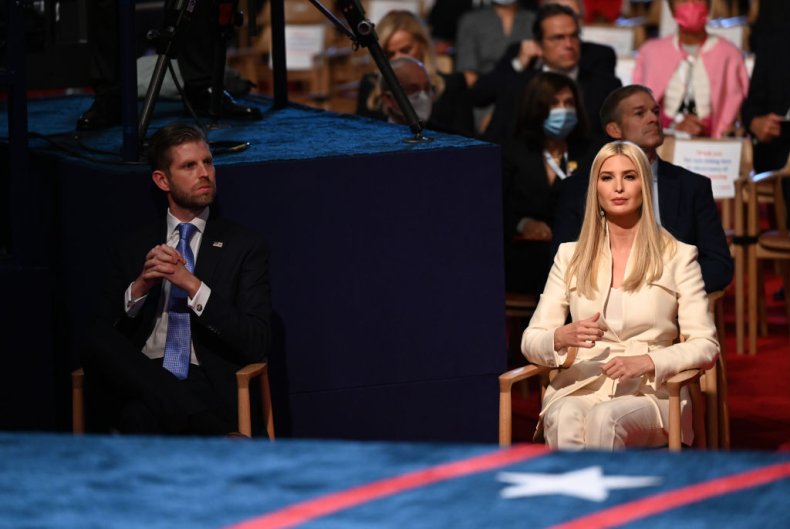 While most of them were seen wearing masks when they arrived at the venue, once they were sat down to watch the debate, they did not follow the guidelines.
Ivanka Trump, Donald Trump Jr., Tiffany Trump and Eric Trump are just some of the members of the Trump family who attended the event.
At the debate, Trump made a point of saying that he does not wear a mask as much as Joe Biden does.
"I don't have, I don't wear a mask like him. Every time you see him, he's got a mask. He could be speaking 200 feet away from him, and he shows up with the biggest mask I've ever seen," the president said.
On Friday, the president announced that he and first lady Melania Trump has tested positive for Covid-19 on Twitter.
"Tonight,@FLOTUS and I tested positive for COVID-19. We will begin our quarantine and recovery process immediately. We will get through this TOGETHER!," Trump said.
They were both tested after the president said, also on Twitter, that advisor Hope Hicks tested positive for the virus. Hicks traveled with the president and the first lady to Cleveland, Ohio, where the debate took place.
Just over one month before voters head to the polls on November 3, the president and his inner circle will now be required to quarantine for 15 days.
"As too many Americans have done this year, @potus & I are quarantining at home after testing positive for COVID-19. We are feeling good & I have postponed all upcoming engagements. Please be sure you are staying safe & we will all get through this together," the first lady said on Twitter.
One of the president's main engagements was the second presidential debate, scheduled to take place on October 15 in Miami, Florida.
Just hours before testing positive for the virus, the president said at a fundraiser event: "I just want to say that the end of the pandemic is in sight, and next year will be one of the greatest years in the history of our country."