Donald Trump's Divorce: Marla Maples, Ivana and the Split That Gripped New York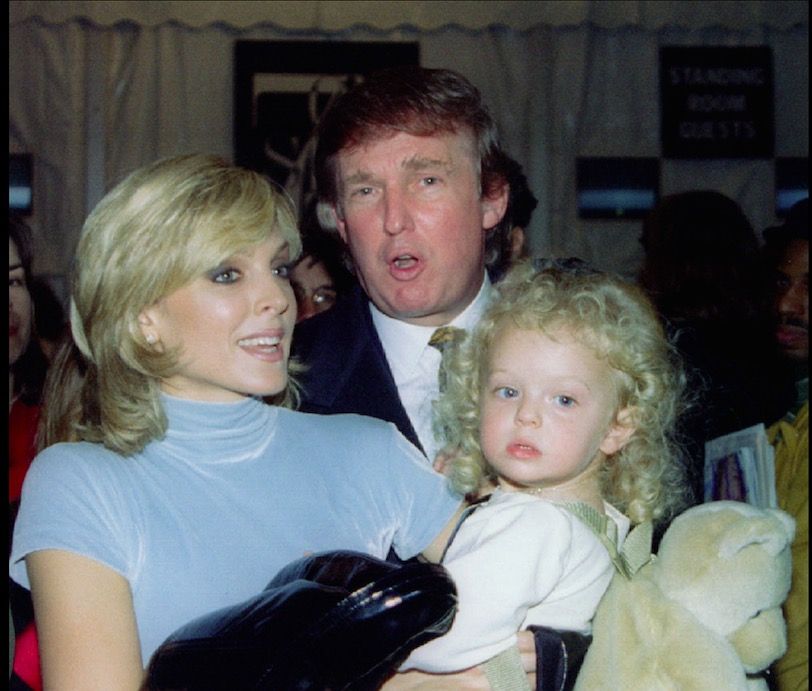 Newsweek published this story under the headline "The War of the Trumps" on February 26, 1990. In light of the presence of Donald Trump's family in the media, Newsweek is republishing the story.
It had been the New York marriage of the nasty '80s: the epitome of greed, vulgarity and self-promotion. Donald and Ivana Trump competed only with royalty in the size of their yacht, the luxury of their homes and the gaudiness of their gilded lifestyle.
Donald wrote the book (well, had it ghosted) on trampling rivals in deals for hotels, casinos, airlines and ornate toys, nearly all to be festooned with his own crowing name. He boasted that everything he had was the best, the greatest ever; he bought his way into high society and sneered at his new pals as phonies.
And when he split with Ivana last week, Donald topped even his own lofty standards for tacky behavior. The end of the marriage—if indeed it ends—would be fully worthy of the house of Trump.
The war of the Trumps erupted in a frenzy of tabloid headlines and lip-smacking TV footage. Rival society columnists chose sides and clawed for scoops; high-priced lawyers and personal flacks traded public insults. There were juicy tales of Another Woman, a whole parade of women, a hotel love nest, a screaming confrontation pitting wife and mistress at a trendy eatery on the slopes of Aspen.
It turned out that Donald not only had a nuptial contract with Ivana but had updated it three times, proving each time that he was master at the Art of the Deal. But there were hints that Donald might settle for $100 million or more—and hints, too, that the Trumps might still reconcile for the children's sake.
Whatever the outcome, it was the juiciest scandal since the saga of Jim and Tammy Bakker, and the Big Apple's editors were pulling out all stops.
In hindsight, Trump watchers claimed to have seen the scandal coming for months. At 43, the dealmaker seemed to be having a midlife crisis. He had achieved fame, or at least notoriety, and fortune beyond avarice. From a modest beginning as the millionaire son of a New York builder, he had risen to 19th slot in the Forbes list of 400 tycoons—though Trump himself scoffed that Forbes's estimate of his wealth, $1.7 billion, was far too low.
But the public spotlight he had learned to crave was dimming. Trump's biggest project, the multibillion-dollar Trump City in Manhattan, was stalled in red tape and local opposition. Sagging real estate markets and a soft economy were cutting his cash flow. Whole weeks went by when his name turned up only on the inside pages of the newspapers.
And friends said he was bored with his wife, neglecting his three children and increasingly inclined to stray. Rumors linked him with one woman after another: the actresses Catherine Oxenberg and Robin Givens, skater Peggy Fleming, even his wife's society friends Carolyne Roehm and Georgette Mosbacher. He insisted they were all no more than good friends; when the rumors became public, all the women—with varying degrees of indignation—denied them.
"Donald is the boss"
By her own account, Ivana didn't notice anything wrong. From the first, when she caught Trump's eye at the 1976 Montreal Olympics as a fashion model and onetime candidate for the Czechoslovakian ski team, Ivana had dedicated herself to being whatever he wanted her to be. She had two boys and a girl, between 6 and 12 years old, in good private schools. She had moved into society, not smoothly enough to sit through High Cultural Events but at least to play a dutiful part at charity functions and the glitzier nouveau riche parties. A recent round of plastic surgery aimed to offset the ravages of 40 years.
And she was an active part of Trump's business empire, having run the Trump Castle casino in Atlantic City and lately taking over New York's famed Plaza hotel for a $ 50 million renovation. But Ivana was no feminist: she deferred to the man she called "The Donald" in everything, and said he wanted her to be an old-fashioned wife. "Donald is the boss," she told interviewers. She was simply too busy, she told Daily News columnist Liz Smith, to notice when The Donald's roving eye started focusing on Marla Maples.
At 26, Maples was an ominously younger version of Ivana herself: leggy busty and blond, with a soft Georgia lilt in place of Ivana's Czech gargel. She had been a small-town homecoming queen and beauty contestant on the way to modeling and bit parts in films and TV soaps. To date, her biggest role was in the Stephen King horror film Maximum Overdrive, in which she was crushed to death by a truckload of watermelons.
Maples's agent, Chuck Jones, denied repeatedly last week that there was any romance between her and Trump. "She's not a home-wrecker," Jones said. But according to some of Trump's associates and varied press reports, she has been a growing part of his life for nearly two years, aboard his yacht, riding his helicopter to prizefights and strolling through glitzy stores in the Trump Tower repeating a mantra: "Charge it to Donald."
Dynasty dialogue
She reportedly lived for several months at his expense in the St. Moritz Hotel, which he owned at the time. And he is said to have joined her for vacations in Aspen, sometimes visiting her hotel even when Ivana was in town.
That cozy arrangement blew up over the Christmas holidays. The scene was Bonnie's, a restaurant at the top of the Little Nell lift on Ajax Mountain, where the celebrity crowd meets daily for a late lunch. Witnesses have supplied several accounts. In one of them, Maples came to the table where Donald and Ivana were lunching; by another story, it was Ivana who surprised the other two. Pieced together, the dialogue is straight from Dynasty:
MAPLES: Are you in love with your husband? Because I am.
IVANA: Stay away from my husband.
MAPLES: I love him, and if you don't, why don't you let him go?
IVANA: You stay away from my husband, or else.
DONALD: You're overreacting.
Witnesses said Donald and Ivana left Bonnie's, continued the argument on the nearby slopes and apparently made up. But by one account, it was Maples who went with Donald to a New Year's Eve party, and Ivana who telephoned the host to find out if the two were there.
In the tense weeks that followed, another story has it that the Trumps agree that attorney Michael Kennedy should begin exploring an amicable divorce. But it wasn't until early February, just before Donald flew to Tokyo for the Mike Tyson–Buster Douglas prizefight, that he told Ivana he was leaving. As his own hired spokesman told reporters, "He told Ivana it just was not working out."
That bleak diagnosis reached Liz Smith, and Donald returned from Tokyo to find a banner headline in the Daily News: SPLITSVILLE? The question mark was redundant. Kennedy was working for Ivana now, and she had also hired a celebrity public-relations adviser, John Scanlon.
"Unconscionable and fraudulent"
The Daily News coverage was unabashedly pro-Ivana, picturing her as Donald's devoted helpmate and a full partner in creating his business empire. The point of that became evident when Donald's side leaked word of the nuptial agreement. Ivana had repeatedly signed a document granting her custody of the children, one vacation home and no more than $25 million as a divorce settlement. Her man Kennedy denounced the pact as "unconscionable and fraudulent," but legal experts said she had no hope of overturning it unless she could prove that Donald had deceived her or forced her to sign it.
If the contract were voided, however, Ivana might win a bigger share by proving that she helped significantly in building the fortune. Donald hired his own PR man, Howard J. Rubenstein, whose minions began portraying Ivana as another Leona Helmsley and a figurehead who tended to minor details while Donald made the money. "She's done the wallpaper in the Plaza," said one such spokesman. "That what she does."
Scanlon retaliated with faxes from Donald's book, glowing tributes to Ivana's executive talents. And Kennedy threatened to sue if Rubenstein didn't stop trashing Ivana.
By midweek there were hundreds of reporters digging merrily through the dirt. Maples went to ground, reportedly in Hollywood. But there was no shortage of photos for the tabloids: of Maples with cleavage, Maples in a bikini, Maples posed pertly in hard hat and cutoff jeans to show the virtues of a ceramic-tile adhesive.
For the most part, Ivana, too, kept silent. She was briefly locked out of her office at the Plaza, but soon readmitted; she surfaced in public only for an extraordinary luncheon at the tony La Grenouille restaurant, a long-planned event by her society friends to celebrate her 41st birthday.
It turned into a teary tribute. Nobody mentioned Donald or the looming divorce, but Donald's own mother and sisters joined in weepy praise of Ivana. His father, Fred, 84, was said to be fretting that the stress of the public feuding might bring on a stroke. Outside, a mob of reporters and hundreds of gawkers milled and stared. "Get the money, Ivana," the crowd yelled. "Take him for all he's worth!"
Media frenzy
That left the talking largely to Donald, and he did a lot of it—taking nearly every media call that came in. He spoke graciously of Ivana, "a wonderful woman whom I will always love." He wouldn't rule out a reconciliation, he said, and "what Ivana wants most is to have me back," but "people grow apart."
At least some of his friends thought that was precisely what he wanted: to be free to be a playboy billionaire. His own lawyers, Jay Goldberg and Stanford Lotwin, insisted that the nuptial agreement was not just ironclad but "steel-wrapped." Still, there were repeated rumors that Donald might spring for $100 million or more to get a quick settlement.
The media frenzy continued, in a kind of Gresham's law of escalating slease. The papers kept reworking the instant joke: "Donald finally bounced a Czech." Anonymous sources surfaced with ever more improbable quotes and trashier stories. The Post quoted a supposed friend of Donald's on his tribute to Marla's sexual talents: "She is so much better than a 10, you can't believe it." Then an actress acquaintance of Maples quoted her returning the compliment, and the Post bannered it: "BEST SEX I'VE EVER HAD."
Until then, Donald was clearly enjoying the whole messy business. What he has missed most in recent months has been the glare of public attention, a friend said: "Publicity is his cocaine," and any news was good. Even the Post's headline might not faze a man hooked on advertisements for himself. But it wasn't much fun for Ivana and the children, and at the weekend, the Daily News reported that Donald was thinking hard about "dropping the whole thing" to ease their pain.
That would be out of character, but kind of nice.