Donald Trump's Fight With Turkey Is Helping Russia Undermine NATO, Experts Say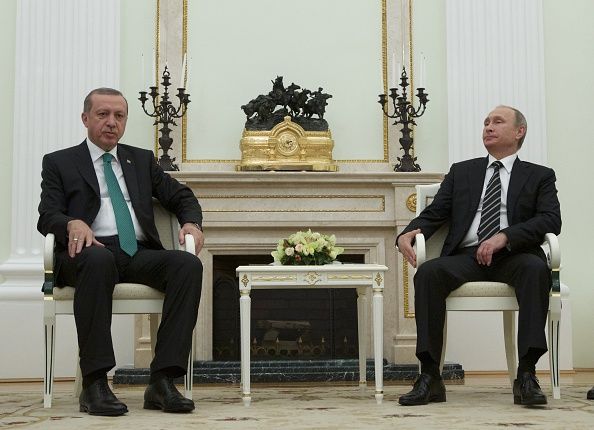 President Donald Trump's recent feud with Turkish President Recep Tayyip Erdogan may be helping Russia undermine NATO, according to analysts.
Turkey is one of NATO's largest military powers, and throughout the years the country has provided Washington with logistical support for its military activities in the Middle East. But Ankara also maintains a close relationship with Russia, a country interested in eroding the alliance's cohesion.
Some analysts warn that the conflict with the U.S. could motivate Turkey to start looking for new friends. Russia appears more than happy to fill in the gap left by Washington, which has sanctioned key Turkish officials and plans to impose steep tariffs on Turkish steel and aluminum. On Tuesday, Russia Foreign Minister Sergey Lavrov said that Russia supports doing trade with Turkey using local currency instead of dollars.
"I am confident that the grave abuse of the role of the U.S. dollar as a global reserve currency will result over time in the weakening and demise of its role," Lavrov said Tuesday after traveling to Turkey. Experts say these comments help Erdogan, who has called for Turkish citizens to trade in their dollar reserves for Turkish lira.
"While Russia, just as Iran, is certainly not in the economic position to help Turkey out, political signals of support are important for Erdogan's strategy to demonstrate to the Turkish public that Ankara is not isolated in standing up to Washington," Magdalena Kirchner, a senior analyst and Turkey expert at Conias Risk Intelligence, told Newsweek.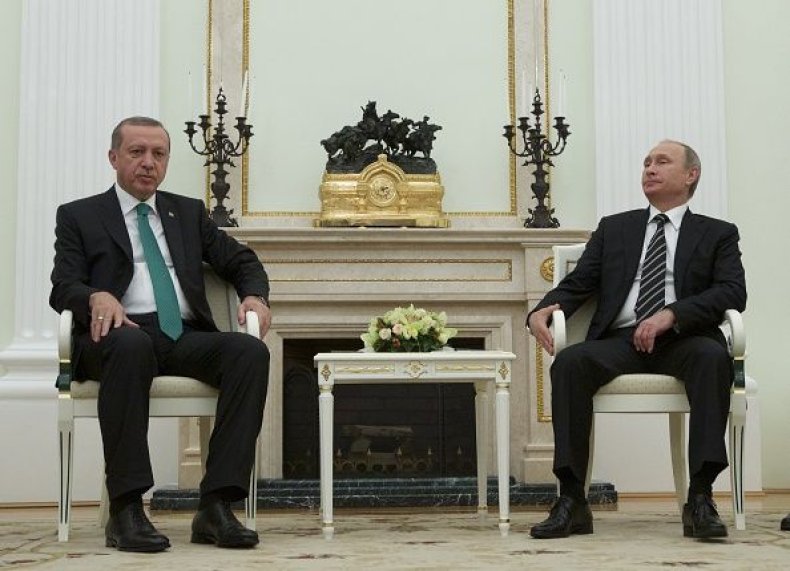 "Surely, Moscow might be happy to exploit this crisis especially as calls for boycotting iPhones could easily escalate to demands for reduced military cooperation, for example, with regard to Incirlik [Air Base] or other US-NATO facilities in Turkey at a time when Washington still doesn't have an ambassador there," Kirchner said. "For NATO, but also European allies, who have limited themselves to words of caution, this means another stress test that could further undermine their trust in both the US and Turkey to seek consensus for the sake of the alliance."
Some analysts say the current conflict that centers on Turkey's imprisonment of American pastor Andrew Brunson in 2016 is only helping speed up Ankara's shift away from NATO, which had been taking place slowly for several years. Bulent Aliriza, director of the Turkey program at the Washington, D.C.–based Center for Strategic and International Studies, said that Turkey first broke ranks with NATO in 2016 when Erdogan met with Putin in Russia just weeks after a key alliance summit. In 2017, the Turkish leader spoke with Putin on the phone 14 times, compared to the four phone calls he had with Trump, Aliriza pointed out.
"Turkey and Russia were involved long before Brunson. The Brunson case may accelerate Turkey's move from the West," Aliriza told Newsweek. Still, the fight with Trump could be the most serious rift between the U.S. and Turkey that has taken place in recent history, Aliriza added.
"This has the potential to overshadow all crises of the past 40 years," he said. "There seems to be no bottom to this."